Johnnie Walker is a brand known for highlighting trends and bringing something unique for their customers. That said, this brand is so famous because of the quality and flavor. Everywhere you go, you'll definitely find honourable mentions of Johnnie Walker's editions.
"At Johnnie Walker, we're always challenging ourselves to create unique experiences that people can enjoy and engage with around the world,"

Julie Bramham, Johnnie Walker's global brand director.
A whisky brand serving perfection since 1820, already so successful yet running towards the trends and needs of the modern world is the main factor behind the growth of Johnnie Walker's customer base. The latest edition to their ranks is the release of a heavenly 48-year-old expression bonded with an NFT. The association for this digital work is done with BlockBar but that's not the end. With an exquisite NFT, buyers will also get an exclusive VIP visit to the distillery and the whole box contains a limited digital art piece created by renowned artist, Kode Abdo (Boss Logic).
The 48-year-old exceptionally rare whisky :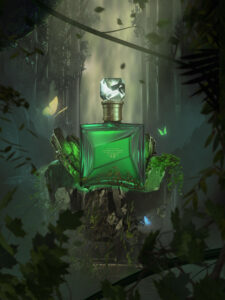 Johnnie Walker starts with Scotch and ends with a round of applause. This new gem is the third and final release in Johnnie Walker's Masters Series. Master of Flavour is a blend of rare whiskies collected from not only one, two, three but four Scottish 'ghost' distilleries – Port Dundas, Brora, Glen Albyn, and Glenury Royal. The highlight of this blend is that these ghost distilleries are no longer operational, these sourced whiskies are limited and eventually the stock will run out.
"This innovative collaboration with BlockBar puts Johnnie Walker at the cutting edge of what is possible in whisky, providing something truly unique for whisky aficionados and collectors around the world,"

Julie Bramham, Johnnie Walker's global brand director.
Scottish craftsmanship, knowledge and techniques are embedded in this expression right from the process malting to the last sip.
The aesthetics of the decanter perfectly fits as a vessel for this beauty. Johnnie has designed a handblown rectangular shaped decanter made from green baccarat crystal. This green crystal is presented in a handcrafted wooden cabinet.
Tasting notes by Johnnie Walker :
NOSE : On the nose, Johnnie Walker Masters of Flavour, has a soft and gentle smoke, reminiscent of seaweed and salty air, gives way to rich dried fruits. Notes of molasses linger with leather-bound books before smoke gently weaves back through the senses.
TASTE : Rich fruit flavours bursting with currants before a gentle spice starts to build on the palate. Cinnamon-infused apples combine with star anise, crushed peppercorn and warming oak embers, enveloped in waves of baked caramel and rich butterscotch.
FINISH : A gentle and warming smoke in the finish. Also described as "long and sweet" by Donna Anderson, Malt Master
Scotch and more ……
You know that if you buy a bottle of this 48-year-old gem scotch, you'll be given a VIP visit to their distillery. But what you don't know is just how 'VIP' this visit is in reality. First stop is the Johnnie Walker's visitor centre followed by the iconic Glenkinchie distillery. Wonderful, isn't it? Be ready to go 'Wow' – Right after the distillery you'll also be taken on a guided tour to the Diageo archive and a chance to enjoy the rare and collectible whisky collection of Diageo.
So why NFT? – NFTs are basically non-fungible tokens, worth a lot in the visual world or the upcoming new trend. People make NFTs which are then sold for thousands and even millions. Many celebrities, sports players etc. have created NFTs. Similarly, adapted to the trend and created this limited edition NFT so that people will get a chance to be a part of their past, present and future.
There are two NFTs in the same picture – The first NFT is of the bottle which can be redeemed to get the actual bottle. The second NFT is the unique piece of digital work by renowned artist BossLogic. The artwork will take inspiration from Johnnie Walker's rich whisky-making heritage, and its evolution into the digital age.
The price of Johnnie Walker's Master of Flavours NFT is $35,000 USD and it is available on Blockbar.com. The path will open at 10am (EST) on Tuesday – 31st May 2022. The currency to buy this NFT has to be ETH.
For more information, visit :
Website - https://blockbar.com/ 
Instagram - https://www.instagram.com/johnniewalker/