Benriach, a renowned Speyside distillery, has unveiled two exceptional whiskies as part of their latest releases: The Forty and Forty Octave Cask Matured. These expressions have garnered significant attention due to their distinct characteristics and limited availability.
The Forty, boasting an impressive 43.5% ABV, is a remarkable creation crafted using rare peated casks. It holds the distinction of being one of the oldest peated malts ever released from a distillery in Speyside. Previously only available as a non-fungible token (NFT) on BlockBar, The Forty will now be offered as an ongoing release in specialist retailers across select global markets starting June. Priced at a recommended retail price (RRP) of £3,200 (US$4,084), it promises an exquisite sensory experience. This distinguished whisky entices with a nose characterized by rich fruitiness, including hints of sweet orange, plum, honey pomelo, and dark chocolate-coated berries. On the palate, one can expect the delightful interplay of orchard fruits, red apple, and white peach flavors.
"Fine Bourbon casks have gradually developed exquisite notes of honeyed pomelo and lush orchard fruits to create Benriach The Forty. Over the decades of maturation, the smoky character of peated Benriach spirit refines and mellows, transforming into ripe fruit sweetness. This intricate character is interwoven with dark notes of chocolate, rich plum and smooth walnut from Port casks sourced from the Douro Valley."

Rachel Barrie, master blender for Benriach, said
In addition to The Forty, Benriach has also introduced the Forty Octave Cask Matured, available exclusively in select international airports. This expression has been matured in small octave casks, which are an eighth of the size of a regular cask. With just 135 bottles in existence, this travel retail-exclusive whisky presents a unique opportunity for whisky enthusiasts. Priced at an RRP of £3,800 (US$4,850) per bottle, it offers an elevated experience with its 51.5% ABV. The aroma entices with sweet plum, cherry, and honey-glazed red apple, while the palate reveals flavors of ripe plum, pear, dark berries, cedarwood, and silken oak.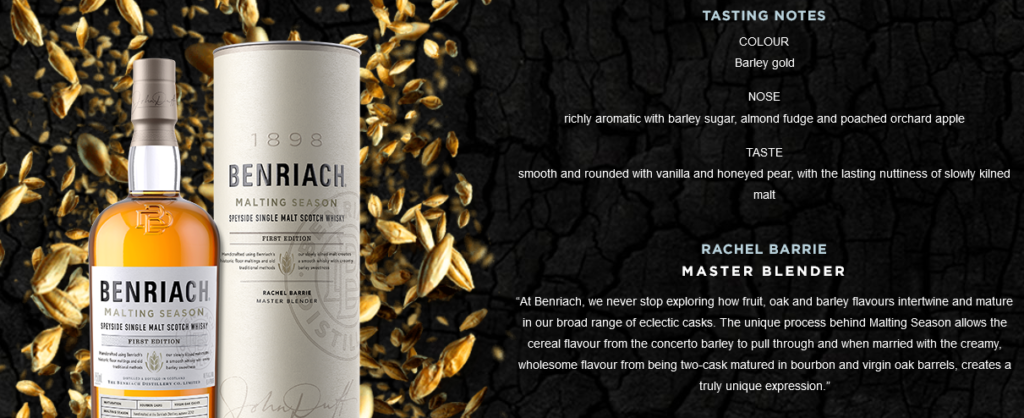 "Crafted from the staves of refill and first-fill American oak Bourbon casks, the octaves casks used for Benriach The Forty Octave Cask Matured create a sublime interplay of indulgent orchard and dark fruits, with a flawless silken oak finish."

Barrie added
The arrival of The Forty and Forty Octave Cask Matured whiskies adds to Benriach's esteemed portfolio, capturing the attention of whisky aficionados and collectors alike. With their exceptional craftsmanship and distinctive characteristics, these releases are set to be cherished by discerning whisky enthusiasts seeking remarkable and rare experiences.