Everyone loves to watch tv shows, series or movies. When we talk particularly about 'series' there is one term which synonymously comes in all of our minds – Netflix. The iconic streaming platform has been the reason behind the success of a lot of movies and series. La Casa de Papel or as we all know Money Heist – A Spanish Crime drama mainly adored by fans for the professor's strategy to pull off the heist as well as a ton of different characters. This popular series has made a deal with Diageo's whisky brand Johnnie Walker and the outcome is aesthetic and perfect. The result of this collaboration is a gorgeous limited edition plus the fact that if Johnnie Walker teams up with something as famous as Netflix the sales are meant to be skyrocketed!
"Like many fans around the globe, we've been gripped by the action unfolding from the fictional underworld of La Casa De Papel. We're delighted to be marking the climax of this series through this limited-edition design. I'll be watching the story unfold with a glass of Johnnie Walker in hand and a keepsake bottle to have forever."

Julie Branham (

Johnnie Walker's global marketing director

)
Johnnie Walker's Red Label collab with Netflix
The ongoing series La Casa de Papel is coming to an end later this year in December. This series has been a global favorite and to mark the end of a history, a collaboration like this is just what Money Heist's fans needed.  
The expression used in this limited-edition bottling is Johnnie Walker Red Label. A highly versatile blend with bold flavors and it is also bestowed as the best-selling Scotch whisky around the world. A blend of light whiskies from Scotland's East Coast and more peaty whiskies from the West, resulting in an extraordinary expression that inhibits vibrant and smoky flavors. The ABV is 40% and it is priced at a mid-range of $20 for a 750ml bottle.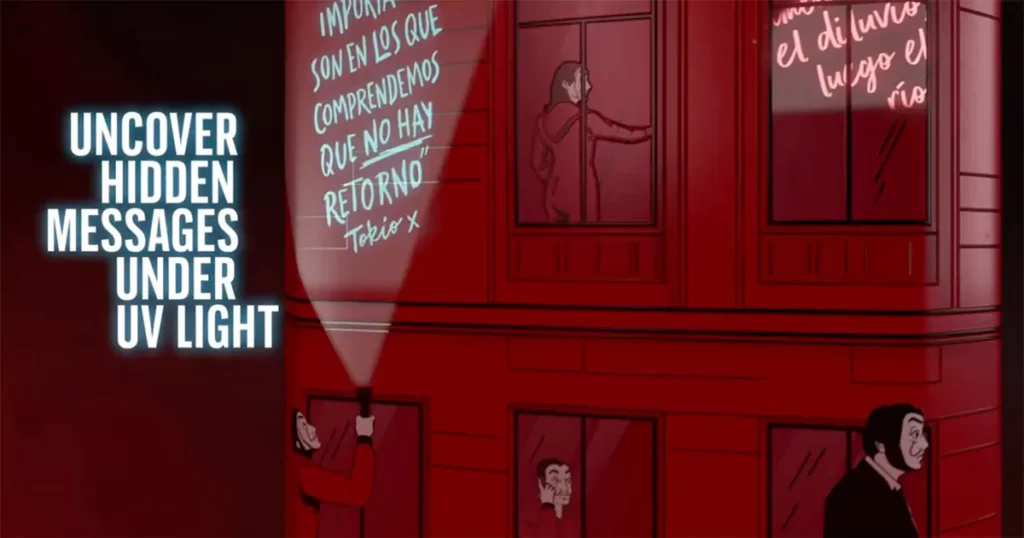 "Johnnie Walker Red Label tumbles onto your palate with the freshness of spray from a breaking wave, bringing the unmistakable zing of aromatic spices – cinnamon and pepper – fizzing over the centre of your tongue. There's a suggestion of fruity sweetness, like fresh apple or pear and a mellow bed of vanilla, before the Johnnie Walker signature of a long, lingering, smoky finish."

Johnnie Walker
Coming to why this re-launched expression is being hyped over – Although the original Johnnie Red Walker is quite famous and loved for it's luxurious and complex blend, this re-launched limited edition has a label that tempts Money Heist's fans. The fans of the Spanish drama are loving this new label which is totally red – a signature color of the series. There are several characters from the show and also props depicted on the label with Johnnie Walker's signature Striding Man branding.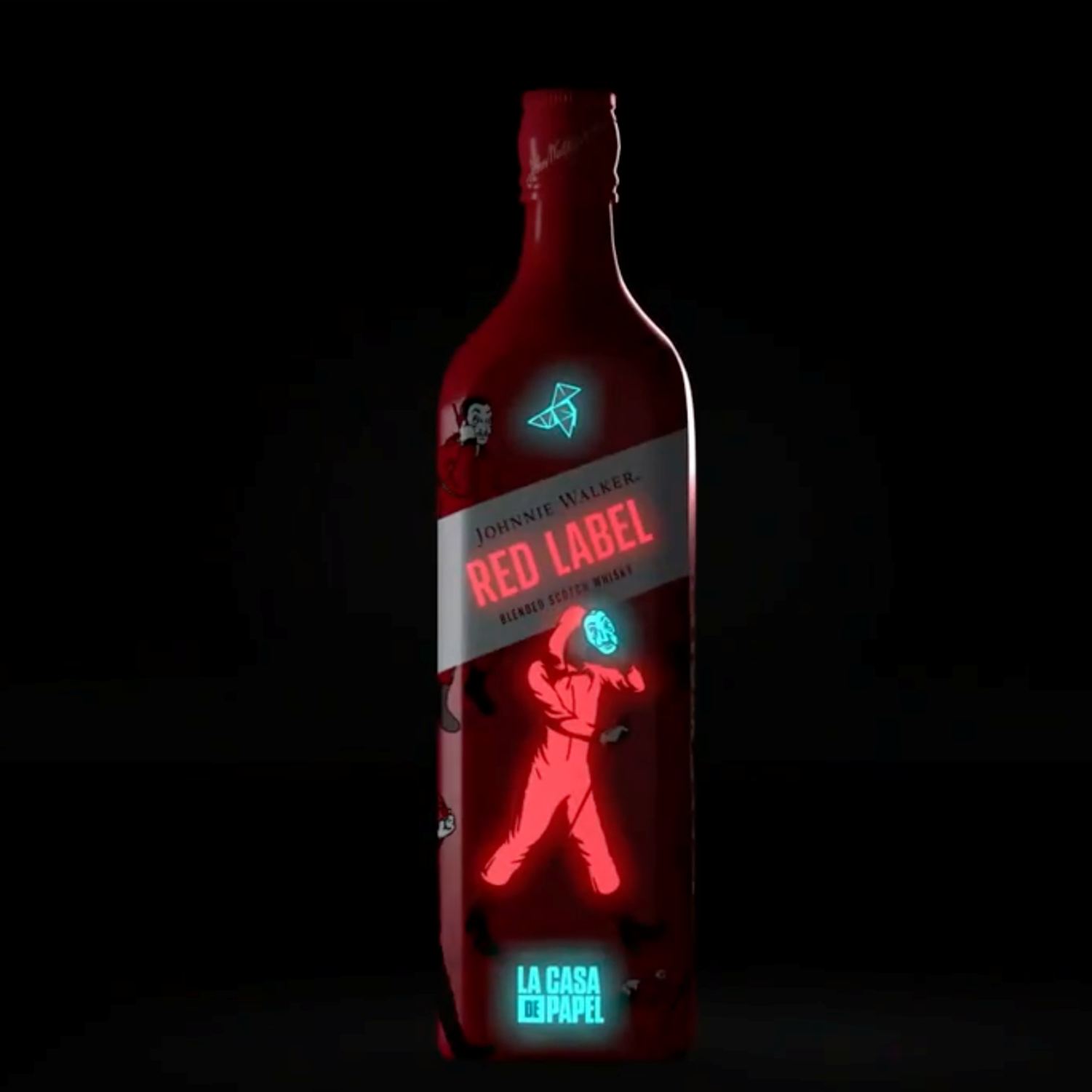 Just when you think it is astonishing! This limited edition has got a lot more to surprise you. The design of the label uses advanced technology which is a treat for the fans. By placing the bottle under the UV light, this label features hidden messages like the last words of one of the show's main characters and many such messages related to the series.
So aesthetic, luxurious expression, advanced technology, gorgeous, series symbolism, huge fan following and delicious taste are some words that would accurately describe this limited-edition bottling. 1st November 2021 will mark the launch of 150,000 bottles of Johnnie Walker La Casa De Papel Limited Edition Design released in selected markets of Southern Europe and Latin America.
The ABV is 40% and it is priced at $15.64 for 750ml.
A little about Johnnie Walker's Label:
Initially John the first founder of this brand started blending a line of single malts for consistent quality which made it famous in a line of single malts that tasted different in every product. After he died, the legacy was continued by his son Alexander who launched Johnnie Walker's first commercial blend – 'Old Highland Whisky'. The advertising and transporting tactic used by Alexander was engaging with the captains of ships to carry his whisky wherever they would sail. Soon after Johnnie Walker became a global phenomenon.
A huge profit that he brought to the business was changing the shape of these bottles to square, this resulted in less damage and the design was iconic then and it is now as well. In the year 1909, Alexander II & George renamed  their successful new range of whiskies after the colours of their distinctive labels. Johnnie Walker Red Label and Johnnie Walker Black Label were born. The famous 'Striding Man' logo was built by Tom Browne – a young illustrator in those days.  By the end of the 20th century, The Red & Black label was joined by the pinnacle of blender's art – Johnnie Walker Blue Label. Johnnie Walker has been bestowed with a number of awards, medals and titles for their extraordinary growing range which now includes Johnnie Walker Gold Label Reserve and Johnnie Walker Platinum Label.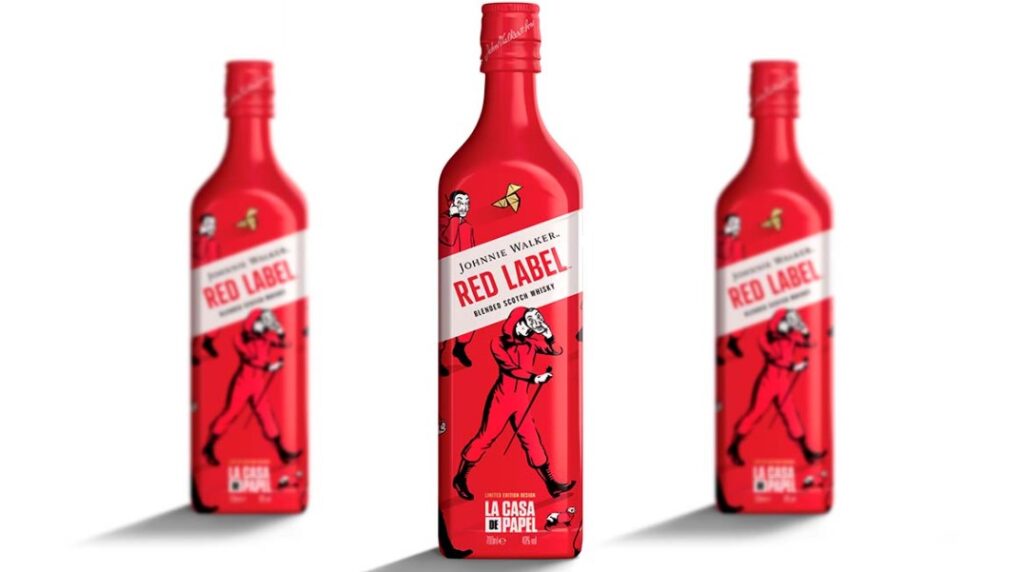 'Today, Johnnie Walker is the biggest whisky brand in the world and its slogan is has been adopted and embraced everywhere, as a rallying cry for progress, as encouragement in adversity, as a joyful expression of optimism and as the best piece of advice you're ever likely to hear.'

Johnnie Walker