Johnnie Walker consistently takes the top honor as the world's number one and best-selling Scotch whisky. According to Statista, the sales of Diageo-owned brands have increased 20 percent over the survey period, reaching 18.9 million 9-liter cases in global sales volume in 2018.
Dewar's, owned by Bacardi, claims the brand's "White Label" to be the top-selling blended Scotch in the US. Also, the Bacardi-owned brand will become the official blended Scotch whisky of the US Open Championship golf tournament, starting with the 121st competition this year. Dewar's won both the Best Blended Scotch Whisky up to 15 Years with its Caribbean Smooth Rum Cask and Best Blended Scotch 18 Years and Older with its Double Double, 27 YO Palo Cortado Sherry Cask Finish.
Whether you're a longtime Scotch drinker or just dipping your toes into the category, keep reading to learn how these two finest stack up.
Origin
Johnnie Walker
The year 1819, when John Walker's father died, the family farm was sold and the money was used to set a grocery shop in the thriving local town of Kilmarnock. In 1867, he launched Johnnie Walker's first commercial blend and called it 'Old Highland Whisky'. In 1909, Alexander and George renamed their successful new range of whiskies after the colours of their distinctive labels. Johnnie Walker Red Label and Johnnie Walker Black Label were born.
Dewar's
The story started with a wine and spirits shop in Perth and founder John Dewar. Together with his sons, John Alexander Dewar and Tommy Dewar, these three men changed the course of whisky history, and created some mighty fine products along the way. Dewar's eventually expanded their product by constructing the Aberfeldy Distillery in 1896.
Production
Johnnie Walker
Red Label
It is bottled at 80 proof and blended with up to 30 single malts and grains. It has been the best selling Scotch whisky in the world since 1945. It is primarily used for making mixed drinks
Double Black Label
Made available for general release in 2011 after a successful launch in travel retail. The whisky was created taking Black Label as a blueprint, adding more peaty malt whiskies to it and maturing it in heavily charred old oak casks.
Blue Label
It is a rare and premium blend made from hand-selected whiskies sourced from distilleries around Scotland. It bears no age statement. Bottles are numbered serially and sold in a silk-lined box accompanied by a certificate of authenticity.
Dewar's
Dewar's pioneered the process of "marrying" the whisky in oak casks to allow the blend to age as one within the casks. After the blend is created, the whisky is returned to an oak cask and aged even further to obtain a smooth, robust finish.
Flavor
Johnnie Walker
Johnnie Walker Red Label is crackling with spice and bursting with vibrant, smoky flavours. It tumbles onto palate with the freshness of spray from a breaking wave, bringing the unmistakable zing of aromatic spices – cinnamon and pepper – fizzing over the centre of tongue. There's a suggestion of fruity sweetness, like fresh apple or pear and a mellow bed of vanilla, before the Johnnie Walker signature of a long, lingering, smoky finish.
Johnnie Walker Double Black is the Intense Blend – powerful, full-bodied and smoky. The heavier influence of the 'big' flavours, with swirls of peat smoke over rich raisins and fruits – apples, pears and citrus. These soften into sweet vanillas and spice, before developing into a warming finish of oak tannins and lingering smokiness.
Dewar's
Dewar's White Label has a nice light touch of smoke, and a mild honey-toffee sweetness. It has a short aftertaste with a hint of spice and pepper.
Dewar's Double Double 32 Years Old is finished in Pedro Ximenez sherry casks. PX sherry finishing always results in huge flavors, and this whisky is no exception. Rich on the nose, notes of coffee, dark red wine, and roasted nuts immediately dominate an aromatic profile that is almost hoary with weight. The palate is equally rich, with bold coffee and cola notes, along with some chocolate.
Use In Cocktails
Both companies tout their Scotch as the go-to in the Highball cocktail, a simple combination of whisky and sparkling water, served over ice. Dewar's even claims the cocktail was invented by its own Tommy Dewar in 1892. Not to be outdone, Johnnie Walker recently launched a global campaign aimed at bolstering the brand's role in the Scotch & Soda trend.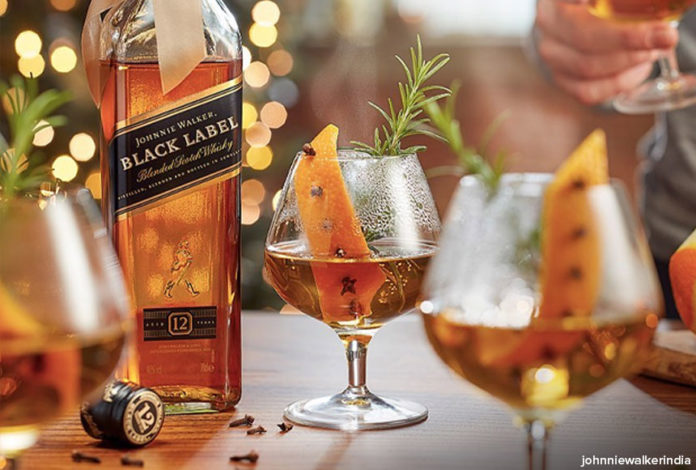 ---
Sources