In the age of competitiveness, industries have taken up distinct stunts in order to sustain or outshine the market but the latest unveiling of Whitley Neill Distilleries latest Dry Gin is quite extraordinary. They have attached rather hidden £25,000 (US$31,981) worth of diamonds in the bottles of its popular gin.
Though, as estimated, it's not exactly inside the bottle of Gin but somewhere in the packaging, presenting it more like a game of 'hidden treasure'. The customers or the contestant participating will be looking for a cork displaying a special diamond engraving. A photo of a winning cork and serial number may be redeemed for a round-cut diamond weighing at least 4/10ths of a carat, with a colour grade of D through G. There will be approximately 15 winning bottles, so each diamond prize will have a value of approximately $2,132.
The prime reason for taking such a step is to celebrate the heritage of the distilleries by reigniting their generation-old tradition of passing down heirlooms – a phenomenon that is very prevalent in British culture since one could trace back.
"As a family brand, whose distilling knowledge has been passed down through eight generations, we value the importance of heritage and legacy. This is reflected in the creation of our Distiller's Cut London Dry Gin, which boasts a quintessential, classic London Dry recipe that has truly stood the test of time. With this in mind, we want to help the nation keep their own traditions alive and give them the opportunity to have something to pass down to others."

As stated by Johnny Neill, founder of Whitley Neill,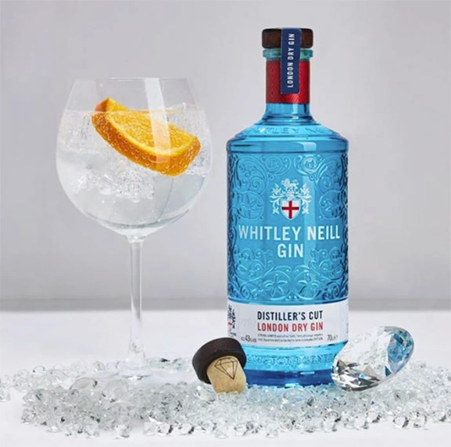 The central reason behind this is their research on the act of transferring heirlooms to friends and family or their future generation, and they found out that around 43% of adults in the United Kingdom don't intend to do so. This could be one of two reasons they found, one – they don't possess anything worth as such, as the items in today's time are more "disposable", and that modern-day, everyday items don't have as much sentimental value as things use to have; or are simply not willing to share and are intending to be the sole owner of the property they possess. On a positive note, around 41% said that they are willing to pass on something to the generation coming by as a signature of their presence in this time period and the period they inherited. Among their records, they also mentioned the 36% of the UK population that actually possess something valuable, sentimental or has certain monetary value like jewellery, books and household items including glassware, dinner service and cutlery and others, accounting for 61% of the UK's heirlooms. (Other less-popular heirlooms mentioned were books and household items, including glassware, dinner service and cutlery.)
"Jewellery is the item that most people would like to pass on to loved ones, and great quality gin and diamonds are both renowned for their quality and cut, so when thinking of how we could do this, diamonds seemed like a fitting choice."

Johnny Neill also stated
This again influences Neil to offer complimentary jewellery services so each winner will incur no extra expense of having the diamond set into a piece of jewellery. But in order to win one needs to find a cork with a diamond engraving plus the letters "EX" signifying a second-tier winner. Twenty people with this designation will win a "Diamond Experience" for two, which includes a tour of the City of London Distillery, followed by a diamond-inspired cocktail, and a gift of a pair of Whitley Neill branded glasses. But the contest is limited to UK residents aged 18 and over only and will run till the end of August this year. Whitley Neill's survey of 2,000 UK adults was conducted via OnePoll.