Imagine your pre-mixed RTD in a small tetra-pack format to easily carry and dispose of after drinking. Mandatory Spirits Co. released a product range just on this concept.
Australian Company, Mandatory Spirit Co., formerly known as Basic Babe, has recently launched BOXTAILS Cocktails in a new single-serve tetra pack. The company introduced this initiative on a positive note to give the 'Mandatory Flavor and Taste' in an improvised new packaging.
"Mandatory Spirit Co is a brand built on essential requirements. Low sugar, full flavour and no nasties are not just nice to have, they are mandatory! With every occasion bringing a reason to celebrate, there are certain things that can't be compromised and Mandatory Spirit Co has everything you need with a lineup as diverse as the Australian landscape. From beaches to backyards, deserts to rainforests Mandatory Spirit Co promises nothing but dancing until your feet hurt and laughing until you cry while creating lifetime memories with your crew."

By Mandatory Spirits website
The pre-mixed Cocktails are packaged in a 250 mL single-serve tetra-pack format and have an appearance similar to the small soft drinks packets.
The company sold 10,000 units in the first five days of launching and ran out of its three-month supply in just over a month in Australia.
"Boxtails started flying off the shelves when we launched, social media was going wild, people couldn't stop talking about them. We couldn't be happier with our new single-serve tetra packs and are so excited for our customers to enjoy them along with our new flavours this summer."

By Mark Collins, Mandatory Spirit co-founder
The cocktails come in three flavours: Mai Tai, Passionfruit Martini and Pink Gin Daiquiri:
Mai Tai
"Pineapple & orange combine making this lightly sparkling beverage taste exactly like summer. A classic cocktail with a modern flavour."
Ingredients: Water, Rum, Orange Juice, Pineapple Juice, Mango Juice, Erythritol, Natural Flavours, Natural Colours.
Passionfruit Martini
"Passionfruit is the hero of this cocktail which is a fresh twist on an old-time classic. With a smooth mouthfeel, this martini is very sessionable."
Ingredients: Water, Vodka, Passionfruit Juice, Lemon Juice, Vanilla Extract, Erythritol, Natural Flavours, Natural Colours.
Pink Gin Daiquiri
"The softness of the strawberries is perfectly paired with an aromatic pink gin and the twist of lime leaving a lasting flavour on the palate."
Ingredients: Water, Gin, Strawberry Juice, Lime Juice, Raspberry Juice, Erythritol, Natural Flavours, Natural Colours.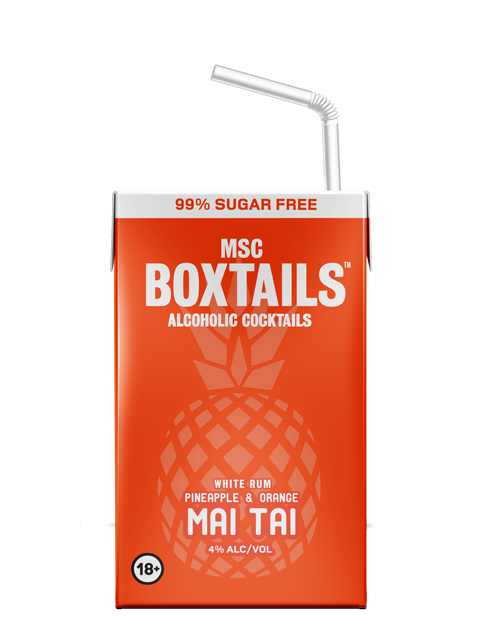 Each serving of single-serve Boxtails tetra-packs contains 60 calories and makes use of all-natural ingredients. For premixing, real spirits and real fruit juices are used. It is a vegan-friendly, gluten-free, fat-free, 99.9% sugar-free and preservative-free product. The single-serve clocks at 4% ABV.
The single-serve 250 mL Boxtails are available to purchase from Amazon, BWS and Dan Murphy stores for a retail price of AU$24.95 (US$18) per pack of six.
Boxtails Cocktails on Tap are available in the 2L format. The flavours include- Pink Gin Daiquiri, Passionfruit Martini, Mojito, Margarita, Mai Tai, and Fruit Tingle. Other flavours like Mojito, Margarita, Fruit Tinge, etc. will be released in a single-serve format very soon. 
For More Information on Mandatory Spirits Co, visit their Facebook Handle or Instagram Handle
Have a fun-filled sip on the MSC's Single-Serve Boxtails Cocktails and create a lifetime of memories. Because it's 'Mandatory'!!!