Whisky from Japan possesses a certain boldness mixed with hints of tranquillity. There are many producers in Japan that are known for their luxurious range of whiskies. Some notable Japanese whiskies come from the Suntory, Nikka, Mars Shinshu, Hakushu brands. While there are many gorgeous expressions one can find in this category, the new 'Yamazaki 55-year-old' by House of Suntory is a luxury only few can get hold of. 
The birthplace of Japanese whisky and the soul of Suntory whisky.
Yamazaki is coined as the birthplace of Japanese whisky. Japan's first and oldest malt whisky distillery was built in the year 1923 by Shinjiro Torii, founder of Suntory. It is believed that Tori was inspired by traditional Scottish whisky and he selected the land of Yamazaki at the foot of Mt. Tennozan, for its high-quality water source and natural environment, both of which are ideal for whisky-making.' Yamazaki lies in a valley between Mt. Tennozan and Mt. Otokoyama where the rivers Katsura, Uji and Kisu converge. The Ministry of Environment bestowed the waters of Yamazaki as one of Japan's one hundred best natural mineral waters.
Nestled proudly on the periphery of Kyoto, the area around Yamazaki Distillery has been long referred to as "Minaseno" famous for its exquisite natural water, even mentioned in the Man'yoshu, the ancient anthology of Japanese poetry. Home to Sen no Rikyu, Master of "The Way of Tea" and his renowned "Rikyu no Mizu" (water of the imperial villa)'

– Beam Suntory
Blend of three generations – Yamazaki 55-year-old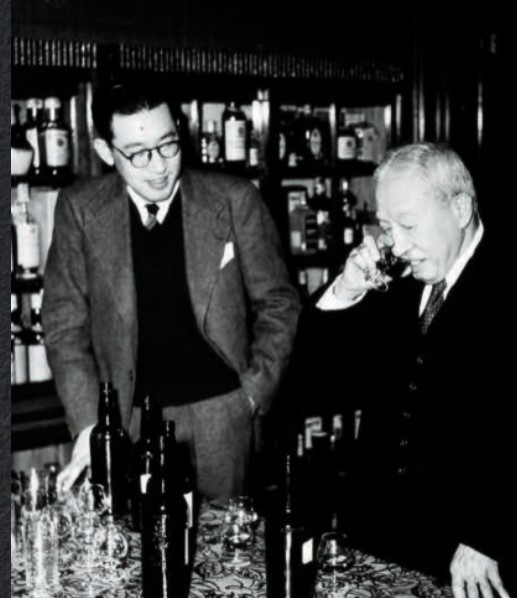 Yamazaki 55-year-old is a tribute to the passage of time and the legacy of the founding family of Japanese whisky. It is one of the oldest releases in the history of House of Suntory Whisky. It has a significant relation to the 'Showa' – Japanese Era which represents some major changes for the House of Suntory. This Japanese Whisky is a blend of time and the modern art of blending. 
This luxurious expression in the Yamazaki range reflects three generations in its production. The founder of Suntory – Shinjiro Tori started the first distillation in the year 1960, which was aged in Mizunara oak casks. The second and third single malts aged in American white oak were distilled in the year 1961 and 1964 resp., by Suntory's Second Master Blender Keizo Saji. This trio of single malts was blended together in perfection by Suntory's Fifth-Generation Chief Blender Shinji Fukuyo and Third-Generation Master Blender Shingo Torii. The resulting expression features a deep amber colour; robust aroma redolent of sandalwood and well-ripened fruit; sweet, slightly bitter and woody palate; and slightly bitter yet sweet and rich finish.
"Throughout the process of blending Yamazaki 55, I used as inspiration the passage of time and 'Wabi-sabi' – the Japanese belief that imperfections can help to ultimately contribute to perfection."

– Shinji Fukuyo, Suntory's Fifth-Generation Chief Blender
Tasting Notes by Beam Suntory:
Color: Deep amber distinctive of Mizunara casks.
Nose: A robust aroma redolent of sandal wood. A sweet, mature bouquet like well-ripened fruit.
Palate: A soft, smooth first sip that blossoms in the mouth with flavor. A mixture of sweet and slightly bitter, followed by a woody note from the Mizunara cask.
Finish: Slightly bitter, a fragrance like scented wood and a hint of smokiness. A sweet, rich, lingering finish.
The ABV of this limited-edition expression is 46% and it is available at a suggested retail price of $60,000 USD (₹ 44,11,566).
"While I often view other extra-aged whiskies as art, I consider Yamazaki 55 to be more like a Buddhist statue: calm and mysterious, requiring time to truly enjoy the inner beauty."

Shinji Fukuyo, Suntory's Fifth-Generation Chief Blender
The deep amber shade spirit comes packed in a crystal bottle with the word "Yamazaki" carefully engraved in calligraphy using the technique of sandblasting and featuring real gold dust and lacquer on the age marking. There are other exceptional traditional Japanese crafts included overall like the handmade Echizen washi paper ( Japanese paper typically made from kozo, mitsumata and gampi) used to wrap the bottle's opening which is bounded with the traditional craft from Kyoto – Kyo-kumihimo plaited cord (Kumi himo is Japanese for gathered threads). Each bottle is delivered in a bespoke box made from native Japanese Mizunara wood and coated with Suruga lacquer.
---
The 5 elements that uplift Suntory House Whisky :
Mizu Seichi – It translates to 'Pure Water Soulplace'. The term 'soul-place' is considered as the core source of spiritual inspiration. For Suntory it is represented by water. Yamazaki and Hakushu's water resources are considered Japan's "most precious" for quality and pure essence.
Shiki – 'The Four Seasons' The variety of seasons in Japan is incredible and displays some of the most gorgeous scenarios. The changes in temperature and humidity throughout the seasonal changes affect the cask 'breathing'.
Jukusei Taru – 'Aging & Casks', In Suntory's own cooperage a variety of casks are created using three distinct oak woods, enabling a wide range of flavour and aroma profiles of malt whiskies. They are the first artisans to create casks using Mizunara (Japanese oak), adding an oriental note to their whiskies.
Tsukuriwake – 'Diversity in Making'. Diversity is greatly reflected by the production rate and range of Suntory House Whisky. The brand is renowned for producing over one hundred types of malt whisky; more than any other distillery in the world.
Hito No Chowa – Suntory Whisky is crafted by a team of six master blenders; a team awarded with the blessings and riches of Japanese nature, time, and the philosophy of the masters before them.
The luxurious range of Yamazaki:
Yamazaki Distiller's Reserve
Yamazaki 12 Years Old
Yamazaki 18 Years Old
Yamazaki 25 Years Old
Yamazaki 55 Years Old.