Suntory Group is a leading global brand in producing and distributing packaged goods, premium spirits, beer, wine, health & wellness products. The brand is also a global leading group in producing premium rich spirits like Yamazaki 55-year-old, Suntory Hibiki Japanese Harmony Whisky, Hakushu 25-year-old, etc. Their spirits have been widely recognized and awarded across the world. Suntory Holdings Limited has been awarded the "Best of the Best" in the Japan Branding Awards 2018 announced by Interbrand Japan on November 22, 2018.
The Suntory was founded by Torii ShinJiro in 1899. Since its founding, Suntory Group is committed to making products with sustainability as the priority and co-existing in harmony with nature. Recently, the company announced its breakthrough on 100% plant-based PET bottle prototypes. Suntory group partnered with the US-based sustainable technology company Anellotech Inc. The construction and testing plant to produce plastic bottle materials in the state of Texas began in 2016.
The prototype has been produced around for the company's iconic Orangina brand in Europe and the (Mineral Water) brand, Suntory Tennensui of Suntory Beverage & Food Ltd. in Japan. 100% plant-based PET bottles are a positive step towards realizing a sustainable society. The company's ambition is to eliminate the use of all petroleum-derived virgin PET plastic bottles globally and transition to 100% recycled or plant-based PET bottles by 2030. The fully recyclable plant-based bottle can significantly lower carbon emissions compared to petroleum-derived virgin bottles.
PET stands for polyethylene terephthalate which is the chemical name for polyester. PET is a clear, strong, and lightweight plastic that is widely used for packaging foods and beverages, like soft drinks, juices, and water. PET is produced using two raw materials, 70% terephthalic acid (PTA) and 30% mono ethylene glycol (MEG). The new plant-based prototype bottling is made by combining Anellotech's new technology. The idea introduces a plant-based paraxylene derived from wood chips (non-food ingredient), which has been converted to plant-based PTA, and pre-existing plant-based MEG made from molasses which Suntory has been using in its Tennensui brand in Japan since 2013. The initiative also takes into consideration that they do not impact the supply chain of foodstuff ingredients and create competition for raw materials. The company is trying to achieve practical use of this technology to contribute to solving the global issue of plastics through cross-industry cooperation with companies engaging in the separation of collected plastics, monomer manufacturing, polymer manufacturing, package and container manufacturing as well as treading companies and beverage manufacturers.
"We're delighted with this achievement, as it brings us one step closer to delivering this sustainable PET bottle to the hands of our consumers, the significance of this technology is that the PTA is produced from non-food biomass to avoid competition with the food chain, while MEG is also derived from non-food grade feedstock."

Said Tsunehiko Yokoi, Executive Officer of Suntory MONOZUKURI Expert Ltd
"This achievement is the result of over ten years of thorough and painstaking development work by Anellotech's dedicated employees, together with Suntory and other partners, the competitive advantage of Anellotech's Bio-TCat generated paraxylene is its process efficiency (it uses a single-step thermal catalytic process by going directly from biomass to aromatics (benzene, toluene, and xylene)), as well as the opportunity it creates for a significant reduction in greenhouse gas emissions as compared to its identical fossil-derived paraxylene in the manufacture of PET, especially as it generates required process energy from the biomass feedstock itself."

Said David Sudolsky, President and CEO of Anellotech
Plastic has made our life much easier. Almost all consumable products are packaged in plastic containers to keep the food safe and prolong the shelf-life. We usually consume food and plastic wrappings become a waste to be disposed of. Plastics are non-biodegradable; hence disposing of them becomes a major issue. As an initiative, the Suntory group has designed a Plastic Policy for their packed containers to tackle the issue. The policy states following basic rules that Suntory is working hard to initiate steps for zero-carbon impact on our environment and transforming into a sustainable diverse society where animals and plants shine and resonate. The policy goes as follows:
Recycle & Renewable:

Aim to switch all the PET bottles used globally for Suntory products to be made of recycled or plant-based material by 2030, achieving zero use of virgin petroleum-based materials.
Actively work and collaborate with government agencies, industry, environmental non-governmental, and non-profit organizations for the measures necessary to develop an efficient recycling system based on the situation of each country where we do business.

Reduce & Replacement: Reduce the amount of plastic used by changing the design of containers and packaging and look for the introduction of alternative containers that do not negatively impact the environment to effectively utilize resources.
Innovation: Actively invest in innovation for materials and processes that improve the recycling rate and minimize environmental impact.
New Behavior: Promote activities that drive change in consumer behavior. Each Suntory employee will work to change their lifestyle, promote sorting and collection, and actively participate in social contribution activities such as cleaning up rivers and beaches.
Under this Plastic policy, the 3R(Reduce, Reuse and Recycle) policy focuses on lighter designs as well as using materials that have a lower impact on the environment and are easier to recycle. 2R+B strategy is adopted here. 'The concept is to make thoroughly efficient use of resources by reducing the number of resins used, and by using recycled materials, while replacing petroleum-based raw materials with bio-based raw materials as much as possible in the development.'

Using Japanese manufacturing technology and design skills, Suntory Tennensui became the first company in Japan to have packaged the most lightweight 500 ml natural mineral water PET bottle (11.9g) in November 2020. This reduced the use of petroleum-derived ingredients by approximately 40% per bottle. In 2017, Suntory MONOZUKURI Expert, Ltd., and Suntory PepsiCo Vietnam Beverage Co., Ltd. Partnership successfully developed a heat-resistant PET bottle for Suntory PepsiCo Vietnam in Vietnam that is the lightest in the world (18g).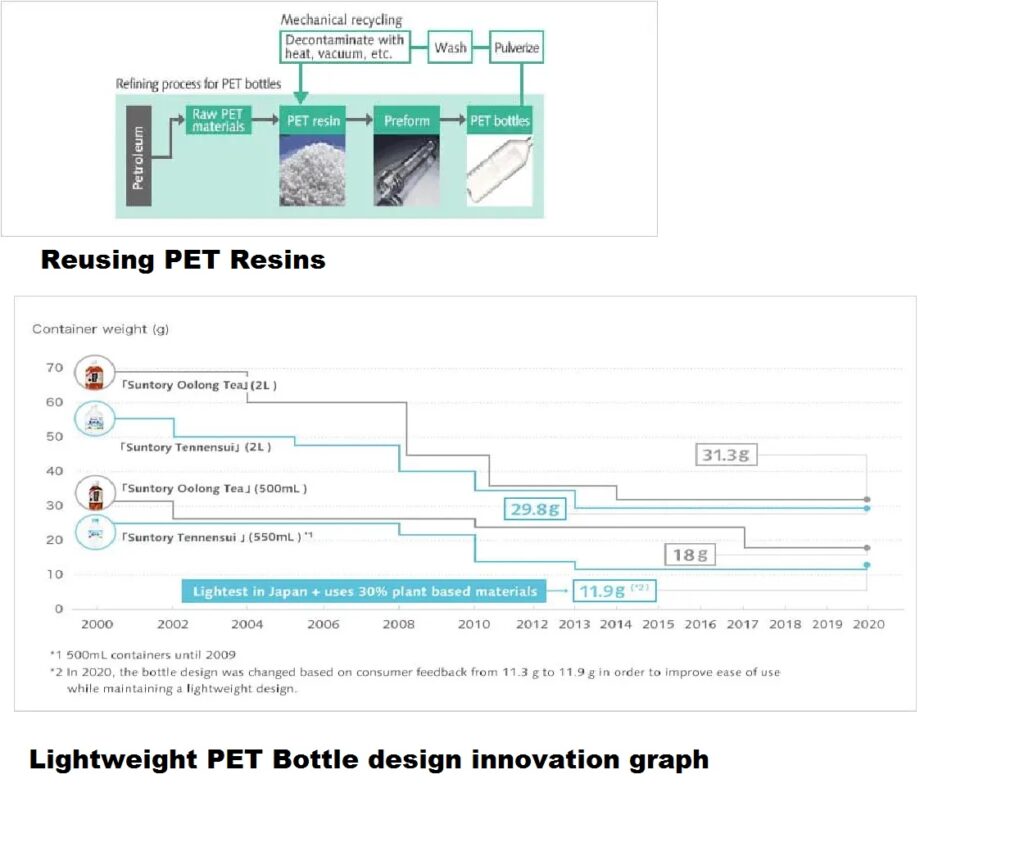 Suntory Beverage & Food Ltd. partnered with Kyoei Sangyo Co., Ltd. in 2011 for developing the Japanese beverage industry's first B-to-B*1 mechanical recycling system*2 for PET bottles. In this process, they reused PET resins in bottle making and reduced CO2 emission by 83%. For this innovation, the company received the 21st Global Environment Award in 2012 and Environmental Excellence Award hosted by the Hitachi Environment Foundation and Nikkan Kogyo Shimbun, Ltd. in 2013.
In 2021, the company named the bottle using 100% recycled or plant-based material as "Mata-aeru (Let's meet again) Bottle" as well as designing a consumer-friendly logo and implemented them for 600ml and 650ml GREEN DAKARA Yasashii Mugicha. In the UK, soft drink Ribena, excluding Rinena Sparkling, switched to using 100% recycled materials in 2020, and Lucozade Sport is planned to follow in 2021, fulfilling the Suntory group's sustainability concept.
"Suntory has been entrenched in the work to create sustainable packaging solutions since 1997. This plant-based bottle prototype honors our historic dedication while shining light, not only on our path to achieving our 2030 fully sustainable PET bottle goal but also towards our ambition to net-zero greenhouse gas emissions across the entire value chain by 2050," announced Tomomi Fukumoto, COO of Sustainability Management at Suntory Holdings.
For more details on Suntory Group's plastic policy and containers packaging, please check the official website.