The purpose of inventing vodka was to curate a drink that would be neutral. Back in time, this alcoholic beverage gained the status of a medicinal component due to its natural disinfectant and antiseptic properties. But later the progression in terms of sale and popularity of vodka was second to none. All this new fame caught the eye of many distillers and some of them thought how about we infuse some flavours to the neutral spirit. Voila! You've flavoured vodkas today. Botanicals, spices are some common things used for flavour infusion in vodka. So speaking about flavour-infused vodkas, this article is dedicated to the brand-new amazing ivy infused vodka – 'Lumber's Ivy Vodka' by 137 Distillery. I know that Eurasian plant infused in vodka? Well, experts at 137 Distillery have really created a masterpiece. 
The story of 137 Distillery :
Pete Lumber is the founder of 137 Distillery. The inspiration behind venturing into the gin field for Pete was the fascinating and huge popularity of gin in the alcohol industry. The initiative was started in the year 2017 wherein he held meetings with various friends and partners. On 10th Dec 2017, Pete started making gin at his own home. Followed by extensive research on the history of gin and how to become a distiller. Pete then started to test paring gins with food to integrate the dishes created at The Newbury into The Distillery experience. After a visit to Lille, France Pete's gets further inspiration and ideas for the decor. Finally, On 8th Dec 2018, the distillery was established.
2019 – 2021 was a rollercoaster full of awards for 137 Distillery. Some notable achievements were bagged from platforms like Gin Guide Awards, Royal Awards in Berkshire, IWSC and the great taste awards, World Gin Awards, London Spirits Awards, International Spirits Awards & International Spirits Challenge.
"Between 2019 and today we have won 59 awards. We believe this makes us the most award-winning independent gin distiller in the UK."

– 137 Distillery
Lumber's Ivy Vodka
137 Ivy Vodka also known as Lumber's Ivy Vodka is designed and produced by landlord & master distiller, Pete Lumber. 137 Distillery is known for its unique range of gins but this is the first time they have ventured into the vodka line. They have infused ivy into their recipe which gives 'the unmistakable liquorice-like sweetness with grassy green herbaceous notes.  With all the popularity this new vodka is bestowed with, it is clear that they have done an amazing job that reflects creativity, perfect perception of flavour infusion and the designing takes everything a level higher on the list of 'which amazing gin should we try next?'
Tasting notes by 137 Distillery: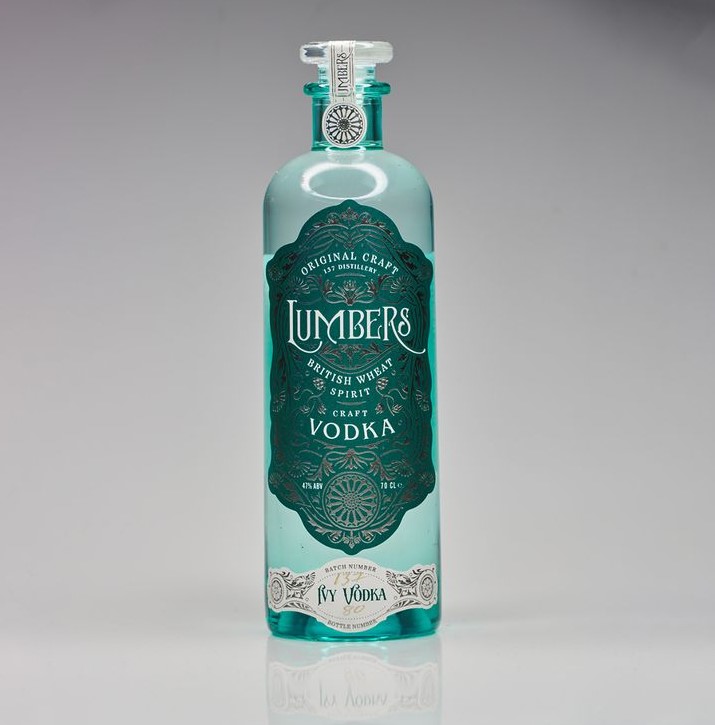 Nose: Unmistakably 137 liquorice-like sweetness with grassy-green herbaceous notes.
Palate: Exceptionally smooth with a well-rounded creamy, almost vanilla-like, yet savory mouthfeel. Multi-dimensional suiting both sweet and savory cocktail serves, and equally neat.
Finish: An intentionally medium-length finish to allow you to savor the cleanness of the spirit that holds well, but is not too bold in a variety of serves.
Versatility: Room temperature or from-the-freezer, our vodka offers something for every palate. Opt for a martini or Bloody Mary to appreciate the dry & savory side, apple juice or a Passion for Cosmo to release the crisp, fruity freshness, or indulge in an espresso martini to really wake those vanilla-cocoa notes.
The ABV for this vodka is 47% and it is priced at £47.00 ( ₹4780) for 700 ml. To buy this luscious vodka, visit – here 
"A rich and indulgent vodka, with a creamy butteriness and a lingering refined dry note of orchard fruits. It makes for a delightfully light and fluffy in texture Martini, or a nice rich-textured vodka soda. Unique in their market place, I just love the cereal: fruit interplay"

– David T Smith, Spirits Writer & Consultant. 
The eye-catching design :
Sometimes people buy a particular product for its visual. Let's just say that Lumber's Ivy Vodka stands out both in its flavor profile as well as the gorgeous aesthetic bottle which holds the ivy infused spirit. When I saw the bottle's design all I could think was about 'emerald'. The bottle in the equation is 100% recycled and it has a magnificent centre label with beautiful design markings which in some way represents the shiny climbing vine. The label also includes the brand name, product name, ABV, quantity, batch number and bottle number. The stopper used in this bottle is a 'glass stopper' instead of a wax topper. Get ready to be welcomed with a 'pop' sound when you open this beauty.
---
The luscious product range of 137 Distillery :
Lumber's Bartholomew Navy Royal
Lumber's Bartholomew Country Garden
Lumber's Bartholomew Navy Strength
Lumber's Bartholomew London Dry
Lumber's Bartholomew Berkshire Dry
137 Ivy Vodka.
For more information about the brand or to buy any of their products, Visit Here