Vodka is generally made from potato, rye, corn, and wheat through distillation. But are you aware that it can even be produced with white rice? Yes, you heard it right and I am sure you would have guessed the country producing this unique vodka too. Japan's Suntory house has carefully crafted their Haku vodka produced from high-quality white rice that is distilled through bamboo charcoal.
White Rice X Brilliant Distilleries: Haku Vodka:
A premium white rice vodka crafted in the cities of Kagoshima and Osaka of Japan by the legendary house of Suntory. In literal terms "Haku" means "white" which denotes that the raw ingredient used in this vodka is the royal white Japanese rice, but Haku also means "brilliant" that gives tribute to the craftsmen for creating such a beautiful, luminous, clear and clean white rice vodka.
The House of Suntory and its history:
In 1899, when Shinjiro Torii founded the legendary "House of Suntory" with a vision of introducing original spirits produced through Japanese technologies to challenge the conventional methods of the market he proudly believed that "SOMEDAY, SPIRITS PRODUCED IN JAPAN WILL BE LOVED ALL OVER THE WORLD."
Today, the Suntory house has stunned the global market with their fascinating and award-winning range of alcoholic and non-alcoholic products, most famous among which is the first Japanese whisky that perfectly suits the palates of Asian people.
Suntory's Haku Vodka
The luxurious Haku vodka is made with a 3-filtration process that starts its journey in Kagoshima, where the pure Japanese white rice is fermented with "rice koji" to create and mash and then gets distilled for the first time. At Suntory's liquor Atelier in Osaka, the distillate is distilled for the second time and finally, the liquid is distilled through the bamboo charcoal filtration method, which is unique and patent to the Suntory house.
It is an unflavoured clear and luminous vodka with a mild taste that envelopes your taste buds. The Haku vodka will fill your nose with the sweet and delicate floral aromas of the rice. On taking a sip, Haku will kiss your palate with its natural sweetness and sophisticated flavour that finish off with complex and lingering velvety subtleness obtained by the bamboo charcoal filtration method. 
This premium crafted Japanese vodka is proofed to a 40% ABV which was proudly launched by the Suntory house in the year 2018 exclusively to the US. Haku vodka is sold at $30 and can be bought through The Whisky Exchange or Master of Malt websites.
Featured Cocktails: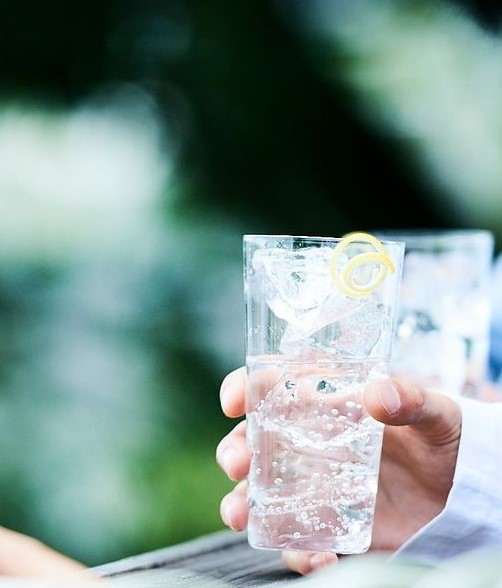 The unflavored Haku vodka's sweet and subtle taste is perfect to match any sugary beverage. These are the following cocktails that you can make from your very own Haku cocktail:
Haku-Hi cocktail 
Haku Soda
What is that martini
After sex
Bee 
Orange Squash
---
Range of famous spirits offered by the Suntory House:
YAMAZAKI- the first Japanese single-malt whisky
HAKASHU- Japanese smoky single-malt whisky with herbal notes
CHITA- the first single grain whisky with versatile flavors
HIBIKI- a range of beautifully blended whiskies
SUNTORY WHISKY TOKI- a creative blended whisky that showcases the flavors of whisky over time
ROKU: a Japanese craft gin with the flavors of cherry blossoms and green tea.
HAKU: a Japanese white rice vodka distilled through bamboo charcoal.