As the Indian craft spirits industry escalates towards popularity and variation, there are many brands bringing new products and taking everything a step higher. A new addition to the glorious collection of Indian gins is the brand new – Tamras Gin from Goa. Tamras Gin is all set to be launched in the 3rd week of December. Honestly, we are excited about the release of this gorgeous expression. Read along to find out about the qualities of this exquisite Indian gin. 
In London 2018, Devika Bhagat & Khalil Bachooali were tasting gin cocktails in a pub. During their sampling session, the bartender pondered why India didn't make any gin of its own? While sipping two martinis, Bachooali looked at his wife and said "Let's do it. Let's make a great gin."
"He had come up with 100 business ideas, but there was something about this one. So I said okay, but let's first educate ourselves about gin."

By Devika Bhagat
Devika had introduced Bachooali to the remarkable gin industry while they were dating. The familiarity towards gin came after several visits to distilleries, sampling sessions and getting educated about various concepts related to this industry. Tamras Gin is produced in Adventure Spirits Distillery based in Goa. The name signifies the lotus flower and copper metal (in Sanskrit). The founders are also renowned for their roles in the media & film industry.
All about Tamras Gin
This gorgeous expression is a blend of 16 botanicals including –
Juniper berries from Macedonia
Coriander seeds from Morocco
Black and green cardamom
Lemon verbena
Sweet lime
Grapefruit
Cubeb pepper
Lotus flower and seeds
Fennel
"We even tried chikoo (mudapple), but let's just say it didn't go down well."

By Devika Bhagat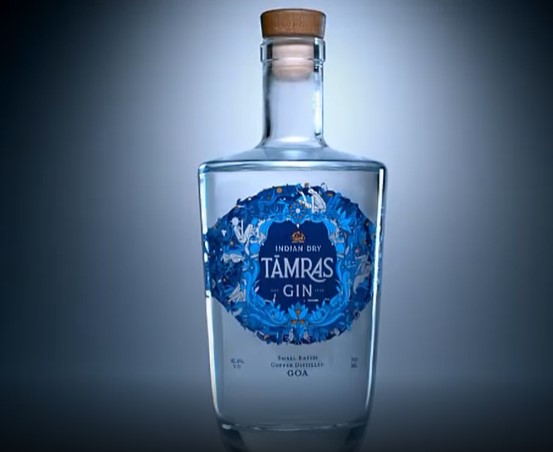 The recipe for this gin was curated with the help of an award-winning master distiller and blender – Julia Nourney. Based in Germany, she spent some time in Goa searching for local botanicals and thus encountering the idea of incorporating Chikoo which didn't go down well.
Coming towards the process of production, they have a 230-litre copper still named Odysseus manufactured by German company Mueller, if you're thinking that you might have heard this term somewhere, then you're right! It is named after the hero of the Greek epic Odyssey. Their next still is on its way and they have already decided a name for it – Phileas( Fogg, from Jules Verne's Around the World in 80 Days)
"We also have a little potstill called Alice, which we use for experimentation. And she really takes you down the rabbit hole!"

By Devika Bhagat
The screenwriter and ad film-maker duo are immensely proud of the de-saponification process used in the production of Tamras Gin. De-saponification is a term generally highlighted in the cognac industry, where a full proof spirit is diluted down to bottle strength over a span of 20 days. The neutral spirit for Tamras is made using basmati rice and the botanicals are distilled in groups.
"You allow the gin to rest, or even age, but what you're trying to do is keep it as crystal clear as possible. You're also allowing the molecular structures of the various botanical oils to perfectly marry, thereby preserving the original intensity of the bouquet and aromas. This flavour-locking technique allows for a rich, silky mouthfeel."

By Khalil Bachooali. 
Tamras Gin is best described as an exquisite expression that is rich and crisp. It is an Indian gin that has a bold flavour of juniper along with citrus notes and some hints of spices. It will be priced at Rs. 1,950 during Goa launch. It is set to arrive in Mumbai during January and in other big cities by the middle of 2022. 
Further plans of the duo hint towards aged gin in numbered bottles and rum. 
"You know, nobody is really ageing rum in India, right? And we are a country that grows the world's best sugar cane."

By Khalil Bachooali