Bourbons have always been worth exploring. There is just so much going on when it comes to bourbon whiskey. The flavors, the regulations, the required standards and in the midst of all of this, bourbon whiskey has been attracting a lot of people to join the 'I love bourbon whiskey' group. A fact that shines when it comes to bourbon – Even though no flavorings or additives are permitted. Bourbon whiskies have an amazing flavor profile. Each bottle of bourbon reflects a wide array of ideas, creativity and efforts imparted towards making bourbon whiskies worth the hassle. One good thing about bourbons? They are neither too light for connoisseurs nor too heavy for beginners. Whilst there are many notable whiskies this new addition to Maverick's remarkable collection is certainly gathering all the attention! Samuel Maverick – Barrel Proof Straight Bourbon Whiskey is a shining star in the category of Bourbon Whiskey.
Maverick's story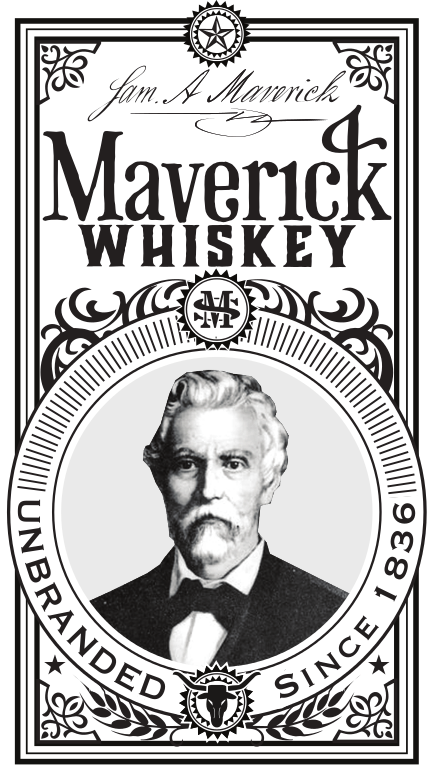 Maverick's is a whisky distillery, restaurant and event centre situated in San Antonio, Texas. This brand is dedicated to one of San Antonio's earliest families – Sam and Mary Ann Maverick. Maverick is a term used to describe a person who thinks and acts independently of and is different from others or an unbranded calf/yearling. This word originated in the 19th century and was first used in the year 1865. 'Maverick' is derived from the name of Samuel Augustus Maverick (1803-1870), Signer of the Texas Declaration of Independence. A Texas lawyer, engineer and rancher who did not brand his cattle.
"Originally the land for what is now the home of Maverick Whiskey sat at the corner of the Maverick family homestead, just steps from the Alamo."

– Maverick Whiskey.
This distillery has a wide collection of spirits distilled on a copper hybrid pot still.  Made from Texas-grown grains, spirits produced here are well-known for their luscious and unique taste. 
"We founded Maverick Whiskey in 2017 as a destination distillery in the heart of San Antonio adjacent to the Alamo as a way to celebrate our family and Texas heritage,"

Dr. Kenneth Maverick
The New Release :
Samuel Maverick – Barrel Proof Straight Bourbon Whiskey is a new launch by Maverick Distillery produced in Lone Star State. Made from Texas-grown Corn and Rye, aged for minimum of 2 years in new Charred White Oak Barrels. The mash contains 72% Texas-grown corn, 18% rye, and 10% malted barley. It is non-chill filtered and hand-bottled. The ABV is 57% and it is priced at $54.99 for 750ml. It is a bold-flavoured bourbon whiskey reflecting the feel of Texas. 
"Our distillery, housed in the restored Historic Lockwood Bank Building, carries on the spirit of Samuel Maverick with the potent flavors of our new Barrel Proof Straight Bourbon. Any maverick will appreciate its gusto."

– Dr. Kenneth Maverick.
Tasting notes by Maverick Distillery
The nose is very sweet with notes of Crème Brûlée, caramel, and stone fruit. Charred oak is prevalent as well. The palate is delightfully smooth with notes of sweet black tea, cola, and cinnamon. The finish, while silky, has the peppery bite of Rye and a touch of menthol. Great served neat in a Glencairn or in a nice Old Fashioned complete with Luxardo Cherry.
"To produce our Samuel Maverick Barrel Proof Straight Bourbon Whiskey, we expertly select the best barrels of Certified Texas Whiskey that are brought in from a Texas distillery. Once aged, we expertly blend the right barrels to bring out the sweet caramel flavors balanced with just the right pop of spice."

– Kevin Graham, Head Distiller. 
This whiskey is distributed by Republic National Distributing Company in Texas and is available in select independent retail stores like Alamo City Liquor, Spec's Wines, Spirits & Foods etc.
For more information, visit - https://maverickwhiskey.com/maverick-whiskey-distillery-and-brewery/