Once you have a sip of whiskey, you can't go back. Whiskey is an alcoholic beverage renowned for becoming a long-term favorite with a huge fan base all over the world. There are lots of pre-existing varieties when it comes to whiskey plus the passion which drives distillers to keep on experimenting and creating new unique products. When we talk about America and whiskey together, there are some names that pop right off – Bourbon whiskey, Kentucky Straight Bourbon, Tennessee whiskey, Rye whiskey, Corn whiskey, etc. All these categories with so many products from different distilleries, are you curious enough to find out which is the best bourbon, Tennessee, or rye whiskey of 2021? The American Whiskey Masters 2021 competition staged by The Spirits Business has covered it out all for you!
Professionalism & Quality of the competition :
One of the best economy hotels in the UK – Ibis Hotel in London Bridge was the venue for the blind tasting that assessed the quality of all the whiskey entrants for this competition. On the same day, The World Whiskey Masters & The Irish Whiskey Masters competition took place. All three of these competitions had the same panel of judges. These competitions are so successful due to the recognition a brand and their product achieves throughout, thereby gaining a lot of participants in various competitions and categories. Before moving on to the best of 2021 deemed so for their flavors, finish and aroma let us have a look at the judges who did the blind tasting and carefully assessed each and every factor portrayed by the whiskies.
First panel of the judges : Nicola Carruthers – Deputy editor of The Spirits Business magazine joined by Tommy Cummins – Head of purchasing at The Umbrella Project and James Goggin – Head of sales at Empirical.
Second panel of the judges : Billy Abbott – Ambassador for The Whisky Exchange accompanied by judges Caroline Roddis – Editor of The Whisky Exchange and Karen Taylor – Co‐founder of the Whisky for Everyone blog.
Third panel of the judges : Evan Prousaefs – Bar manager at The Leaf and Cane in London and Matt Chambers – Co‐founder of the Whisky for Everyone blog,
The final panel of the judges : Michel Fichtner – Head bartender at the Coburg Bar at The Connaught hotel in London joined Melita Kiely – Editor of The Spirits Business and chair of the tasting on the final panel.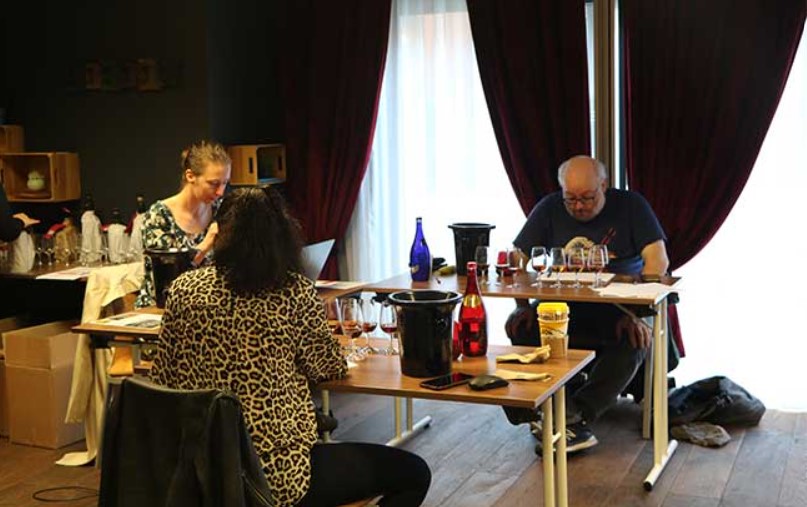 The wait is over : Opening flight – Bourbon Premium
Sazerac company was by far the highlight of this category with 3 master medals & 6 gold medals. Sazerac's Benchmark Small Batch presented notes of "caramel, coffee, cake" and was described as "punchy" thereby gaining the status of master award. Along with this Benchmark Full Proof by Sazerac Company caught the judges' attention.
" Bourbon gets very exciting when you get an exceptional cask. Benchmark Full Proof offered something different, not the stereotype of whiskey; it was big, but very easy to drink."

Tommy Cummins, – Head of purchasing at The Umbrella Project
Gold medalists – Eagle Rare Bourbon by Sazerac which presented "vanilla, oak spice, some leather and a hint of honey", and Bowman Brothers Small Batch, enjoyed for its "sweet and fruity" palate. A Silver medal was awarded to Aldi Ireland's Daystar Bourbon.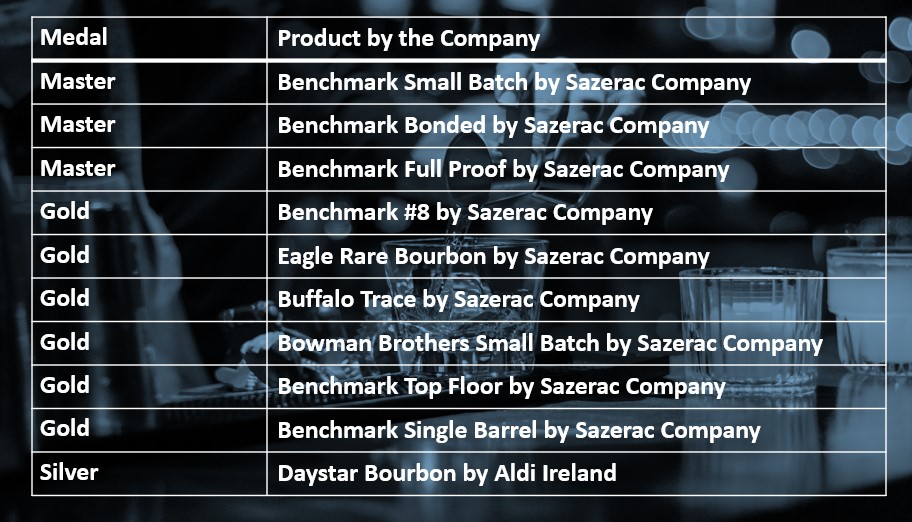 Selection of 2021 Super-Premium Bourbons
13 gold medals were awarded in this costly pricce category. Luxco bagged two gold medals with Rebel 100 Kentucky Straight Bourbon Whiskey and the other Ezra Brooks 99 Kentucky Straight Bourbon Whiskey which was described as full of "marzipan and rich tropicals", leading to a finish of "spicy chillis and oakiness".Glen Glant received two gold medals, one of them for Wild Turkey 101 with notes of "caramel, figs and dried citrus".
'This was a solid round, very consistent in quality. There were some great whiskeys, but nothing clearly pushing into higher scores."

Billy Abbott, ambassador for The Whisky Exchange
Sazerac company was awarded with 9 gold medals in this category for whiskey entrants like Weller Antique, Isaac Bowman Port Finished Bourbon and Weller Full Proof which was described as whiskey with notes of "fig and prune" on the nose and a "buttery" finish with a "peppery note" for added complexity. A Silver medal was also awarded in this round to Straight Bourbon Whiskey by R6 Distillery.
Highest Scoring Bourbons: Bourbon – Ultra Premium
This category consisted of the highest-scoring bourbons which the judges had an eye for. Sazerac Company was bestowed with 3 master medals (the total no. of master medals in this category) for Stagg Jr by the which delivered a complex assortment of tasting notes: "Coconut, vanilla, cake‐like and oranges", with "meaty" depth. A Smith Bowman Cask Strength, which offered "intense vanilla" and "rubber, toffee, cinnamon and roasted coffee beans" and  EH Taylor Jr Barrel Proof to its growing haul, enjoyed for being "very chewy, juicy, refined and well balanced".
Gold medals were awarded to 5 entrants. A Gold for "earthy, spicy and sweet" Wild Turkey Rare Breed by Glen Grant and another for 291 Colorado Bourbon Whiskey by Distillery 291 finished with Aspen Wood Staves, with notes of "polished furniture and coffee". Followed by 3 golds awarded to Sazerac Company's Old Charter Oak French Oak, EH Taylor Jr Small Batch & EH Taylor Jr Single Batch.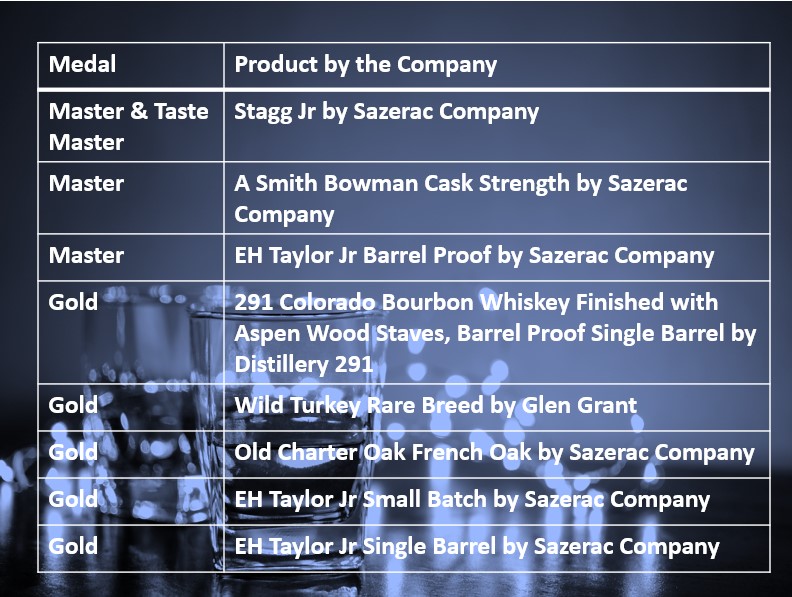 Bourbon – No Age Statement Round
One master award bestowed to X Texas Straight Bourbon Whiskey finished in Tawny Port Casks caught the judges' attention. The bourbon had "a really lovely nose" with "lots of Sherry and dark fruits". Seven gold medals were awarded to entrants including Yellowstone Select Kentucky Straight Bourbon by Luxco which was hailed for its "fruity nose" and "creamy mouthfeel". Zamora Company grabbed two Golds in this category, one for "fresh and vibrant" Yellow Rose Harris County and a second for "unique and well balanced" Yellow Rose Outlaw Bourbon.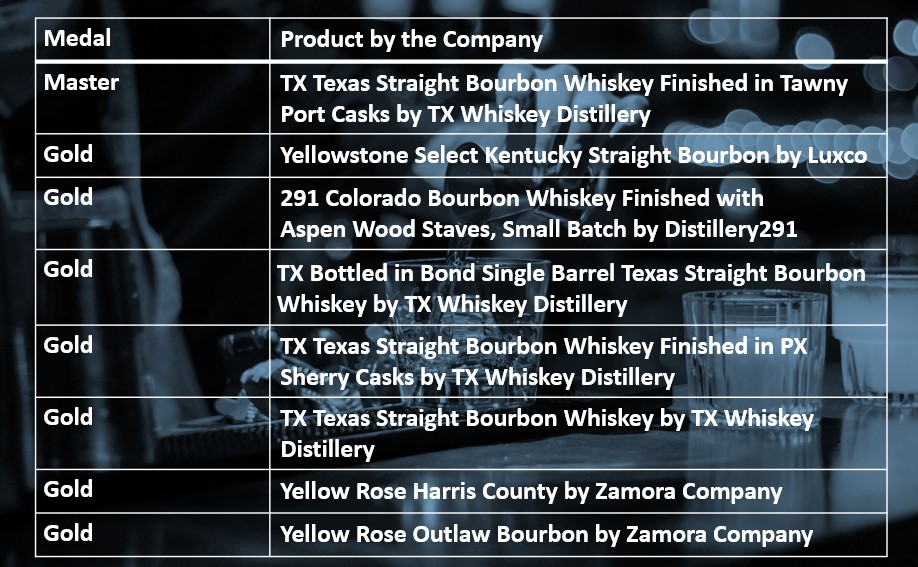 7-year finesse : Bourbon – Aged up to 7 years.
Two Master medals were awarded out of which one was presented to Beer Barrel Bourbon with notes of "hops and orange peel" on the nose and palate while second was awarded to Hirsch the Horizon which portrayed "vanilla, warming spices and coating mouthfeel". Halewood Artisanal Spirits bagged 2 golds followed by one gold awarded to TX Barrel Proof Texas Straight Bourbon Whiskey by TX Whiskey Distillery.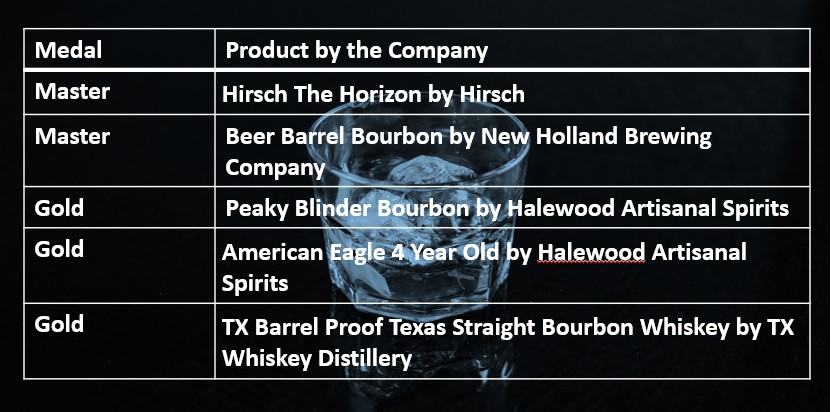 The Two Tennessee Categories : Super Premium & Ultra-Premium
Both of these categories consisted of 2 gold medals each. All the four golds were bagged by Uncle Nearest Premium Whiskey. In the Tennessee – Super Premium, Uncle Nearest 1884 Premium Small Batch Whiskey was enjoyed for the "good cereal notes" that gave the whiskey "structure" and Uncle Nearest 1856 Premium Aged Whiskey was described as having a "chocolate and mocha nose" leading to a "lovely palate with a good balance of sweetness and spice". The Ultra-Premium category's gold honour was awarded to Uncle Nearest 1820 Premium Single Barrel Whiskey – US‐53 & Uncle Nearest Master Blend Edition.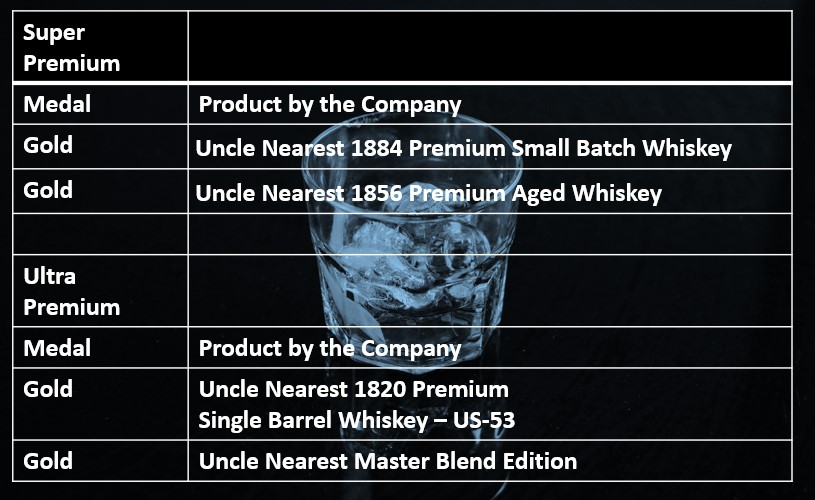 The Two Rye Premiums : Super & Ultra
Rye Whiskies recently became a whole lot famous and even in this competition they shined out perfectly. Sazerac Rye by Sazerac Company with flavor profile of "orange zest" and "spicy, peppery" flavours plus Roundstone Rye 80 Proof by Catoctin Creek Distilling Co with tasting notes of "toffee sweetness" and "punchy spice". Both received a silver medal.
"The category has a lot of potential for great whiskeys."

Caroline Roddis, editor of The Whisky Exchange
The Ultra-premium category bended towards an expensive end but judges were quite excited about one out of all – EH Taylor Jr Straight Rye by Sazerac Company received the top award, securing a Master for its "delicious, lush mouthfeel", and "dates and treacle" on the nose.
"Rye can sometimes be a bit too aggressive and in your face, but the Master medal was very well made. The palate opened up really well, and the tropical showed that it had been matured well."

James Goggin, head of sales at Empirical.
All about Rye : Rye – No age Statement , Rye – Aged up to 7 years
Colorado Rye Whiskey Finished with Aspen Wood Staves received a gold medal portraying flavours of orange oil, maraschino cherry" and "juicy and delicious" palate. Yellow Rose Rye by Zamora Company was also deemed worthy of a gold award because of its "lovely mouthfeel" with "vanilla, maple syrup and gripping cereals". Completing the trio of Golds was Minor Case Straight Rye Whiskey from Luxco. The whiskey had flavours of "golden syrup and white pepper" on the nose, and "oaky, peppery spices" on the finish.
In the Rye – Aged up to 7 Years heat, Old Potrero Straight Rye 6 Years Old whiskey was found to have "serious cereals on the nose" with "delicate cherry notes and earthy spices, and a hint of burnt caramel".
Single Malt – Super Premium, Other Grains & Flavoured Whiskeys
R6 Distillery Single Malt bagged a silver in Single Malt – Super Premium for having flavours of "coffee liqueur and syrup" on the palate, with some "drying oak spices". Other Grains category had a sole winner, Zamora Company secured a silver medal for Yellow Rose Premium American whiskey. The judges noted the whiskey's "elegance" with a "hint of floral and slightly herbal finish".
Last but not the least, Flavoured Whiskies category had two gold medals awarded to Ole Smoky's Salty Caramel Whiskey, which was "nicely balanced sweet and salty. Ole Smoky's Peanut Butter Whiskey also secured a Gold, liked for being "super nutty" on the nose and "sticky sweet" on the finish.
The customary retesting of the Master medallists then took place, and the judges individually selected their favourites. American Whiskey Taste Master 2021 was awarded to Stagg Jr by Sazerac Company.
 "There was very high quality across everything we sampled today, the whiskeys were consistently good. Great products, great balance – it's no wonder American whiskey is so popular. There's a lot to discover and enjoy here."

Michel Fichtner, head bartender at the Coburg Bar at The Connaught hotel in London
Source:- The Spirits Business