"Love moves the world, but the whiskey rotates it twice faster." -Compton Mackenzie
"The US whiskey market has seen rocketing sales in the past decade, with bourbon production alone growing by more than 150% and the number of craft distilleries over the period more than quintupling. American whiskey producers have also been willing to add flavoured whiskeys to their collections, which has traditionally been avoided in the whisky industry. This trend is part of a broader growth in the popularity of flavoured spirits. All in all, these flavoured whiskeys and the milder taste of bourbons – as well as their prominent use in cocktails – have rendered American whiskeys, in some instances, more accessible than their Scottish or Irish counterparts."

According to Truly Blog
Whiskey fans have no shortage of quality brands to explore when shopping for their next bottle. There is a list of the top 9 American Whiskeys.
According to data shared by the Spirits Business, Jack Daniels and Jim Beam are among the best-selling American whiskey brands, with 12.3 and 10.7 million 9-liter cases sold in 2020, respectively. Evan Williams and Maker's Mark, take third and fourth place respectively. Jack Daniel's Tennessee Honey, grew 6.3 percent to land in fifth place with 2 million cases sold, followed closely by Diageo's Seagram's 7, Bulleit whiskeys, and Wild Turkey Bourbon.
Woodford Reserve, for breaking the million case mark for the first time deserves to be placed in the ninth position. Sales of the brand's whiskey surged 13.6 per cent, the biggest gainer in the American whiskey field.
The Best Selling American Whiskey Brands In the World For 2021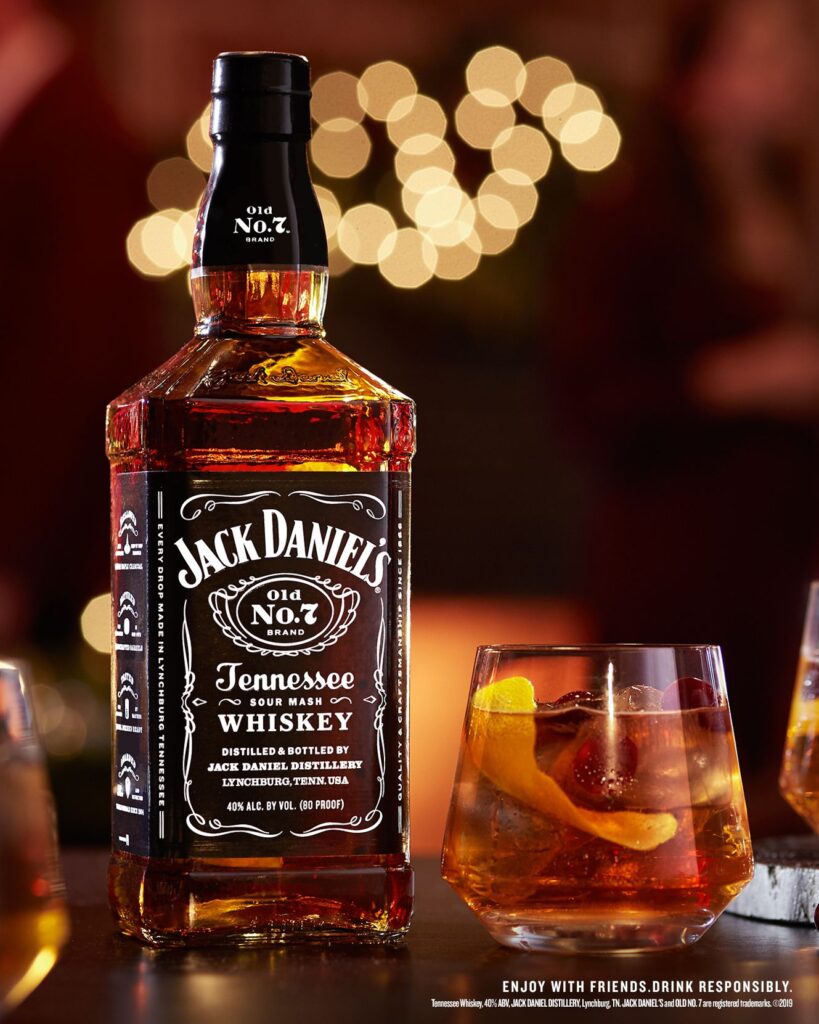 Jack Daniels
Ranked #1, we have Jack Daniels which sold over 12.3 million cases in 2020.
Jack Daniel's is a brand of Tennessee whiskey and the top-selling American whiskey in the world; founded by Jack Daniel in the year 1875.  It is produced in Lynchburg, Tennessee, by the Jack Daniel Distillery, which has been owned by the Brown–Forman Corporation since 1956. Jack Daniel was mentored in whiskey-making by Nathan "Nearest" Green, an enslaved man believed to be America's first Black master distiller. Jack Daniel uses a distillation method known as charcoal mellowing in which unaged whiskey is filtered through sugar maple charcoal.
Product Range
Jack Daniel Gentleman Jack, Jack Daniel Tennessee Fire, Jack Daniel Tennessee Honey, Jack Daniel Single Barrel Collection, Jack Daniel Tennessee Rye, Jack Daniel Old No.7, and Jack Daniel Special Editions.
Why is it so famous?
According to Catawiki-"Jack Daniel's has always been associated with music, especially rock, and Frank Sinatra played a great role in making the brand popular back in the days. He loved the brand so much that he was buried with a bottle (along with a packet of cigarettes and a lighter). Jack Daniel's released a special limited edition bottling to commemorate the musician and did the same when another famous Jack Daniel's drinker, Lemmy from Motörhead, passed away early 2016."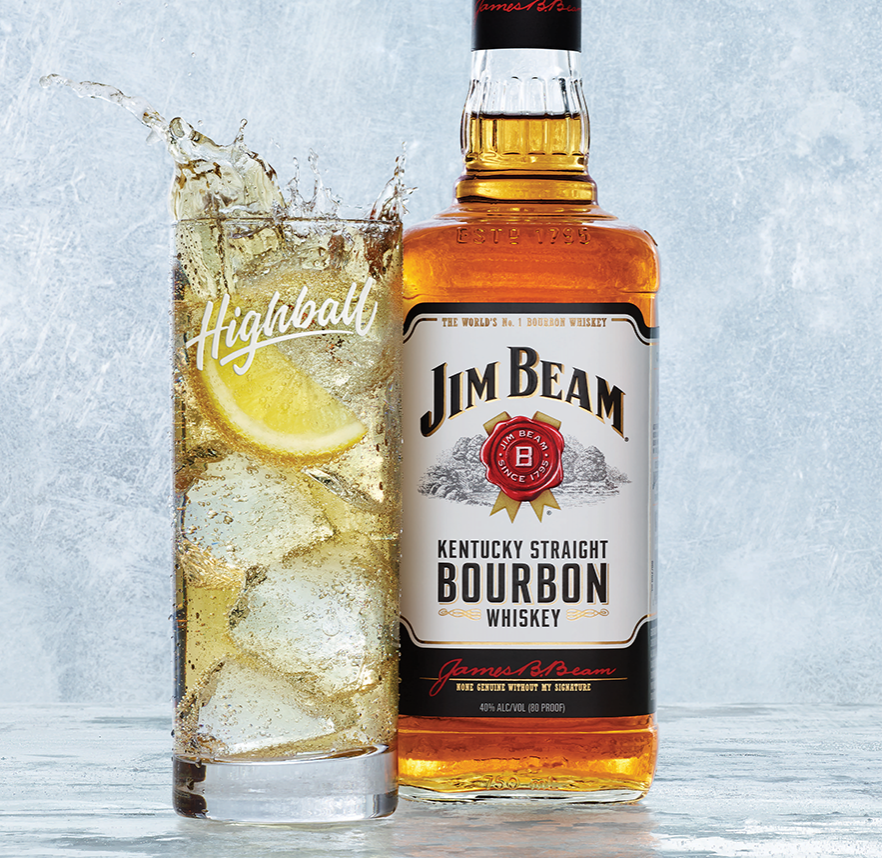 Jim Beam
Ranked #2, there is Jim Beam whiskey brand with 10.7 million cases sold in 2020.
 In 1795, Jim Beam, originally known as "Old Tub Bourbon," was founded by the Kentucky farmer Johannes "Jacob" Beam after he created a new style of whiskey with his father's recipe and an excess supply of corn. The brand name became "Jim Beam" in 1943 in honor of James B. Beam, who rebuilt the business after Prohibition ended. Previously produced by the Beam family and later owned by the Fortune Brands holding company, the brand was purchased by Suntory Holdings in 2014.
Product Range
Jim Beam Original (white label), Jim Beam Black (black label), Jim Beam Devil's Cut, Jim Beam Bonded (metallic gold label), Jim Beam Double Oak (dark blue label), Jim Beam Single Barrel, Jim Beam Signature Craft bourbon whiskey, Jim Beam Signature Craft Quarter Cask Bourbon, Jim Beam Harvest Collection (limited release), Jim Beam Distiller's Masterpiece, Jim Beam Rye (green label), Jacob's Ghost, Jim Beam Apple, Jim Beam Honey, Jim Beam Kentucky Fire, Jim Beam Maple, Jim Beam Red Stag, Jim Beam Vanilla, and Jim Beam Peach.
Why is it so popular?
According to Vinepair- "When comparing each brand for the everyday drinker, Roth believes Jim Beam offers consumers a great value. He's particularly fond of Beam's Black [Label], calling it "fantastic" for the price. "In a time of hard-to-get bourbons and skimpy allocations, Jim Beam bourbon is a classic everyday whiskey," he adds."
Evan Williams
Ranked #3, Evan Williams sold over 3 million cases in 2020.
Evan Williams is a brand of Kentucky straight bourbon whiskey bottled in Bardstown, Kentucky, by the Heaven Hill Company. The product is aged for a minimum of four years. Founded in 1783 on the banks of the Ohio River, Evan Williams is one of the oldest distilleries in the country and the first bourbon distillery in Kentucky. Evan Williams Black Label is the premier Kentucky bourbon to suit your tastes because of its history and secret recipe. This whiskey is versatile, sweet, and affordable.
Product Range
Evan Williams Green Label, Evan Williams White Label, Evan Williams Black Label, Evan Williams Single Barrel, Evan Williams 1783, Evan Williams Red Label, Evan Williams 23 years old, Evan Williams Egg Nog, Evan Williams Honey Reserve, Evan Williams Cherry Reserve, Evan Williams Kentucky Cider, and Evan Williams Cinnamon Reserve.
Why is it so popular?
According to Gear Patrol- "If Evan Williams were to sell this whiskey to someone else, that brand would mark it up to $40, and people would be happy buying it," whiskey personality and author Fred Minnick says. But Evan Williams is a value brand. So its whiskey, at a great proof point of 86 and an age that Minnick says is roughly five-and-a-half years old, goes for less than $20. "It's a fantastic bourbon, especially for the money," he says. "You can get a lot of satisfaction out of that."
According to Drizly- "Although purists say the only way to drink bourbon is neat or on the rocks, Evan Williams Black Label lends itself to any number of lavish cocktails. Evan and cola is an all-American choice among cocktails, while an Evan and mineral water brightens the flavor without any harshness."
Maker's Mark
Ranked#4, Maker's Mark has sold over 2.4 million cases in 2020. Maker's Mark is a small-batch bourbon whiskey produced in Loretto, Kentucky, by Beam Suntory. Maker's Mark's origin began when T. William "Bill" Samuels Sr., purchased the "Burks' Distillery" in Loretto, Kentucky, for $35,000. It is bottled at 90 U.S. proof (45% alcohol by volume) and sold in squarish bottles sealed with red wax. Maker's Mark is unusual in that no rye is used as part of the mash. Instead of rye Maker's Mark uses red winter wheat (16%), along with corn (70%) and malted barley (14%) in the Mash Bill.
Product Range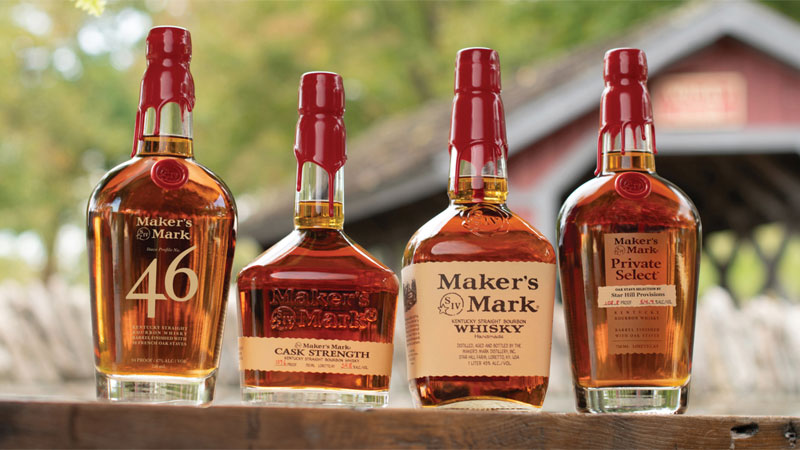 Maker's Mark, Maker's Mark Cask Strength, Maker's Mark Private Selection, Maker's Mark  46, Maker's Mark Wood Finishing Series 2021 Limited Release: FAE-01
Why is it so popular?
According to The Whiskey Shop- "It all starts with sixth-generation distiller Bill Samuels Sr. Bill set out to find a flavor that would make his bourbon stand out from the competition or as he said, "a bourbon that won't blow my ears off." This is why Maker's Mark uses soft red winter wheat as this imparts the front-of-palate sweetness that Maker's is known for. Another element that helps Maker's Mark stand out from many other bourbons and whiskies is the fact that it's aged to taste and not just a case of bottling after a set period of time. The tasting panel determines when the whisky is ready to move to a cooler section, keeping it from maturing too quickly. Readiness is determined by the Master Distiller and expert tasting panel."
Jack Daniel's Tennessee Honey
Ranked at #4, Jack Daniel's Tennessee Honey whiskey has sold over 2 million cases.
Jack Daniel's Tennessee Honey is Jack Daniel's honey and whiskey liqueur which is a blend of regular Old No 7 and a spiced honey liqueur. The tasting notes include spice, sweetness, floral undertones, and a long smooth finish. It is produced in Lynchburg, Tennessee, by the Jack Daniel Distillery. The liqueur has the same body and mouthfeel as classic Jack Daniel's. Quite simply, it tastes as if you mixed a little local Tennessee honey into a shot of regular Jack Daniel.
Why is it so popular?
According to The Spruce Eats- "There are a few exceptions, though, and Jack Daniel's Tennessee Honey is one of those shining stars. This is a honey liqueur that is blended with the famous Tennessee whiskey. It does not have that cloying or artificial flavor found so often in flavored whiskey. Instead, it is a perfect marriage of true honey flavor blended with the one and only Jack Daniel's. Jack Daniel's Tennessee Honey features a light, sweet honeyed aroma. This is marked with undertones of that classic, sugar maple and charcoal-mellowed fragrance that we've come to know and love about JD. "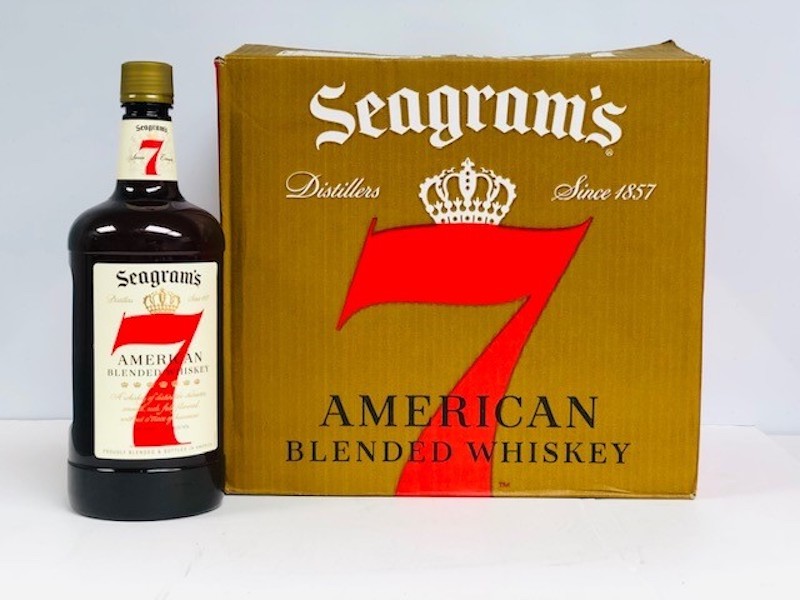 Seagram's 7
Ranked #6, Seagram's 7 whiskeys have sold over 1.9 million cases in 2020.
Seagram's Seven Crown, also called Seagram's Seven, is a blended American whiskey produced by Diageo. Seagram's beverage division was acquired by Diageo, Pernod Ricard, and The Coca-Cola Company in 2000. Seagram's Seven is typically consumed in combination with mixers such as ginger ale, cola, or lemon-lime soda. Seagram's Seven with 7 Up is known as a "7 and 7". Seagram's Seven has an ABV of 40%.
Product Range
Seagram'7 Crown Blended Whiskey, Seagram'7 Crown Dark Honey, and Seagram'7 Crown Apple.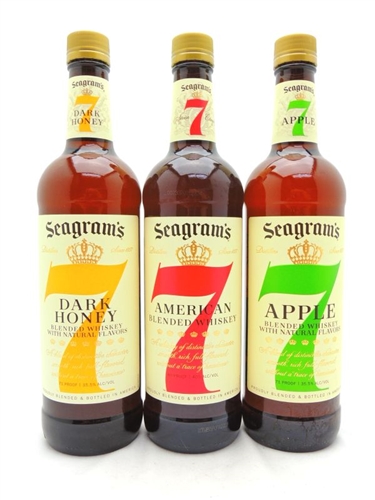 Why is it so popular?
According to Master of Malt- "Seagram's 7 Crown is a long-running brand of blended American whiskey seen on back-bars across the lands. A reliable whiskey for enjoying with mixers, particularly the ever-popular 7up – a combination of which creates a cocktail called the '7 and 7′. Or '14', if you're the sort of person that prefers simplified fractions and the like."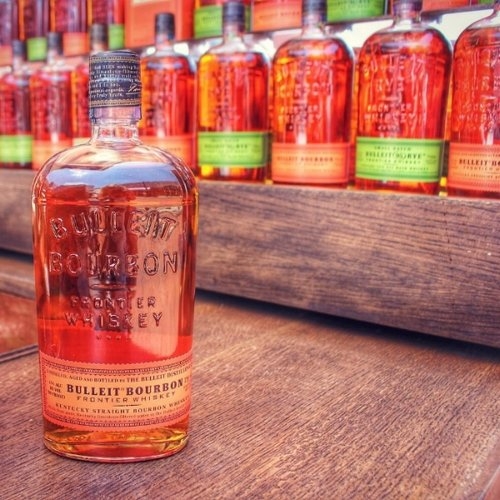 Bulleit
Ranked #7, Bulleit whiskey has sold over 1.8 million cases in 2020.
Bulleit Bourbon is a brand of Kentucky straight bourbon whiskey produced at the Bulleit Distillery in Lebanon, Kentucky, and the Bulleit Distillery in Shelbyville, Kentucky, for the Diageo beverage conglomerate. It is characterized by high rye content for bourbon and is aged for at least six years. It is bottled at 45% abv (90 proof) for the US, Canadian, British, Dutch, and Mexican markets. It is also sold in Germany, Australia, Norway, and Sweden.
Product Range
Bulleit Bourbon, Bulleit Rye, Bulleit Bourbon 10 year old, Bulleit Barrel Strength, and Bulleit Blenders Select
Why is it so popular?
According to Derek Sun in Whiskey Wash- "Bulleit Frontier is a good bourbon to try, as it gives a unique drinking experience most other whiskies do not provide. At 90 proof, it is comparatively light for a whiskey and has a diverse flavor profile. The overall taste is deep, full, and is a terrific example of what whiskey ought to taste like. Increasing the rye to make this whiskey was a great choice, and it is the factor most responsible for making Bulleit such a memorable bourbon."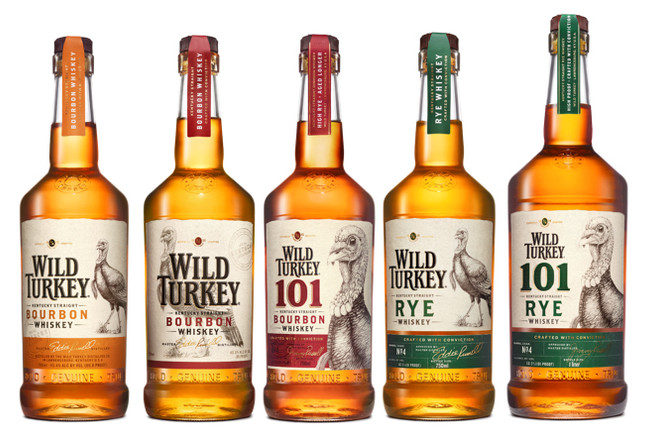 Wild Turkey
Ranked #8, Wild Turkey brand sold over 1.7 million cases in 2020.
The Wild Turkey Distillery is situated in Lawrenceburg, Kentucky. Before known as Ripy Distillery, it is now named after the brand that Austin, Nichols & Co developed. In the 1940s Manager Thomas McCarthy, Manager of Austin Nichols, carried samples of his new Bourbon with him when he went hunting wild turkeys with his friends. Soon they started to call it the "Wild Turkey" Whiskey and McCarthy decided to use this nick to be the brand name for his Bourbon Whiskey. To guarantee the best quality of a Whiskey one of the most important links in the chain is the master distiller. Here at Wild Turkey Distillery the famous and brilliant Jimmy Russel has been working since 1954 and most of these years he has been Master Distiller and ensured a constant high leveled quality.
Product Range
Wild Turkey Bourbon, Wild Turkey 101, Wild Turkey Rye, Wild Turkey 101 Rye, Wild Turkey Longbranch, Wild Turkey Rare Breed, Rare Breed Rye, Wild Turkey Kentucky Spirit, Master's Keep Bottle-In-Bond, Wild Turkey Master's Keep Cornerstone Rye, Wild Turkey Master's Keep Revival, Wild Turkey Decades, Wild Turkey Master's Keep, Wild Turkey American Honey, Wild Turkey American Honey Sting, Russel's Reserve 10 Year Old Bourbon, Russel's Reserve 6-Year-Old Rye, Russel's Reserve Single Barrel Rye, and Russel's Reserve 2002.
Why is it so popular?
According to Whiskey Pedia- "A robust yet balanced whiskey, Wild Turkey never disappoints. Full of flavor, this bourbon is delicious when neat, smooth on the rocks, and amazing in cocktails too. Truly counted as one of the best commercially available sub-premium bourbons. Legend has it that not a drop of Wild Turkey is bottled unless it is aged at least five years. Even the tin-clad, wooden houses have managed to withstand the test of time allowing maximum interaction between wood and bourbon since the 1890s. It is this heritage that makes Wild Turkey hallowed among whiskey drinkers. This bourbon has many fans, thanks to the quirky turkey logo, intricately detailed bottle, and a history that dates back to the nineteenth century. "
Woodford Reserve
Finally, at #9, Woodford Reserve bourbon has sold over 1 million cases in 2020.
Woodford Reserve is a brand of premium small batch Kentucky straight bourbon whiskey produced in Woodford County, Kentucky, by the Brown-Forman Corporation. The Woodford Reserve Distillery is formerly known as the Old Oscar Pepper Distillery and later the Labrot & Graham Distillery. It is made from a mixture of copper pot still spirits produced at the company's Woodford Reserve Distillery, and column still spirits from the Brown Forman Distillery in Shively, Kentucky. . The brand was introduced in 1996.
Product Range
Woodford Reserve Straight Bourbon Whiskey, Woodford Reserve Double Oaked, Woodford Reserve Malt Whiskey, Woodford Reserve Rye Whiskey, Woodford Reserve Wheat Whiskey, Woodford Reserve Baccarat Edition, Woodford Reserve Master's Collection, and Distillery Series.
Why is it so popular?
According to The Spruce Eats- "Woodford Reserve is a straight Kentucky bourbon whiskey. It is distilled from corn, rye, and barley at one of Kentucky's oldest distilleries. The brand helped reshape whiskey's image over the last few decades and is an icon in the bourbon world. Considered among the best, Woodford Reserve's smooth taste makes it a great value at its price point. Many whiskey drinkers enjoy it straight, and it works very well in nearly any bourbon cocktail."
So, which one is your favorite?