Today, gin holds strong as one of the go-to base spirits for a whole slew of classic and modern cocktails. According to market data from Statista- 'gin sales in the United States are estimated at $2.46 million so far in 2021 and are projected to see 7.7 percent growth each year through 2025. As the Texas beverage industry continues to innovate, it's a safe bet that we'll see continued growth in the gin business statewide.'
Texas is so big and diverse that it's practically its own country. In fact, it was a nation of its own from 1836 to 1845. The Texas landscape ranges from desert badlands and swimmable coastlines to lush mountains and sprawling prairies. Its communities go from the heights of urban sophistication to the tiniest, most charming out-of-the-way towns.
There is surely no shortage of Country culture here: rodeos, line-dancing and ample opportunities for an adventure by horse or mule. And then there's the barbecue.
If you are in Texas, you can't miss out on the textured botanical Texas Gins. At its core, gin is simply a neutral spirit that has been flavored with a specific recipe of botanicals (herbs, roots, and citrus). By definition, juniper berries must be a part of that recipe—they give gin its defining flavor.
"It's true: Everything is bigger in Texas. From portion sizes, pickup trucks, and 10-gallon hats to the thousands of kilometers of rugged, gorgeous terrain. This state encompasses such a wide swath of human experience that exploring all of its nooks and crannies would take months – maybe years."

According to GoUSA
By the late nineteenth century, it rose in quality as one of the most popular base spirits for cocktails at some of the world's glitziest hotel bars, thanks to its role in classic recipes like the gimlet, the French 75, and the martini. 
Among craft bartenders, gin is often heralded as one of the most versatile spirits.
" In the thread of world history, Texas is late to the gin game. The spirit was first used as a medieval medicinal tonic by the Dutch as early as the thirteenth century. It eventually grew in popularity among the British, and by the early eighteenth century, it had taken over as the "widespread social drug of the time" among the lower economic classes." 

According to Tristan Stephenson, author of The Curious Bartender's Gin Palace
"Gin is a category I love because it provides a great landscape for experimentation," Well. "Depending on the season, you can play with the different botanical blends of the different brands out there. The gins I like to use in the summer may play better with lemon and lime, while the ones I like to use in the winter are better for building cocktails that would have grapefruit as a citrus component." 

Says Jessica Sanders, owner of the Austin bar Drink.
From the different awesome Texas Gins, the list is narrowed to the three local Texas Gins. The standouts you can seek are:
Old Highborn Gin
Ask your local bartender about Old Highborn. Old Highborn Gin is known as 'a traditional dry spirit with a Texas flair'. To spur growth, Genius Liquids produced a complementary product, Old Highborn Gin, specifically for bar use.
"Genius Gin aims to change your expectations about Gin. The taste is bright, open, floral, intuitive, and accessible. Our Gin embraces the light freshness of Juniper and crispness of other natural botanicals to not create an abrasive spicy flavor, but a beautifully elegant spirit to be mixed with just about anything. We think we can change your mind about Gin. And to help, we'll provides recipes, answers, and any support to heighten your Genius Gin experiences. This is our passion and we'd love to share a drink with you."

By The Genius Gin Distillery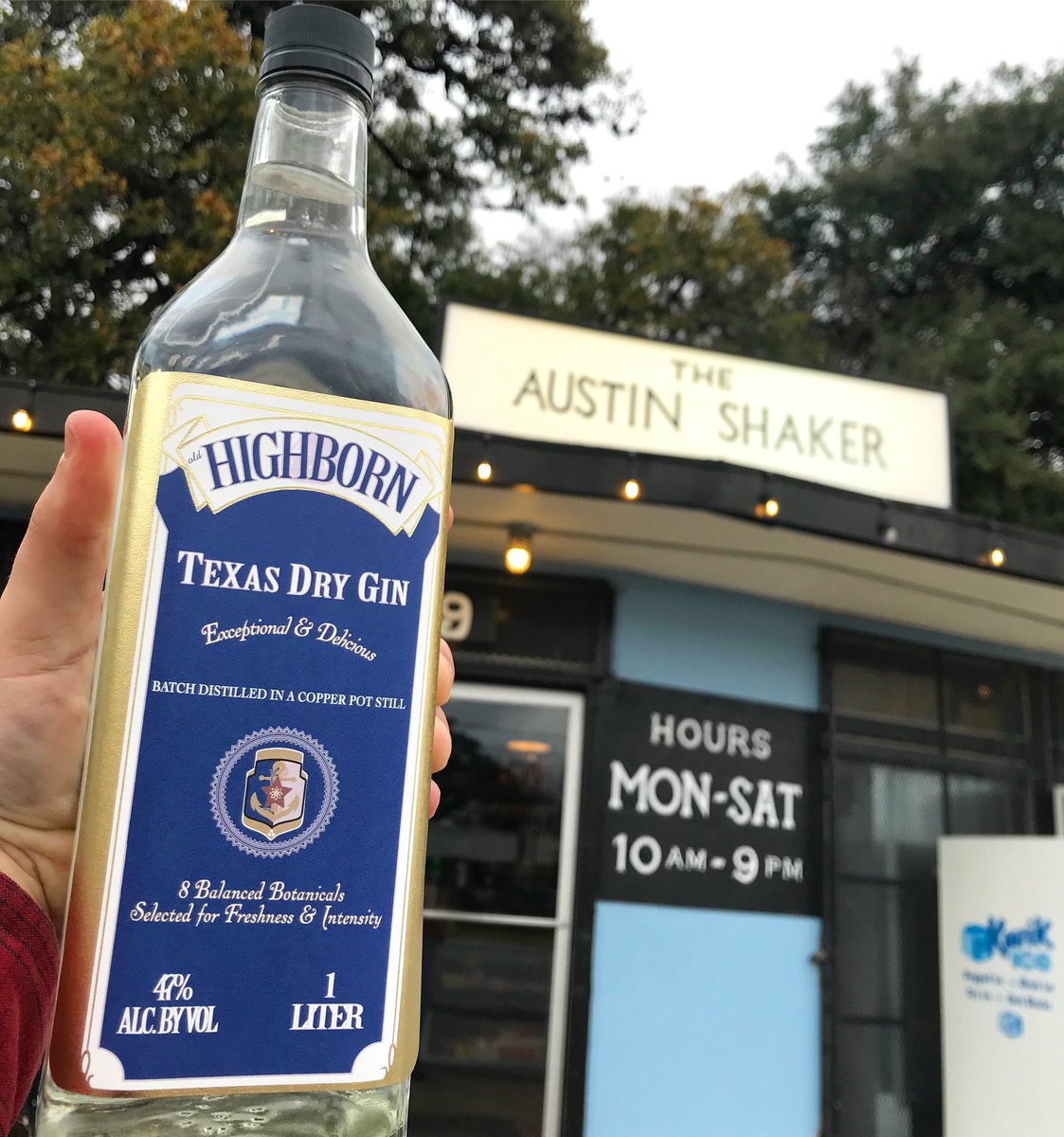 How is it made?
Unlike most Gins, it is pot distilled to retain deep flavors and oils. The eight perfectly balanced botanicals are deliciously bright and earthy to hit the palette perfectly. This creates both familiar and unique flavour.
Tasting Notes- At 47% ABV, the crispness of botanicals shines through citrus and aperitifs delicately. OHB has broad appeal for building a wide range of libations. The flavours which hit your palate includes:  cinnamon, tea, citrus peels (both fresh and dried), juniper, and more.
OHB is available at a retailer near you and in the Official Drink of Austin at Frank's.
Still Austin American Gin
Still Austin's American Gin—known as "The Naturalist"—employs the same gin recipe that's built a loyal fanbase over the past few years. This urban distillery is primarily a whiskey producer, but the owners are making a gin that whiskey lovers could get behind while waiting for its artisan bourbons to age.
"Our still was a joint design venture between master distiller Mike Delevante and the engineers at Forsyths in Rothes, Scotland. At 42 feet in height, our beloved Nancy—the "Still" in Still Austin—was the first column still of her kind in Texas. In fact, she remains the only column still in the United States to have been built by the legendary Scottish master stillmakers. Creating whiskey is as much ingenuity as it is exactitude. That's why we insisted on building our distillery inside the city limits of Austin—a metropolis famed for blending art and science. But how, we asked, do we build a community around whiskey? We began working with Texas farmers, helping them turn crops; we gave back feed to cows; we built our distillery to conserve energy. We did this because it's the right thing to do."

By The Still Austin Whiskey Co. distillery
How is it made?
The spirit continues the tradition of hand-distilling in small batches, using 100% Texas-grown grains: Brasetto rye and non-GMO white corn. The spice of the rye provides a perfect counterpoint to the sweetness of the corn. Each 100-gallon batch is distilled using the cooper-pot still, known as "The Queen," and infused the spirit with a lush combination of 12 botanicals, including coriander, elderflower, Jamaican allspice, two types of cinnamon and three types of citrus. The result is a perfectly balanced gin, and proofed down slowly over time using the distillery's slow-water reduction philosophy.
Tasting notes- The end result is a perfectly balanced gin bottled at 90 proof (45% ABV), the gin offers a particular rustic spice along with notes of allspice, cinnamon, elderflower, and lemon pith along with an earthy character, rye spice, creamy mouthfeel and a warm finish.
"This gin was a real standout for me. I was impressed with the ever-present taste and aroma of juniper, which can often be lost with more modern American gins. "This gin is delicate enough for a gin and soda with a simple twist of a Texas-grown grapefruit, but packs enough of a punch for it to be in a martini. This is a delicious gin that just so happens to be made in Texas." 

By Negranza.
On a recent research mission to taste a sampling of local gins, Negranza was stuck by the prowess of Still Austin's American Gin, a particularly spicy gin made with a high percentage of rye in the base spirit. Bar managers like Alex Negranza of Houston's March are regularly on the lookout to showcase other Texas gins that really wow them.
This gin is currently available in Texas, United States.
Seersucker Southern Style Gin
From San Antonio–based Seersucker Distillery, this London dry style gin is one of four Southern-inspired offerings. Some distillers, such as San Antonio–based Seersucker Southern Style Gin, opt to steep one gin, infuse another, and blend the resulting spirits together, which creates a compound gin.
Azar Distilling started with Cinco Vodka in 2009 and was founded by Trey and Kimberly Azar but the couple took a circuitous route to establishing the distillery. Trey Azar was in the oil and gas business when he decided to go back to his roots in liquor. Kimberly, meanwhile, worked in the cosmetics industry. Cinco Vodka is now part of Azar Family Brands and is a part of their award winning vodka. The vodka takes five times longer to make, results in vodka five times better tasting, but without the cost. The Azars expanded their product line to include Seersucker Gins in 2016.
"While perhaps not particularly "Southern" at first blush, Seersucker comes across as distinctly New World/Western in style, with a juniper-restrained nose of black pepper, orange peel, and a hint of that mint. The cloves are more present on the palate, as is the mint again, which here comes into more focus with a distinctly spearmint character. While initially slightly sweet from the honey element and the mint, the juniper and coriander give the gin a sultry back end, slightly smoldering like fireplace embers. While mint always connotes juleps, it is perhaps this lightly smoky finish that is the most "southern" thing about Seersucker… aside from the label, of course.

According to Christopher Null in DrinkHacker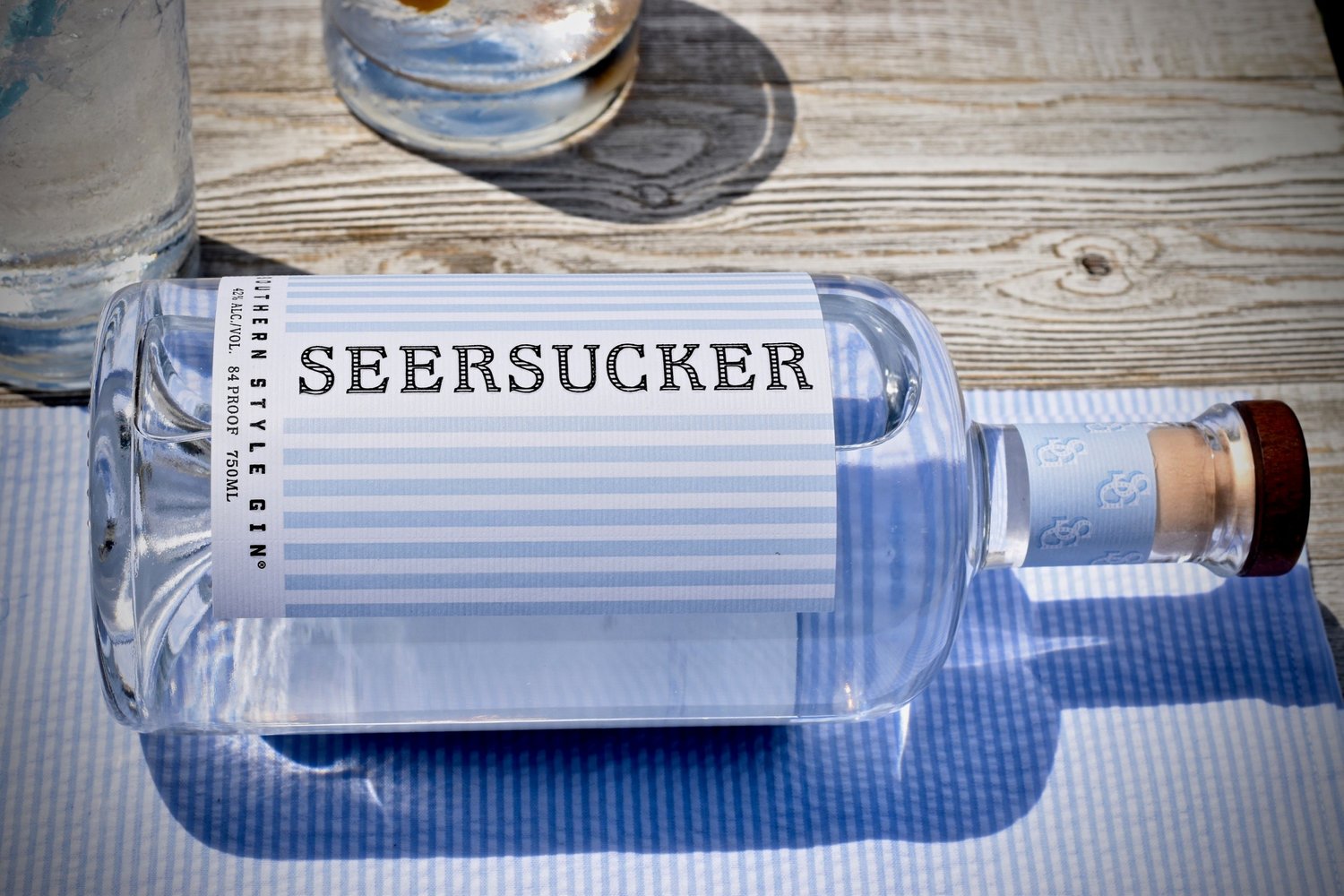 How is it made?
Azar Distilling, creators of award-winning Cinco Vodka, have decided to try their hand creating a unique gin recipe. Seersucker Southern Style Gin is created using slow copper-pot distillation using the following botanicals: citrus peel, coriander seed, juniper, cardamom, clove honey, and mint. Distilled in batches, the distillate is allowed to rest before being cut with water to 84 proof, then allowed to rest again before bottling.
Tasting Notes- Using a corn-based spirit, this gin offers notes of mint and honey, which carry through the palate along with lemon peel and pepper. Seersucker is one of the most flavorful gins out there, representing the warm and inviting nature of Southern hospitality.
These are some of the Gins I have mentioned but there are more awesome Texas Gins available for you to buy and choose your favorites from. So, remove your pandemic blues and drink safely!