Irish whiskey is renowned for its smooth approach on the palate. A combination of malted and unmalted barley which results in a distinct flavor profile. The viscosity, subtle sweetness is only possible due to the process – triple distillation. People love this whiskey because it is more approachable and mellower than Scotch whiskies. While there is a rule that a whiskey to be called Irish must be aged for 3 years. Distillers introduce you to what heaven might feel like if it came in the form of whiskey. Aging for more than 3 years, statement pieces of 10 -year-old, 25-year-old are the gems but there is a renowned brand coming up with a luxury. A '30-Year-Old Single Malt' by Teeling whiskey is a special release signifying some of the oldest Irish single malts in the world. Wonder what a 30-year-old single malt tastes like? Read to find out!
Teeling whiskey's past and vision
Situated in the heart of Dublin with a glorious legacy of 125 years. Back in time Teeling's was a small craft distillery which in the modern age prospered into the star distillery of Dublin. Every time there's a conversation about Irish whiskey, Teeling's is definitely a viewpoint in it. Since 2012, Stephen & Jack Teeling – the latest generation have introduced and empowered Irish whiskey in their own way. The year 2015 witnessed them setting their foot firmly by opening the new Teeling Whiskey Distillery just down the road from where the original family distillery once stood.
"With one eye on the past, but looking to the future, we're the new generation of Dublin distillers. We approach our craft with a respect for generations passed but with the confidence to forge the next chapter of Irish, Dublin and Teeling Whiskey"

– Stephen Teeling, Whiskey producer.
Innovation, creativity and remarkableness are some words that describe a whiskey produced by this brand. Teeling believes that the liquid in the bottle is superior and the most important aspect. They let their liquid do all the talking which is quite pleasant and powerful at the same time. One really interesting highlight is that the whiskey produced in their distillery doesn't undergo chill filtration. Thereby, it's just true, pure and natural whiskey packed in a beautiful bottle.
"The whole process of creating whiskey takes around nine months from start to finish, including pilot blends, trade sampling, cask selection and scaling up to full production… yet all that work, once bottled, takes just a moment to sip, savour and enjoy"

– Jack Teeling, Whiskey producer.
The one you've been waiting for :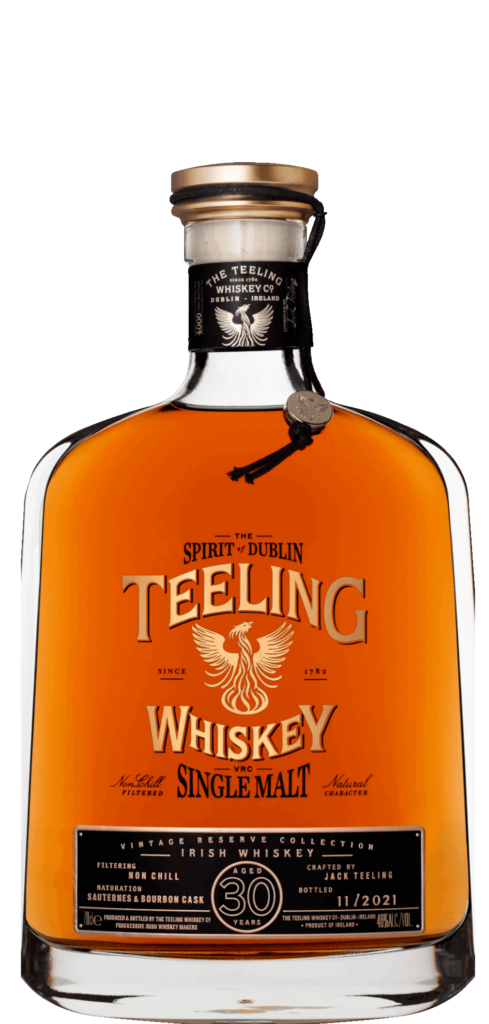 The all-new '30-year-old single malt' addition to Teeling's Vintage Reserve Collection is a limited-edition release. This brand-new whisky is a part of a collection that contains previously released 24-year-old and 28-year-old Irish whiskies. The Vintage Reserve Collection exhibits superiority due to being bestowed with exceptional awards. The 24-year-old won the prize for World's Best Single Malt at the World Whiskies Awards in 2019 whereas the 28-year-old took the crown of World's Best Irish Single Malt at the same show in 2021.
"Our latest Teeling 30-Year-Old Single Malt is a perfect representation of everything good about Irish whiskey—from its robust nose to its fully rounded and balanced array of flavors. We are very proud of this whiskey, and we hope it can continue to help forge our reputation as a truly world class whiskey."

Founder and President Jack Teeling told Forbes.
The 30-year-old expression goes through a detail-oriented procedure to become the jewel it is. Initially matured in Bourbon casks for 21 years followed by additional maturation in Ex-Sauternes wine barrels. This whiskey is kept miles away from chill fermentation and thus is considered to be a pure form of whiskey. The ABV is 46% and it is priced at $2,199.99 for 700ml. This limited-edition will be released next year and will contain 4000 bottles per batch.
Tasting Notes by Teeling's Whiskey 
Nose – Luxurious combination of fresh orchard fruits, roasted nuts and chocolate.
Taste – Velvety smooth with real depth of peach and apricot, hints of citrus fruits are interwoven with a light touch of smoke and herbal woody notes.
Finish – Long, lingering fruit notes with a distinctive mix of spicy oak and smoked sea salt.
"The delicate base of Irish Whiskey is the perfect canvas upon which to layer flavour and character. Varying the time, style and number of barrels used during the maturation process adds to the subtlety and complexity of flavour we pride ourselves in."