Japanese alcoholic beverages have so much to enunciate along with their taste. Apart from the rich history or a passionate beginning, Japan imparts a radical beauty in the alcoholic beverages. Ranging from the aesthetics to what you would experience on the palate, these beverages just make it to the top of list. Although Japan is famous for alcohols like sake, shochu, umeshu, awamori, chuhai etc. this region doesn't stand back when it comes to world-wide categories like whisky, gin and vodka too. This article tells you an in-depth view of what Japanese based 'Sakurao Distillery' has to offer to their consumers. Starting from remarkable whiskies to exquisite gins, get ready for an exciting verbal tour of this distillery!
The glory of 103 years – Sakurao Distillery
Established in the year 1918, this gorgeous distillery is located in the town of Sakurao in Hatsukaichi, Hiroshima. The alcoholic spirits of this distillery have gained an enormous amount of fame due to the production methods in use. The distillation technique that produces the divine and flavorful spirits has been passed down through generations. They believe in respecting the traditional values while bringing innovation to set their name firm in the modern world. The highlight of this brand is how they corporate 'Hiroshima' into their beverages. Combining the climate of Hiroshima along with locally sourced ingredients is termed as ' sharing the pleasures of cuisine' by the distillery. This concept gave rise to fine quality sake, shochu, liqueur and whisky that are equivalent to luxurious taste and visuals. Venturing in the production of Western-style liquor has paved the way to success for the Sakurao Distillery.
'We remain dedicated to our uncompromising philosophy and grateful for our peers who helped pave the way to our success. We are excited to deliver new tastes from SAKURAO DISTILLERY and look forward to the next 100 years.'

By Sakurao Distillery
From Hiroshima to the world
Now that we know about this historic brand, it is evident how curious one would be to explore the whole range by this distillery. –
Sakurao Single Malt Japanese Whisky
This famous whisky is aged in the place where it all began. The location around Sakurao distillery comprises Seto Inland Sea towards the south and Chugoku mountains to the north. This terrain difference creates a combination of warm winds from the sea and cold winds from the mountains which reach the warehouse (Sakurao). The large temperature difference exists all year around, this accelerates the whisky maturation process and the end result is delicious. This single malt inhibits the aroma of the Seto Inland Sea. According to the Sakurao Distillery, this single malt showcases sweet and smoky undertones of ripe grapes, oranges, bitter chocolate & vanilla. Overall this whisky is a perfect blend of subtle spiciness and moderate bitterness which imparts wood and smoky scent. The ABV is 54% for 700ml.
Tasting notes by Sakurao Distillery –
Color: Dark amber with a reddish tinge
Nose: Ripe grapes, orange, and bitter chocolate
Palate: Sweet vanilla and smoky undertones with subtle spiciness and moderate bitterness
Finish: A woody and smoky aftertaste with a deep sweetness
Togouchi Single Malt Japanese Whisky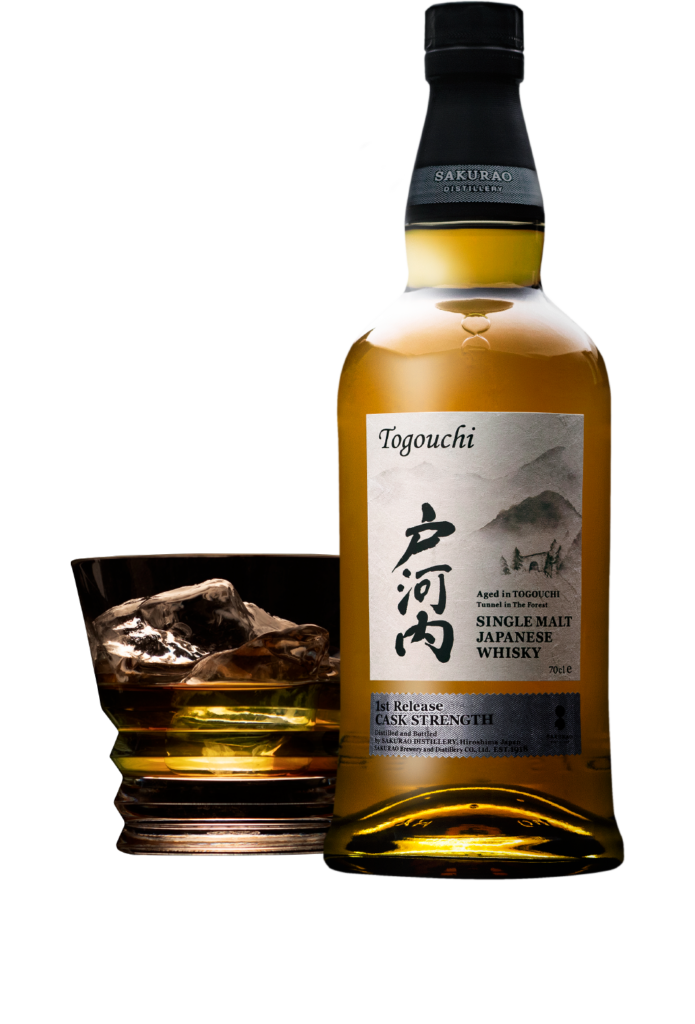 Magnificent scenery in the town of Akiota along with greenery and clear as a mirror streams. Togouchi is the place where an old railway tunnel has been converted as the warehouse for this single malt. Unaged spirit is placed inside the dark storage which remains a cold temperature throughout the year. The resulting undertones are of apples, sweet marmalade and apricots. The ABV is 52% for 700ml.
Tasting notes by Sakurao Distillery
Color: Golden
Nose: Undertones of tender green leaves, fresh apples, sweet marmalade, and apricots
Palate: A subtle sweetness that soothes your senses
Finish: A refreshing and gentle aftertaste
Togouchi Blended Whisky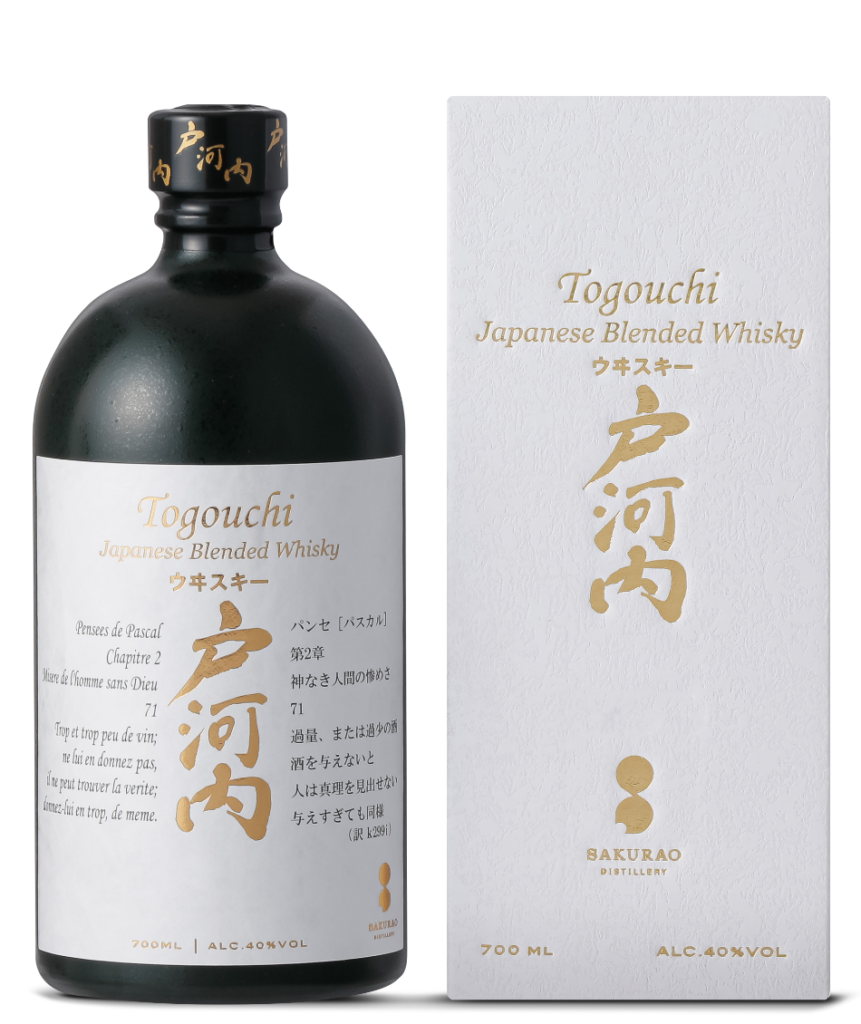 Along with the cold climate of Hiroshima and subtle aroma of the Seto Inland Sea. The experts at Sakurao Distillery study the qualities of different types of malt and grain whiskies and blend them to create a perfect balance of peaty aroma & mild finish. The Togouchi Blended whisky is a huge range and the edition consists of :
Togouchi Blended Whisky
Togouchi Whisky 8 years
Togouchi Whisky 15 years
Togouchi Whisky sake cask finish
Togouchi Whisky beer cask finish
Togouchi Whisky liqueur – umeshu, cherry liqueur, black sugar plum liqueur & coffee.
Sakurao Gin
An exquisite expression that utilizes 9 kinds of botanicals and a 100-year-old distilling method. There are two gin variants of Sakurao Gin. The Sakurao Original consists of 14 botanicals, out of which 9 botanicals are locally sourced and 5 are imported such as juniper, coriander seeds. The highlight of this gin is the citrusy aroma and the distinctive taste imparted from the beautiful botanical combination. The ABV is 47% for 700ml.
'Our botanicals produce a wide variety of aromatic notes, including citrus such as the florid-smelling lemon and the rich fragrance of yuzu, as well as aromas from Japanese cypress and oyster shells. Our gin also uses cherry blossoms, known as sakura in Japanese, which is the symbol of Sakurao, where our distillery is located.'

By Sakurao Distillery
The Sakurao Gin Limited version consists of 17 botanicals! Produced with a combination of steeping and vapor methods, this craft gin exclusively highlights Hiroshima within every aspect. The use of Sakura or 'cherry blossom' in the gin symbolizes the name of this distillery. The ABV of this limited edition is 47% for 700ml.
Apart from these mind blowing expressions, there are some limited editions just as blissful as the above ones. To know more about them or the distillery, visit.