Christmas, the most happy, cherishing and lively time of the year is here again and we just can't keep calm! But do you know what has made this Christmas even more merry? Iceland's Christmas beer is the answer!
Beers, wine and Christmas Eve are a match made in heaven but this time Reykjavik brewery of Iceland thought of introducing something unique to our dinner tables. Creating a drink out of green peas and red cabbage , which are the main features of the festive feast held in Iceland, was something out of the box and risky as well. But to everyone's surprise this ale is breaking records and has now become a festive favourite.
Here's the full story !
RVK Brewing Company -its all about the beer!
Mr.Siggi the founder of this small but amazing brewery was not actually a professional brewer, but a finance sector employee. Soon after he released his true passion for producing and drinking beers, he came to Iceland to start on his own.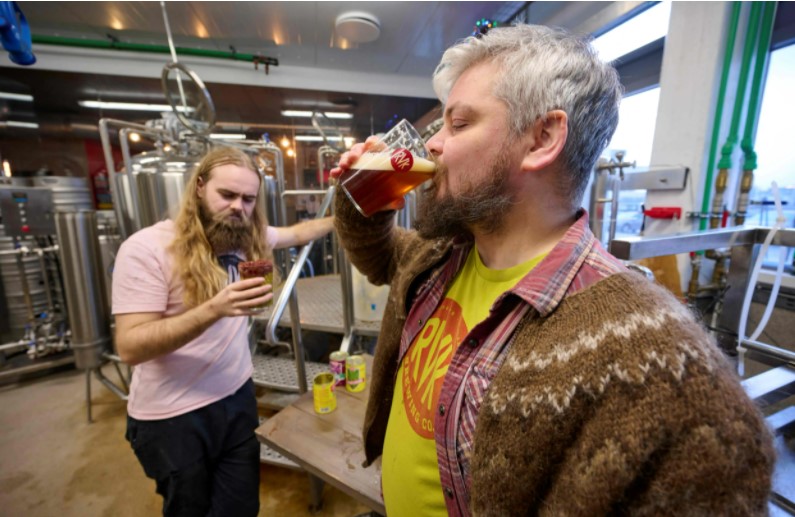 Iceland is a country that didn't have much beer in their history and this is the reason RVK brewing company has taken the charge to produce and spread the unique flavours of craft beers around the country.
ORA Jolabjor – a new Christmas candy for the beer lovers :
ORA Holbjor or the christmas beer is special for the makers and the drinkers for a special purpose. The main ingredients of the drinks are served in a feast called the "Yuletide feast". The flavours of ORA peas and red cabbage is to die for and therefore it was must to bring this taste to a glass. 
This amazing beverage is a result of the master maker Valgeir While the combination of peas and red cabbage for a ale might sound crazy to some people but for Icelanders it is something to die for.
"The idea began fermenting in his mind six months ago after he got a call suggesting a tie-up with Ora, Iceland's biggest food manufacturer,for a Christmas beer."

By Valgeirssonn
The challenge was something that I was seeking," he said. The beer can actually resembles Ora's packaging for its tins of peas and red cabbage.
The new Christmas ale has 5.2% alcohol and is lovely to drink on a cold snowy night. The makers said when this drink was ready , they had sent only 6000 bottles to the market which could not even survive for hours. It was replaced by the next 18,000 bottles and the process still remains unstoppable. The love icelanders have shown for the bottle showcases what class RVK brewing company have brought them into.
Popular beers to try at RVK Brewing Company
Yuzu
Verum Bata Vinir
Sommer Loving
Draumurinn
Magnus Fruktus