What will happen if the World of Master's come together? The answer is simple, they create history. The Master of single malt Scotch whiskey, Bowmore Distillery, and Master of creating beautiful cars, Aston Martin collaborated again to create a luxury premium and beautifully balanced Master Whisky. The latest Master spirit is the limited-edition single malt whisky- The Masters' Selection Edition One: 21- year-Old Whisky. 
The launch is created in collaboration between Ron Welsh, Master Blender at Bowmore Distillery, and Marek Reichman Chief Creative Officer, Aston Martin Legends Ltd. The release is an infusion of master craftsmanship, passion, precision, and skills to create a whisky that tells the story of the synergy between the brands and ultimately defines the partnership.
The Collaboration of Perfect Proportions
The Masters' Selection 21-Year-Old Whisky is a harmonious blend of creativity and character in a powerful equilibrium spirit bottling. The whisky has a unique ratio. It includes 61.8% of 21-year-old Bowmore whisky that was aged in first-fill Pedro Ximénez and oloroso Sherry casks and 38.2% of Bowmore whisky that was matured for more than 35 years. Both the varied spirits are the Heart of Run collected after double distillation in Spirit stills and matured in Bowmore's No.1 Vaults. The elements are perfectly balanced in the 'golden ratio' to give the luxury elegant whisky its unique flavors and memorable finish.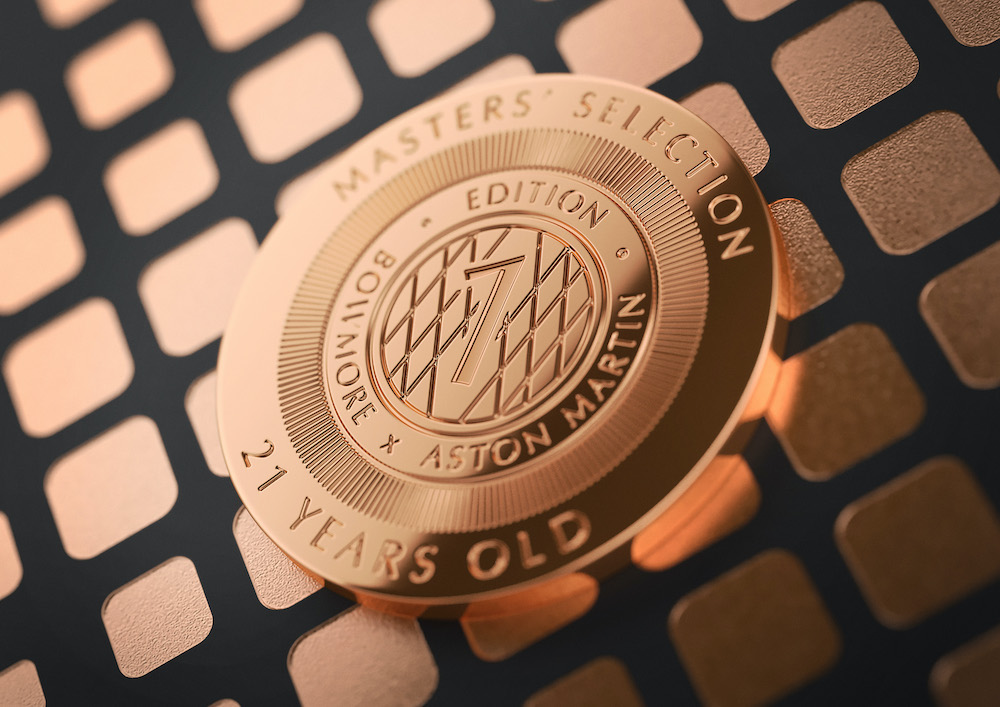 The Edition one whisky is a combination of Bowmore and Aston Martin proportions ideology. For Bowmore, proportions define the character and shape flavor combinations; from cask selection and age to blending. 
"For the first time with this whisky, we have adopted the 'golden ratio' to inspire each of the elements bringing their unique flavors and selecting the optimal casks to forge the desired character, taking inspiration from Marek and his team. What seems totally contrasting is, in fact, perfectly balanced and proportionate. Working with Marek has given me a new lens from which to explore whisky making. This whisky serves as a celebration of our unified knowledge and experience; our shared passions, values, and ideas."

Welsh said
For Aston Martin proportionality defines every precise detail of the design process; in a quest to achieve the Golden Ratio, this guides the creation of absolute beauty by ensuring a perfectly symmetrical relationship between each proportion.
"Proportionality defines every precise detail of designing an Aston Martin. We are constantly striving to achieve the golden ratio; the optimal of proportions. And it is this force that guides the creation of absolute beauty. To achieve this, we must combine our skills, passion, and experience. Coming together with Ron just brings a whole new perspective on this and is hugely inspiring and enlightening.

Reichman added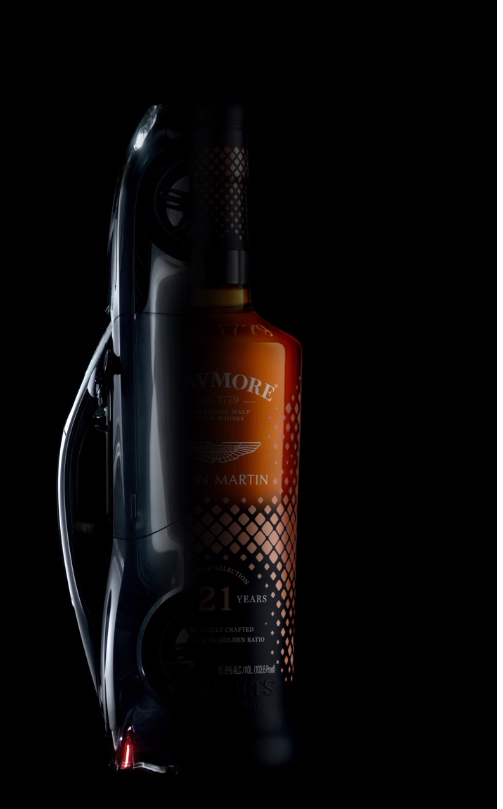 "This whisky perfectly and harmoniously brings us together to create a beautiful, yet powerful equilibrium."
The result is a 51.8% ABV Single Malt Scotch whisky which thrills the senses and for optimal enjoyment. But much like an Aston Martin delivers a very powerful and memorable finish.
The bottle design of the Masters' Selection 21-Year-Old Whisky is so crafted and sleek just like a beautiful Aston Martin car. The sleek symmetry is spellbinding. Est. 1779 of Bowmore Distillery establishment is engraved at the top. The label design starts with the Bowmore and Aston Martin logos in partnership, showcasing the amber spirit whisky through the transparency of the bottle. The design in the middle is red diamond-shaped patterns on the black background showing the journey of Heart of Run from the stills into the wooden casks, just like the liquid flows over the fire road to the blue flamed sea to the depth of wooden cask, waiting for its release. This is followed by Masters' Selection font with 21-year maturation. The ending of the design has NO.1 Vault engraving to showcase the spirit's maturation in Bowmore's No.1 Vaults. The bottling is encased inside a wooden box with Marek Reichman and Ron Welsh's signature and golden ratio proportions details.
Tasting Notes
The official Tasting Notes of 21-year-old Master's Selection include:
Colour: Mahogany​
Nose: Sweet and nutty with notes of Manuka honey and maple syrup, with praline and grilled hazelnuts; combine with rich aromas of freshly tanned leather.
Taste: Richly elegant sherry merges with raw Islay peat, whilst bitter dark chocolate unites with vanilla and coffee beans. A fruity flair is defined by Morello cherries and a touch of papaya.
Finish: Sweet, spicy, and mouth warming, with notes of oak spices, chestnut cream, and coconut lingering.
Bowmore Masters' Selection is available in global markets, including the UK, Germany, Canada, the US, and China, priced at RRP US$300 per 700 ml bottling.
Bowmore and Astin Martin's partnership first started in 2019 to create three travel retail-exclusive whiskies- 10-Year-Old, 15-Year-Old, and 18-Year-Old, and a £50,000 (US$66,000) whisky, called Black Bowmore DB5 1964. For more details and online purchasing check out the official website. 
Don't miss out on the Masters' Selection, Edition One, 21-Year-Old Whisky as it will take you on an adventure that 'Thrills the Senses and Feeds the Soul'.