'Underrated' is a challenging term to define—especially as it applies to whisky. Does it signify that not enough people are talking about a certain bottle? If so, what sort of people: Industry professionals, connoisseurs, the general public? Typically those camps are holding wildly different conversations.
Is the phrase a stand-in for a release that's priced below what it reasonably ought to cost? Surely it can't be that alone, because many of the most highly rated liquids on earth actually retail for far, far less than what they end up fetching on the re-sale market. In fact, 'underpriced' liquids are often a direct precursor to overhyped mania. To wit, several years ago Weller 12 bourbon was suddenly seen as a steal at $30 a bottle. It still retails for roughly the same. But good luck finding it for less than 1o times that amount on the shelf. Ideally, we're looking for something that, in practice, sells for less than what it's worth.
An earnest determination of the most underrated requires a careful synthesize of all these metrics, and more. You start with a product that's unassailably awesome on its own merits; it's hard to underrate if we can't widely agree upon any rating. Atop that foundation, levels of information are laid. Does significant buzz swirl around the product—within the industry or beyond? Or does it exist entirely outside the hype-sphere? Can you still easily find it on the shelf at its retail cost? And then, to triangulate the overall value, view it against comparable examples within the category.
In the world of scotch—weighing all of the above—a clear contender emerges Bowmore 25-Year-Old Islay Single Malt. A 25 year old from the Bowmore distillery aged in American bourbon and Spanish sherry casks. The sherry influence combines wonderfully with the coastal, smoky distillery style to create a sublime aged single malt.
Sherried malt—single malt that's matured or finished with the help of ex-sherry barrels—is the object of virtually every connoisseur's affection. Most of the bottles you see snagging record price at auction are prominent examples. And over the past ten years, the prices of all scotch aged 25 years and up—regardless of cooperage—have rocketed into the stratosphere. Notorious offenders such as Macallan 25 and Dalmore 25 are now well north of $1000 a bottle. And they almost always command more than their already-formidable list price.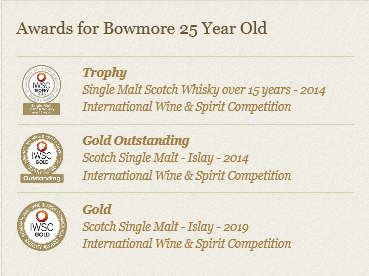 Bowmore 25, for its part, is every bit as wondrous to observe in its deep mahogany hue; every iota as complex as its rivals—even introducing a slight hint of smoked sophistication into the fray. Its rancio-laden finish, stubbornly persistent, will stand up to the best of whiskies its age. Then comes the coup de grâce: it retails for $559, and you can routinely find it hiding online for well under a hundred dollars belowthat. Ball game…Or is it?
Sources :- https://www.forbes.com/sites/bradjaphe/2020/08/04/the-worlds-most-underrated-scotch-whisky/#444013f53a9c & https://www.masterofmalt.com/whiskies/bowmore/bowmore-25-year-old-whisky/