"WE DON'T PURSUE ABSOLUTE CONSISTENCY. WE PURSUE ABSOLUTE PERFECTION"-

Billy Walker, Owner and Master Distiller of The GlenAllachie.
The GlenAllachie Distillery celebrates the 50th Anniversary of Billy Walker in the Scotch whisky industry with the release of a limited edition series of GlenAllachie Single Malts. The GlenAllachie Single Malt Series consists of three exceptional single malts crafted by Billy Walker named- The GlenAllachie Past, The Present and The Future Series whiskies. The Series also commemorates the remarkable key milestones of Billy Walker in the Scotch industry creating some of the world's most coveted whiskies.
Billy Walker's Journey
Renowned as the Owner and Master Distiller of the GlenAllachie Distillers, Billy Walker's journey started with his birth in the whisky-producing town of Dumbarton. The town inspired Billy to develop a keen interest in the craft of whisky-making at a young age. This passion, coupled with his BSc Honours Degree in Chemistry from The University of Glasgow in 1967, provided the perfect foundations to enable him to build an intimate knowledge of the science behind whisky making and flavour development.
"The chemistry gives you a very complete understanding of what the building blocks are. The art gives you that touch and feels to capture the sweet point."

-Billy Walker announced.
Billy's whisky journey began in 1972 at Hiram Walker & Sons (the company behind Ballantine's at the time) where his role included all aspects of production. After four years, he moved on to Inver House Distillers, taking up the position of Master Blender in 1976.
In 1982, Billy joined Burn Stewart Distillers where he worked for two decades, most notably playing a key part in the resurrection of Deanston and Tobermory Distilleries. For the next twelve years, he worked under numerous household name brands and companies which included BenRiach, GlenDronach and Glenglassaugh Distilleries.
Billy acquired GlenAllachie Distillers Company in 2017 and as Master Distiller at The GlenAllachie Distillers Company created exceptional quality Scotch whiskies including The GlenAllachie single malt, White Heather blended Scotch and MacNair's Boutique House of Spirits. In 2021, Billy released a new experimental rum line under MacNair's label; Exploration Rum.
It's from this incredible record of success that Billy has earnt widespread acclaim and recognition for being one of the most prominent whisky figures of his generation.
Walker has achieved some exceptional accolades, most recently including:
World's Best Single Malt (World Whiskies Awards, 2021)
Best Blended Malt Scotch (San Francisco World Spirits Competition, 2021)
World's Best Blended Malt (World Whiskies Awards, 2020)
Master Distiller/Blender of the Year (Icons of Whisky, 2020)
In addition, Walker was inducted into Whisky Magazine's prestigious Hall of Fame last year – a permanent tribute to the lasting contribution he has made to the world of whisky.
"I'm incredibly lucky to have been involved in the fascinating Scotch whisky industry for 50 long years. What a privilege it has been to have worked alongside some truly amazing people, and indeed to have been involved with some world-leading brands. Of course, there are some great memories and I truly take pride in many of the achievements that our teams have achieved over the past half-century. The latest adventure is The GlenAllachie Distillery, and without question, we are so very fortunate to be steering this great distillery into the future, introducing its whisky to an ardent international audience."

Reflecting on his career, Walker said:
Billy Walker's 50th Anniversary Series, The GlenAllachie Past Edition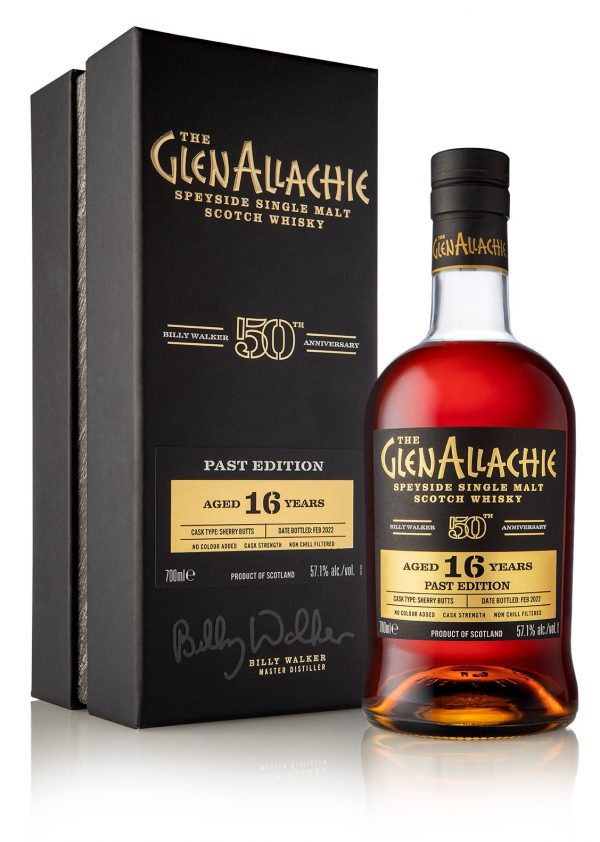 The first instalment of Billy Walker's 50th Anniversary Series, The GlenAllachie Past Edition, was unveiled on 17th May this year, as a fully Sherry matured 16-year-old Single Malt. This bottling represents Walker's past when he made a name for himself by releasing heavily Sherried expressions to great acclaim, with many Scotch fans believing he played an instrumental role in developing this style category.
Combining nine 2005 vintage Spanish Sherry butts personally selected by Walker, the resulting liquid exudes 'opulence and indulgence' with enticing layers of dark chocolate and glazed fig, alongside a banana bread and espresso coffee character.
Said to be "the archetypal Billy Walker style", the sentimental limited edition of only 4,000 bottles is proudly presented at a cask strength of 57.1% ABV, natural colour and non-chill filtered.
TASTING NOTES:
The GlenAllachie Billy Walker 50th Anniversary Past Edition – 100% Sherry Matured 16-year-old – 57.1% ABV
Colour: Deep Mahogany.
Nose: Waves of walnuts, heather honey and subtle dried fruits, followed by bursts of toasted coffee, orange peel and cinnamon sticks.
Taste: Lashings of fig syrup, caramelised muscovado sugar and roasted pine nuts with notes of heather honey, crystalised ginger and dried apricots.
Working alongside Billy for 35 years has been a total pleasure. I can honestly say I've never come across anyone with his level of drive, dedication and passion for Scotch whisky. His focus has always been to achieve 'perfection'; only using the highest quality of wood and monitoring the spirit every step of the way. Nothing leaves the cask until it's deemed to be exceptional. I would personally like to congratulate Billy on his 50th anniversary year. You're a true industry legend, and I was lucky enough to share the journey with you for 35 incredible years."

– Business partner Trisha Savage commented
The GlenAllachie Billy Walker 50th Anniversary Past Edition is available to purchase through global specialist retailers for an RRP of £255 (the US $318.10).