I'm sure you might've heard about delicious Scottish whiskies which are well known for their exclusivity and recommendable quality amongst a list of other factors. But do you know the affection Scottish people have for gin? It all started in the 1700s when the first bottles of fiery Dutch Jenever were traded into the Port of Leith, Edinburgh. Since then gaining momentum – Today, Scottish gin accounts for 70% of the UK's overall gin production. An addition to the list of incredible gins from Scotland is the new 'raspberry & rhubarb' flavoured gin from Glaswegin. The flavour profile and the aesthetics of the bottle design are both exceptional.
Scotland's Best London Dry Gin: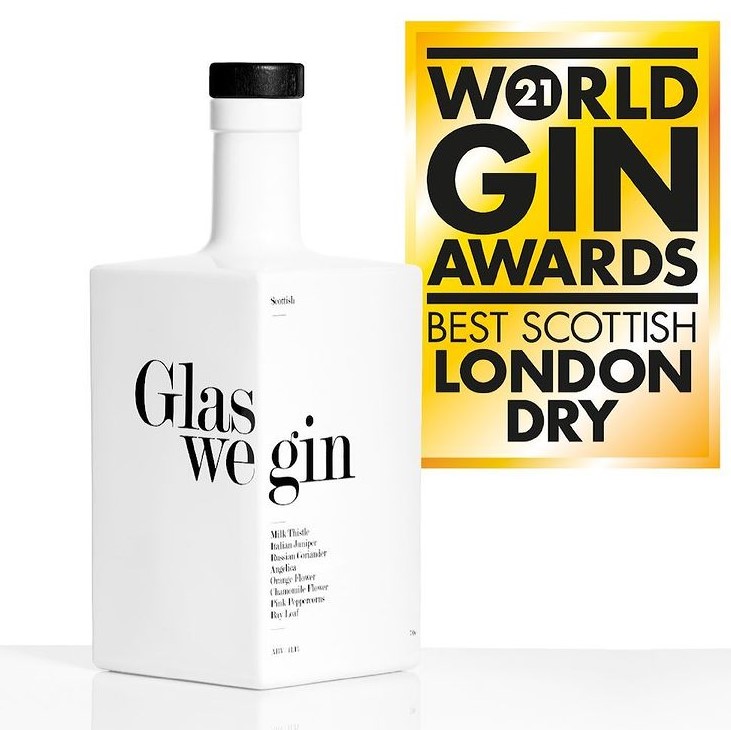 Glaswegin is based in the heart of Glasgow and is distilled in the Illicit Spirits Distillery. The word 'Glaswegin' is based on the term used to call the natives of Glasgow – Glaswegians. This brand was established by Andy McGeoh in 2018 to celebrate the City of Glasgow and to create a unique gin with a mix of botanicals, including some unusual ones. Glaswegin's first gin – Glaswegin Original gin was crowned as Scotland's Best London Dry Gin in the World Gin Awards 2021.
Glaswegin's unique flavor profile is a result of harmonized infusion that contains 8 botanicals. Their main aim was to create a gin that was 'drinkable', had an exceptional flavor profile and wasn't fussy or dependent on garnishes in the cocktail culture. 'Gentle' is the perfect term to describe Glaswegin's presence on the palate. 
"It provides a versatile cocktail ingredient, yet it retains the freshness of our original London Dry, which is the current holder of World Gin Awards, Best Scottish London Dry Gin.  We're confident our first ever flavoured gin will go down a storm all year round as it's delicious when enjoyed with both tonic and ginger ale."

Leah Shaw Hawkins, Head of Marketing for Courageous Spirits Ltd.
Glaswegin Raspberry & Rhubarb Gin :
The harmonized blend of 8 globally sourced botanicals are combined to create the Glaswegin Original Gin. Two more botanicals are added to this already amazing gin to create the Glaswegin Raspberry & Rhubarb. Can you guess the names of the additional two botanicals? You're right if you said – Raspberry & Rhubarb. This fruit-driven gin has a gorgeous pink shade and it imparts freshness just by the looks of it.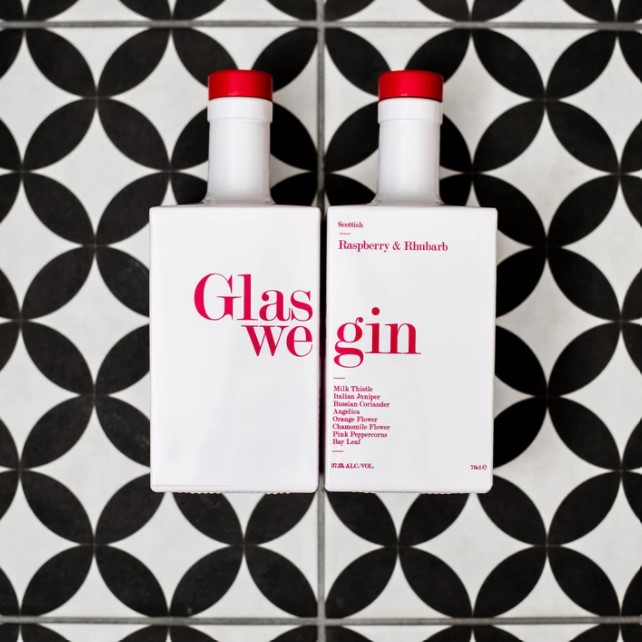 "We're excited to bring this new Raspberry and Rhubarb Glaswegin to market, it's an elegant and exciting fruit-driven, pink gin that perfectly showcases our best-selling gin. This new product launch first came about because our strong and loyal fan base suggested that we make a flavoured gin, so we listened and created Raspberry and Rhubarb flavoured gin to celebrate Scottish fruit at its best.

Mark Nicholson, Business Development Manager for Courageous Spirits.
Tasting notes by Glaswegin: Warm raspberry jam and candied rhubarb dance up from the glass. Creamy, vanilla notes are reminiscent of raspberry ripple ice cream. Fresh, crisp orange flower and lemon peel cut through for a refreshing, long finish with a pink peppercorn tingle.
ABV for this gin is 37.5% and it is priced at £35.00 (₹3560.32) for 700ml.
10-2 = 8 Botanicals.
The original recipe used for making Glaswegin Original Gin has 8 botanicals in it.
Milk Thistle – A flowering herb related to the daisy and ragweed family. Also known as 'Mary thistle' or 'Holy thistle'. Derived from the distinctive prickly plant with its purple flowers and white veins, milk thistle is believed to have a range of potential health benefits due to its active ingredients.
Italian Juniper – The most important ingredient for a gin to be 'GIN' is – Juniper. The juniper used in Glaswegin is Italian – classed as a spice, juniper has a distinctive flavour and also has many perceived health benefits.
Russian Coriander – After juniper, coriander seed is the most commonly used botanical in gin. Northern grown coriander is fruitier than any southern variety and, following distillation, this botanical creates a complex yet subtle flavour that's warm, citrusy, nutty and a little bit spicy.
Angelica – Angelica root, or more accurately its aromatic hydrocarbons and essential oils, is most commonly used in producing gin and its earthy, woody tones perfectly complement floral and citrus flavors. Bloating and heartburn can be eased by angelica and it has soothing properties when it comes to nervousness.
Orange flower – Gin + orange = did you think about the orange peel? But Glaswegin uses  subtle orange blossoms in their gin. The flower still delivers a delicious citrus flavour and is known to settle upset stomachs, even believed to soothe and relax nerves.
Chamomile flower – As soon as you read 'Chamomile' you thought about the soothing and mild sweet tea vibes, didn't ya? It isn't as common in gin as you'd think but it brings a warming sweetness to Glaswegin and perfectly complements our other botanicals with its floral notes.
Pink Peppercorns –  dried berries that are a perfect partner for juniper, creating an exciting flavour that gives a hint of spice and heat without a fiery, peppery taste. Like juniper, pink peppercorns have diuretic qualities, so are good for your kidney health.
Bay leaf – The final botanical on our list is the leaf of the sweet bay tree. Used regularly in cooking (especially Indian cuisine) thanks to its distinctive fragrance and flavour, the savory bay leaf blends well with the other botanicals and provides a subtle herby flavour.
Glaswegin Raspberry & Rhubarb has the above mentioned 8 botanicals with an additional 2 – Raspberry & Rhubarb.
The innovation behind the minimalistic design :
Once Glaswegin was done curating the recipe, the next question was – 'What is it going to look like?' To discuss this project and make it look outstanding, they approached award-winning designer and Glasgow School of Art graduate, Paul Gray.
"Keep it simple. Simple always works. No complications. Clear, concise and then… a leap into the pool."

– Paul Gray.
The bottle's design is aesthetic with a simplistic approach. There is no concept of a centre label commonly seen in many alcoholic products. Rather, the rectangular bottle is divided into side profile quadrants out of which one side contains the words – 'Glas' & 'we' while the side adjacent to it contains the word – 'gin' plus the names of all the botanicals used in the Glaswegin Raspberry & Rhubarb Gin. The color combination used is white & magenta. 
To buy this spectacular gin or their previous product Glaswegin's Original Gin, visit – https://glaswegin.com/