Festivals/parties and vodka fit together in harmony like pieces of a puzzle —> The leading brand of premium vodka collaborates with world's largest electronic dance music festival. Fascinating isn't it? Read along to discover the uniqueness of this new limited-edition bottle 2021.
"What unites us is stronger than what divides us – And together we can create a better tomorrow."

By Tad Greenough, global CCO at Absolut Vodka
An inspirational belief shared by both Absolut & Tomorrowland. Absolut's new vodka has been designed to bring together the 'shared values of inclusivity and diversity' of its collaboration with dance and music festival Tomorrowland. This partnership is indeed beneficial for both sides with Absolut Vodka owned by Pernord Ricard generated a sales volume of 11.1 million(9-liter cases) in 2019. Whereas, Tomorrowland festival witnessed more than 2 million registrations for the 2019 festival out of which 400,000 lucky people were bestowed with the tickets.
Official Vodka of Tomorrowland
This sensational vodka is deemed for having an exceptionally smooth mouthfeel. With 100% natural taste and 0% added sugar it signifies a clear expression of purity. Bottled at 40% ABV.
Tasting notes – "Mouthfeel is exceptionally smooth. Settling very peacefully it slowly descends in a harmonized way. The taste has slight hints of caramel and vanilla and the finish is fresh and fruity" – Daniel, Sensory Manager – Absolut.
ABSOLUT x Tomorrowland bottle: United We Dance
"We both know that together we can create a better tomorrow. Human connection is more important now than ever, and this partnership looks towards a time in the future when we can be together on the dance floor in real life".

By Tad Greenough, global CCO at Absolut Vodka.
With the thought process of this co-created 'United We Dance' campaign which celebrates the 'spirit of the dance floor' and inclusivity of music, the brand new limited festival edition bottle has a design that circulates energy and vibrancy. According to Absolut., the spirit of this bottle is reminder of what is easily lost and forgotten. It also aims at bringing together the people of tomorrow- "Live, Love, Unite". A message highlighted in the design of the bottle.
The design has a very aesthetic appeal with Tomorrowland icon placed at the center. The butterfly reflects beauty of nature and symbolizes freedom. A crown on top representing the equality and an eye inspiring everyone to see the 'beauty of life'.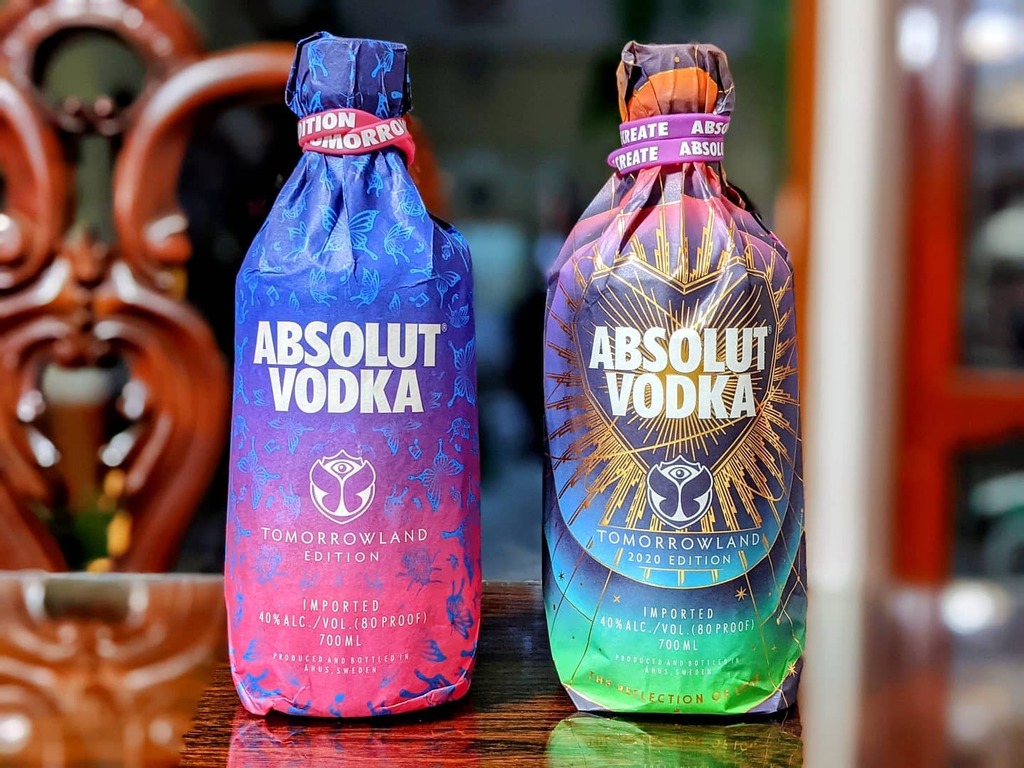 ABSOLUT x Tomorrowland 2021 will be available in Germany, Belgium, Netherlands, Switzerland, Slovenia, Romania, Malta and Greece. The 'digital island' of Pāpiliōnem is set to be the location for the second edition of Tomorrowland's online music event from 16-17 July. Guests are invited to watch Adam Beyer, Amelie Lens, Charlotte de Witte and more.
Earlier this year, Absolut release a watermelon flavored vodka – fresh and fruity with natural sweetness and no artificial additions, bottled at 38% ABV. Available in the UK now in a 700ml format from Tesco, priced at US $28 .
Cocktails with Absolut Tomorrowland:
Moscow Mule – A perfect blend of vodka with spiciness from ginger beer complimenting the citric nature of lime juice, garnished with a slice of lemon.
Absolut Fizzy Soda – Absolut vodka elevated with ice cubes and the effervescence of soda water. Garnished with lime.
Experiment and get on with more flavored cocktails of your own!