The world of whiskey has a lot of unique things happening every now and then. Ranging from a whiskey that has been in harmony with its cask and finely aged to be called an 80-year-old to the modern world stepping up with mind blowing ways to enhance the flavors of whiskey. The effort to produce and bring something new to the market while highlighting the traditions of Scotland, led Wee Smoky into endeavoring this brand-new project. Can you imagine the use of music to enhance a whiskey's flavor that is laying still in its barrel ? You don't have to imagine it because 'Wee Smoky' has done it for you! It is fascinating the rate of evolved methods that brought in a way to harmonize the tones and purpose of music into whiskey.
Wee Smoky x Ali Levack = whiskey x music.
Rory Gammell, the director of Wee Smoky developed this brand to target people that don't like whiskey. This itself is a unique notion and evens out the possibility of welcoming new people to the  world of whiskey. Rory Gammell teamed up with Pickering Gin's founder & head distiller Matt Gammell along with Wee Smoky's liquid distiller – Ollie and their Product Design Engineer – Paulina to create what is known as – Wee Smoky whiskey. An exquisitely smooth whiskey that has hints of fruity and smoky flavor made by ageing single grain whiskey in casks that are used for holding peated single malt. ABV is 40% and it is priced at £34.00 for 700ml.
"I recognised that, while marketers were focused on single malts, experts really rated the potential of grain whisky when paired with the right casks, So I began experiments with different grain whiskies in a variety of peated casks until I found what I was looking for."

– Rory Gammell
This already distinctive project was levelled up by partnership with Award-winning Highlander piper – Avi Levack. This partnership significantly targeted a new audience and gained extreme recognition for both sides. Avi Levack who was bestowed as BBC Radio Scotland's Young Traditional Musician of 2020, had a major role in this project. He played his traditional Scottish pipe music to the casks of whiskey before they went for bottling. This was an initiative carried out to enhance the flavor of the whiskey by a method called as 'sonic- aging'.
"I loved being part of the whole process, from playing our music to the whisky while it aged to drinking it while listening to our recorded song. The song and the whisky go very well together."

– Avi Levack.
Significance of Sonic-aging :
This concept is derived from the past era where in barrels of alcohol were transported from one place to another in ships across the seas. Travelling several miles for several days meant constant exposure of the barrels to vibrations of the sea. The barrels were stored in the deck area where they constantly rolled and rocked to the music of sea. So the notion derived here for the modern world is music loud enough to create vibrations in the wooden barrels. But why? The method of sonic aging accelerates the reaction of alcohol with the wood i.e the cask or barrel which results in an extremely good flavor.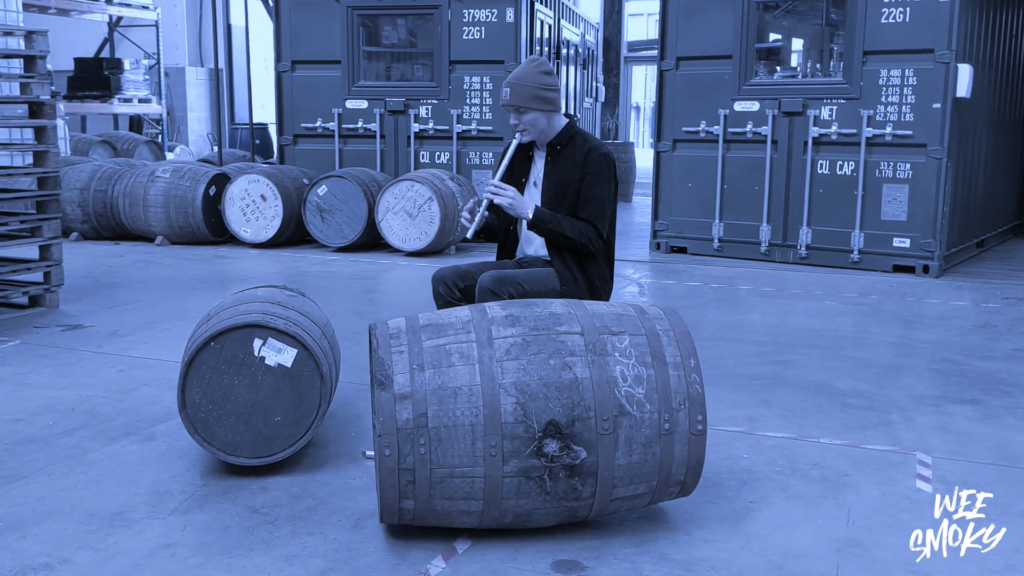 The purpose of Wee-Smoky x Project Smok
Project Smok was able to partner with Wee-Smoky only due to their decision of auctioning the rights of their new song. Wee-Smoky won this auction and is currently celebrating the release of Project Smok's new song : Wee-Smoky along with the release of 550 special edition bottles of its own.
Wee-Smoky will contribute £1 from every bottle to the neo-trad trio to help them create more amazing music. Wee-Smoky is a celebration of Scottish Flair.
"Music is part of everything we do. Our whisky is best enjoyed with music so it was natural to experiment to see how music could enhance the flavor, my dream was for Project Smok to headline our launch party. Unfortunately, those plans were put on hold. Nobody embodies the spirit of our brand quite like them. They're non-conformist and I couldn't think of a better example of Scottish flair – they're a remarkable band with a unique sound."

– Rory Gammell.
Visit Wee-Smoky's official website to get the recipes of 3 amazing cocktails developed by Scotalian Fabio Di Silvestro. – Bayview Brumble, Smoklmary & Wee Hottie.