Several months ago when you and I, as well as the rest of the world, were busy worshipping our respective daily routine. On the other hand, Stuart Phillip, an award-winning dog trainer took a bold initiative to do something which no man has ever done before. He started training two Cocker Spaniels, a breed of gun dog, named Rocco and Bran to detect defective casks for one of the largest producers of Scotch whisky in the world: Grant's distillery. Stuart used a number of Grant's Whisky cask samples to build a training ground for Rocco and Bran. Training these adorable dogs was no child's play since such a new business has never been done before. Both of them needed a mind-boggling amount of testing, training, and evaluation. They were trained in the realm of Pembrokeshire.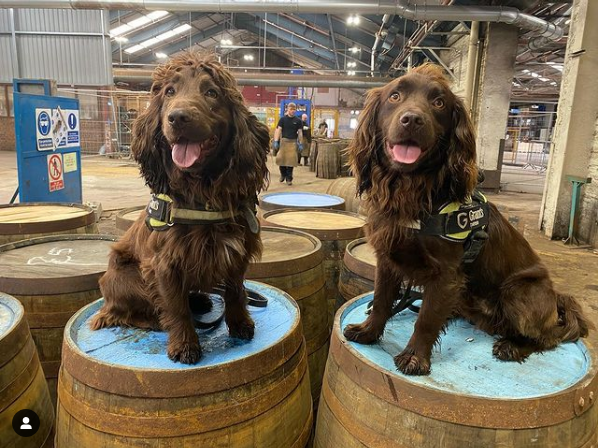 "To be asked by Grant's Whisky to lead this project was fantastic news. Grant's Whisky is the fourth largest Scotch whisky maker in the world and for them to ask a small Pembrokeshire business to work with them on this was a huge honour. This is the first time dogs have been trained to perform such a task in the world, there are no other dogs doing this in any other whisky distillery. This has been massive for me, as a dog trainer to be working on a world first with detection dogs, this has been a dream project. Rocco and Bran who are both Working Cocker Spaniels have been a pleasure to train and work with. It hasn't been an easy process and because no one has ever done this before, I've had no where to go to for advice, like I would when training other dogs for explosives, tobacco or drugs. For over 8 months I've had to keep this whole project quiet, so it's great that this is now in the news and people can hear about the worlds first whisky dogs which were trained in Pembrokeshire for a huge Scotch whisky maker." He further adds, "This project hasn't been easy, it's been quite time consuming and it's the first time such dogs have been trained to carry out a detection role like this and I've had to go it alone, in secret. I'm so pleased with Rocco and Bran who have both turned out to be fantastic at carrying out this very special job for Grant's Whisky. Rocco will now be based in Girvan at the Grant's Distillery and Bran will remain with me and be used to assist other Whisky makers in the UK."

said Stuart Phillip
As can be read in the trainer's informative words, only Rocco was selected to work with Grant's distillery. Not that Bran didn't pass the test well enough. Actually, Grant's distillery had only one vacancy, so Bran was left to be with Stuart. We hope the best for Bran so that he gets his well-deserved job soon too.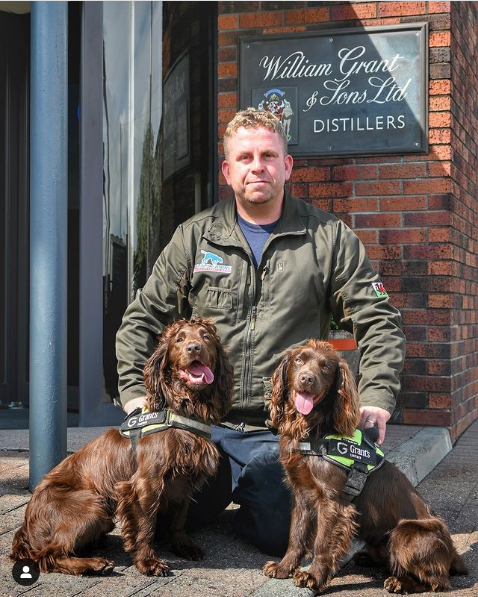 Rocco's job is to sniff at the casks and if he has any suspicion for a cask, he has to report it to his boss named Chris Wooff, whose surname justifies him being the dog's boss. The reported cask will then be removed and not used for the whisky-making process. But till now we have not answered a question which you must be wondering: Why wooden casks need to be examined first hand?
"Wood is a natural material, and the distilling of whisky is an organic process, so we want to make sure that everything is perfect as the whisky ages in the oak casks. We've specially selected and trained Rocco to pick up the scent of anything that's not quite right as the whisky matures." He further explains the necessity of dogs to examine the casks: "Mechanical 'noses' are widely used in the wine-making industry, but we wanted to maintain the tradition of our craft skills by using a dog's natural super-sense of smell in our quality control process, Rocco's ability to 'nose' a very large number of casks in a short space of time means he is a fantastic addition to our team of craftsmen."

Explains Mr. Wooff
And always remember! Rocco ain't practicing forced labor. He is a cute doggo who doesn't deserve to give any unpaid service. Keeping this in mind, he gets sufficient breaks and ball plays in the distillery. The cooperate workers' craftsmen have built him a special kennel at the distillery. He is cared for by the team leader Lianne Noble. She prepares his daily work schedule, makes him exercise, and feeds him as well. The admittance of Rocco into the distillery has a secondary benefit as well since he has made the workplace a merrier place to work. I mean, who doesn't want to earn his living by working in the proximity of a cute doggo!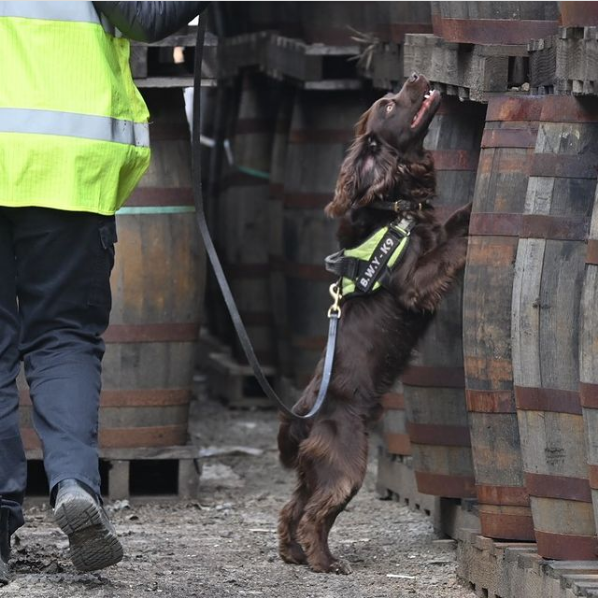 "The boost in the morale has been a joy to see. Word spread very quickly around the distillery about Rocco's arrival in the team and it has been amazing to see the impact he has on everyone around him. The atmosphere lifts wherever Rocco is working, and people can't help but smile in his presence."

Ms. Noble, referring to the employees
But don't be so fast! You aren't allowed to play with Rocco freely if you are a workman over there. ,
"Rocco is a working dog rather than a workplace pet, so we have guidelines in place to make sure he doesn't get disturbed, but the boost in morale, whenever he is around, has been a joy to see".

Mr. Wooff said
We hope to continue experiencing such kind of cute innovations in the alcohol industry in the future as well which will help us put our hands on a better bottle of whisky or any other beverage.