You might have heard the name Truly if you like drinking hard seltzers. Known for their amazing range of hard seltzers consisting of flavors like Watermelon & Kiwi, Strawberry Lemonade, Lime, Wild Berry and many more amazing versions. But stepping out of their comfort zone, Truly has ventured into the vodka industry in collaboration with Beam Suntory. Read to find out the new vodka range and when can you get one of them!
Truly is a brand known for constantly brewing up different flavors, new ideas and delivering an amazing palate experience to their consumers. Their fruity, exotic and punchy flavors have turned everyone into a fan and for the right reasons.
Earlier this week, Truly announced and exclusive launch of their first-ever flavored vodka range. It's cool isn't it? Hard seltzer? Check. Vodka? Check. Two of the most popular beverages in today's world made Truly for you by Truly.
"As we enter an entirely new category for the brand, we're thrilled to be working in tandem with the pioneers in premium spirits at Beam Suntory to bring our latest innovation to life. With the launch of Truly Flavored Vodka we want to defy what consumers think vodka can be and create a product that's flavorful, colorful, and endlessly interesting."

By Boston Beer Company CMO Lesya Lysyj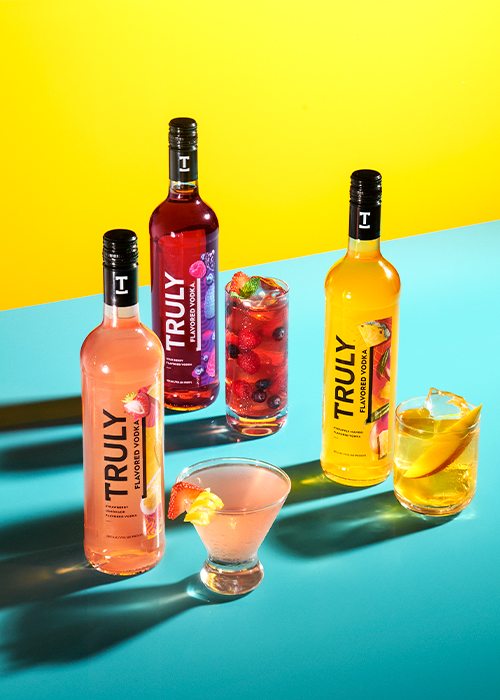 Beam Suntory is helping out with their expertise directed towards distilling, distributing, selling, and marketing new products. The collaboration with Beam Suntory resulted in the launch of three vodka flavors – 
Strawberry Lemonade
Wild Berry
Pineapple Mango.
If you're eager to find one for yourself, you'll have to wait a few days before these flavorful vodkas are being stocked in shelves. But what we can tell you is ? – The three flavors are available in 60 proof bottles. Talking about quantity, you can get 50ml, 375ml, 750ml or even 1l bottle.