Talking about vodka opens up a door of vast topics like why is it called vodka? How is it made? Why is it so popular? And with relevance to the modern world – Can vodka be termed as a safe alcoholic beverage? Vodka is best described as a clear distilled alcoholic beverage with origin tracing back to Poland. Traditionally, it is associated with grains and potatoes although the foundation has gone through a drastic evolution over the years. Vodka is a top contender when it comes to parties but there is one particular brand that shines out with a lot more things like their farm-to-glass concept. V-one vodka is certainly one masterpiece with specifications like Non-GMO, 100% Organic and certified gluten-free. In this stage of heavy competition, one would definitely say V-one vodka offers something unique to their consumers.
The start of an amazing future : V-one
This company is situated in Poland right next to the famous Vistula river. Founder Paul Kozub started this fascinating journey in the year 2003 by distilling vodka using a small still in his basement at Massachusetts. Being devoted to this beverage, Paul wanted to get accustomed and so he travelled to his homeland – Poland. 
On his very first day in Poland, Paul knew nothing around and so while walking he stumbled upon the beautiful St. Mary's Square. That day he knew why maintaining one's heritage was of utmost importance to his father and that V-one Vodka belongs to this air.
V-one Vodka's first sale was in September 2005 and since then Paul has devoted his time and passion to the vodka production process. His main goal was to have his own farm, distillery and bottling plant. After searching for almost 5 years, he found the historic distillery located right next to the world-famous Vistula River and knew this is the place to mark the golden history.
Spelt x V-one vodka
V-one vodka is made from 100% organic spelt grain. Wondering what spelt is? An ancient whole grain which has been in cultivation for 5,000 years. It is related to wheat and is also known as hulled or Dinkel wheat. Spelt has been found to be healthier than wheat and is the highest-quality raw material in the production pyramid. The 5-times distillation process results in an ultimate smooth finish. The ABV is 40% and it is priced at $24.99 – $44.95 for 750ml. This price range depends upon the availability and the quantity which starts from 750 ml to  To buy this fascinating expression, visit official website.
"V-One is the leading producer of vodka made from 100% organic spelt grain, the highest-quality raw material in the production pyramid. It is distilled five times using a sophisticated proprietary process that removes impurities and gives the suite of V-One vodkas their famously clean finish. I hope you enjoy our entire line and that you, too, will follow your passion!"

By Paul Kozub
The term 'clear-drinking' suits this vodka.
'An earthy, spicy aroma includes dry scents of black pepper, moss and mushrooms. The palate entry is keenly spicy and sharply sweet, while the midpalate boasts a strong spirit presence with a touch of honey or sugar cane. The aftertaste is sweet and hefty.'

Tasting Notes by Wine Mag
The motto : Clean eating, clean drinking
In the year 2007 this vodka was given the certification of gluten free by one of the most renowned labs in United States. The certification was bestowed upon the process of distillation which removes the gluten protein. V-one vodka has another achievement of being the 'Only' vodka made from 100% Non-GMO spelt. As we know now that spelt is an ancient grain but unlike amarnath, quinoa etc. Spelt has never been genetically modified and therefore it is recognized as food.
'This ingredient gives V-One its excellent quality and superior taste. Distilled five times in Poland using some of the most modern equipment in the world, our multiple award-winning vodka is, quite simply, cleaner and purer than any spirit on the market.'

By V-one Vodka
While many brands ponder about the bottle design or the way to induce clever marketing. V-one vodka's team always gives utmost importance to the utilization of quality natural ingredients and the finest grains to produce what we know as – The pure and clean V-one vodka.
The group of 5
Just when you think that V-one couldn't get any better, there comes the twist of this ultimate luxury in 5 flavors apart from the original :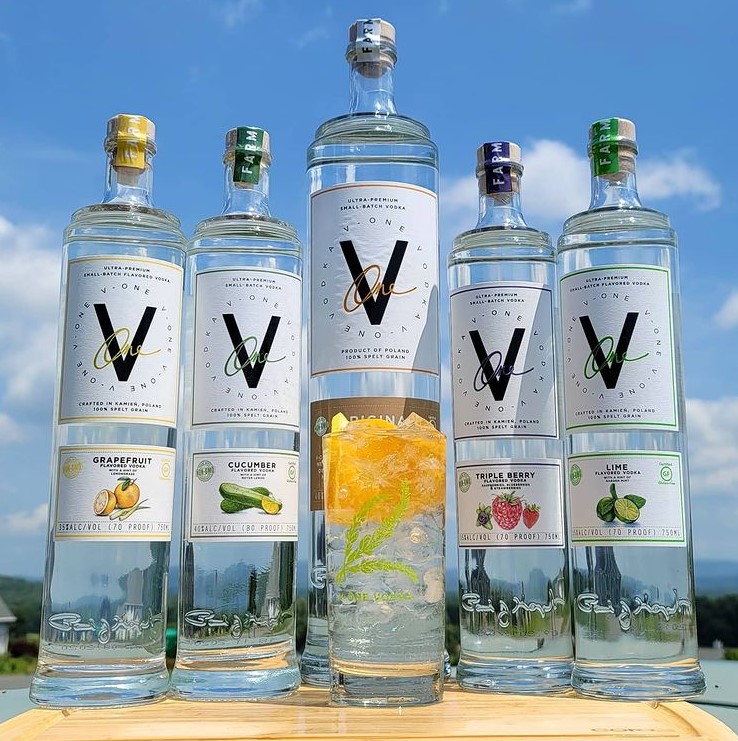 V-one Triple Berry
V-one Grapefruit
V-one Lime
V-one Cucumber
V-one Peppermint
For more information about this exclusive brand and its products, visit official website.