Nc'nean, the first organic Single Malt whisky Distillery in Scotland, has revealed the latest Quite Rebels whisky series. The distillery also launched the first chapter in the series- Annabel.
The Quite Rebels series is dedicated to the small team of 13 strong individuals on a mission to create new delicious Scotch innovations. The team also believes in producing organic Scotch whiskies with sustainability as the main priority. The members of the Nc'nean team includes-ANNABEL THOMAS (Founder and CEO), GORDON WOOD (Distillery Manager), LORNA DAVIDSON (Distiller), SIMON HEWITT (Distiller), AMY STAMMERS (Visitor Manager), CINDY DREW (Office Manager), MATT HASTINGS (Brand Ambassador), SASHA HOLT (Head of Marketing), SARAH HEWITT (Distiller), KETH MCLELLAND (Head of Finance), AMBER MORRISON (Export National Account Manager), TORRAN MEALAND (Bottler), DOUGLAS TAYLOR (Bottler).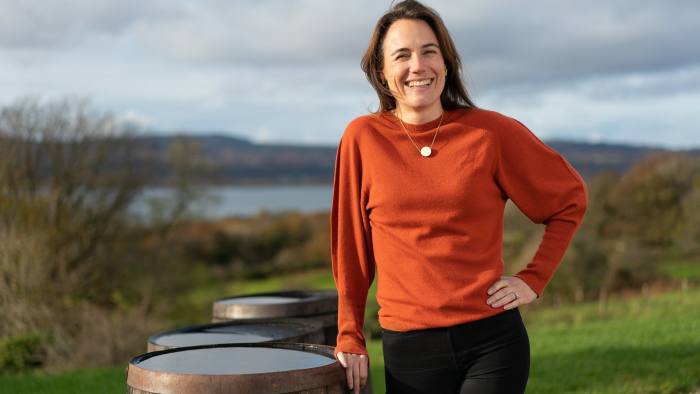 Annabel is the first expression launched in the Quite Rebel series. The expression is the first seasonal release and is named after Annabel Thomas, founder, CEO, and Queen of Spirits at Nc'nean. The Annabel single malt whisky is inspired by the founder's story- the journey of founding Nc'nean distillery in 2013 after leaving her job as a consultant in London, years of research, constituting the distillery as well as team on Nc'nean's organic and sustainability concept, producing innovative high-class organic spirits.
To create the vivid flavors to Annabel whisky, Thomas picked a moreish combination of ex-Bourbon and ex-Tokaji barrels (a Hungarian wine cask to impart the sweet and velvety texture to the whisky). Together, they produce a richly perfumed spirit, with notes of floral almond biscotti, desiccated coconut, and tropical fruits.
Thomas announced- "The Quiet Rebels series celebrates the team that makes Nc'nean what it is. A group of passionate, skilled, and adventurous people who are the driving force behind our mission to pioneer sustainable production and do things differently."
"The best part was obviously picking the casks for this release. I've had my eye on the Tokaji barrels for a while as their sweeter side appealed to me. But I also love our spirit in ex-Bourbon casks and I wanted to create something that let me shine through. It's my turn to go first with this release but I can't wait to see what the rest of our amazing team come up with in years to come."
Tasting Notes
The Tasting Note provided by The Chaps at Master of Malt include-
NOSE: Cherry Bakewells, honeycomb, and a flash of papaya.
PALATE: Fragrant vanilla, with a floral touch to it, balanced by barley sugar, coconut, and ginger.
FINISH: Softly fruity on the finish, plus hints of vanilla remain.
COLOR: Natural color
BOTTLED AT: 48.5% ABV, Non-chill filtered
Only 4,504 bottles have been created. Annabel Thomas declared via Twitter that the premium whisky bottling was sold out in 3 days since the launch.
Quiet Rebels Annabel is priced at RRP £65.95 (US$90), the whisky bottles are sold out now online at ncnean.com and can be purchased through select retailers in the UK. It will be available from various dates via the distillery's distributors in Germany, France, the Netherlands, Italy, and Belgium.
Cocktail Recipes
The team at Nc'nean curated cocktail recipes. Three of the recipe mixes are-
WHISKY SIX
Ingredients
2 parts Nc'nean (50ml)
4 parts soda water (100ml)
Mint sprig to garnish
Method
Fill a glass with cubed ice and add all the ingredients.
Gently stir then garnish with a fresh sprig of mint.
RESTA SPRITZ
Ingredients
30ml Organic Single Malt Whisky
30ml Aperol
30ml ruby grapefruit juice
60ml lemonade
Thyme sprig to garnish
Method
Fill a wine glass with cubed ice and add all the ingredients.
Gently stir then garnish with thyme sprig.
ROGUE
Ingredients
30ml Organic Single Malt Whisky
20ml Amaro
100ml cola
Method
Fill a highball glass with cubed ice and add all the ingredients.
Gently stir then garnish with a lime wedge.
 For more innovative recipes, check out the official website.
Nc'nean recorded being the first whisky distillery in the UK to achieve net-zero carbon emission. The spirit distillery practices sustainability concept only in their whiskey masking process but also uses recycled glass in the bottling manufacture. For more details visit my article on.