Like every year the Global Spirit Masters held their annual Vodka Masters contest in September of this year. A contest that has been in action since 2008, organized and hosted by The Spirits Business, a British magazine aimed mainly at distillers, distillery proprietors, and other spirits industry professionals that concentrates on the fine spirits of the beverage industry since its inception. The contest is considered to be the world's largest and most influential spirit testing competition where over 23 brands across various categories take part – from pear-flavored showstopper to several rye-based bottlings were selected as the top Vodka expressions – a category that is considered to be blossoming because distillers are focusing more on experimenting with native ingredients. The Global Spirit Masters competition is specifically regarded as a series of blind-tasting of vodkas, the judges are offered an array of vodkas expressions, the winning expressions are awarded Master medals and scored between 90 and 100 points in the judging by a group of independent experts. As reported by The Brand Champions that in 2021 the vodka's million‐case‐selling brands were among the most resilient of all spirits sectors. Though multiple East-European brands participated and sustained the competition even after being struck by the historically worse pandemic.
The Global Spirit Masters competition which has been in existence for over a decade now has tasked itself with rewarding "excellence in spirits production" and "giving brands key differentiation in a crowded market." The judging is divided into 19 separate competitions to ensure each spirits category receives proper attention from a specialized panel of expert judges. The judges, all of whom are considered experts in their category, are drawn from retail buyers, the hospitality industry, educators, and journalists. For instance, David T Smith, founder of the Craft Distilling Expo, chaired the first panel, which also included: Sarah Miller, founder of the Gin A Ding Ding blog; and Bernadette Pamplin, founder of the Under the Ginfluence blog. The second set of tasters was chaired by Bryan Rodriguez, wine and spirits buyer for Harvey Nichols. He was joined by Evan Prousaefs, bar manager at The Leaf and Cane in London; and Julia Nourney, independent spirits consultant. And Melita Kiely, editor of The Spirits Business, chaired the third and final team, which comprised: Ivan Dixon, independent spirits consultant; and Dimple Athavia, founder of All Things Drinks.
The competition awards Silver (70-79 points), Gold (80-89 points), and Master (90-100) points. The top vodkas in the 2021 competition hailed from all over the world and included winners from the United Kingdom, Russia, Australia, and the United States.
The top vodka in the competition are:
Nemiroff's Inked Collection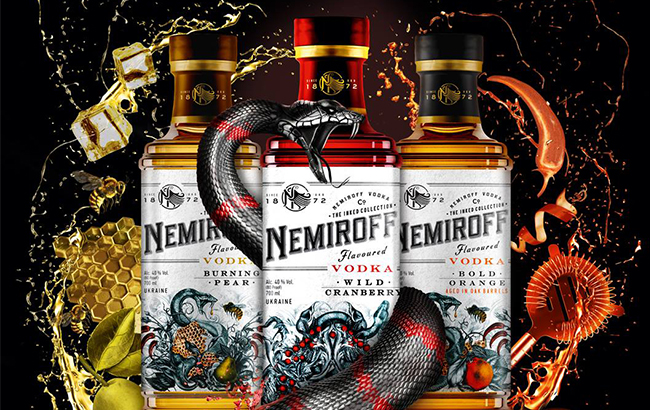 Nemiroff, a Ukrainian brand that has been in business for over 150 years, operating since 1872, and is considered to be the largest producer of alcohol in the world. Nemiroff has received two Masters in the Flavoured/Infused Vodka flight, first for the Nemiroff Wild Cranberry and second for the Nemiroff Burning Pear, but the Nemiroff's Inked Collection is a trio of flavored vodkas and the third expression in the series is Nemiroff Blood Orange.
This vodka dazzled all the judges in the room not only because of the exquisite taste but also for its attractive appearance and captivating color, resulting in it earning the highest award of the competition – The Vodka Taste Master 2021. Gin A Ding Ding's Miller found this vodka's to be "sweet, sharp", and added that it "would work well in cocktails". The vodka is made by combining honey, pepper, and fresh pear, delivering "pear drops" on the nose and "authentic pear flavor" on the palate. Each bottle is 40% ABV and is priced at £21.95 (US$30.30).
 Syabry Rye Bread Vodka

It is a product from Belarus produced by Belvingroup and is priced at $7 for a 500-ml bottle. It has a very limited distribution outside Belarus and is not yet available in the US. The name Syabry is the word for friend in the Belarusian language. Belvin describes its vodka as "sophisticated, clean, with hints of roasted grain and bread crusts" on the nose, "with expressive tones of fresh bread" on the palate.
JJ Whitley Artisanal Russian Vodka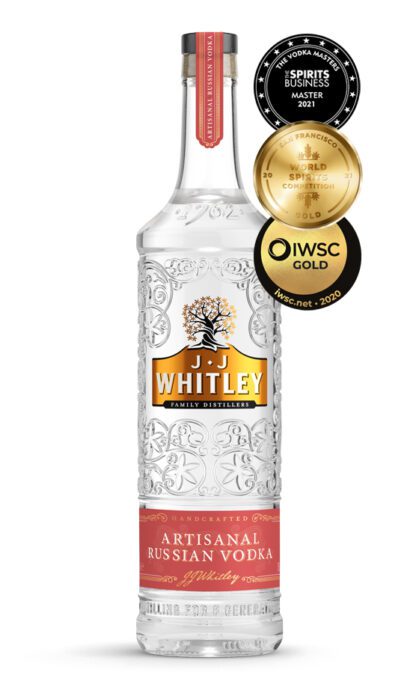 A UK-based brand produced by Halewood Group which operates 12 distilleries around the world. The Artisanal Russian Vodka is produced at the JJ Whitley Vodka Distillery in the town of Kingisepp (previously named Yamburg), near St. Petersburg. The distillery was once among the largest all around Russia. The Vodka is wheat-based, and silky smooth on the palate producing a clean, crisp, but with a warming spiciness and subtle hints of fruit, along with vanilla and a bit of almond. The bottling was presented in the Premium heat and sits at 38% ABV, and is rated at RRP £15.75 (US$21.74).
Brecon Five Black Vodka

It is the winner in the Global Spirits Masters Competition of 2021, is produced in Penderyn Distillery – a leading vodka brand of the United Kingdom. Five Vodka is said to be distilled five times in Penderyn ritualistic still and then filtered in charcoal which is made with pure glacier water and a hint of barley spirit. The expression produced out of it is exceptionally smooth and creamy, with certain hints of fruit and cooked barley, along with some pepper spice and toasted nut notes and a slight herbal note. This expression is further combined in a pot still with column distillation, and can produce alcohol at 92% ABV, the highest in the industry for a pot still, and is priced at £29.15 (US$40.24).
Kamo Premium Vodka
The receiver of the fourth and final Master medal of the Super Premium flight, the Kamo Original is a United Kingdom-based product created in Loughborough by Barrow Upon Soar. It's a wheat-based vodka produced, distilled seven times, and has undergone nine filtrations, resulting in an incredibly smooth vodka with a clean, neutral taste. Kamo is not available in the US, but can be purchased from UK mail-order vendors and is priced at £29.99 (US$41.40). The brand is co-owned by BBC 1Xtra presenter Lady Leshurr, and also won awards for its blueberry and raspberry-flavored expressions.
Pur Vodka
A Canadian Vodka that has won 72 medals in International Competitions, is among the most awarded vodkas in the world. Since its launch in 2009, it has been picked as the world's best vodka five times. As reported by the consumer and company it's a very flavorful vodka. It's based on a mash bill of corn and uses glacial spring water to bring the spirit down to bottling strength. On the nose, it offers up floral aromas, along with hints of cooked cereal porridge, some wet stone minerality, and a bit of earthy white pepper. On the palate, there are rich buttered croissant notes, along with a bit of a dry herbal note. This is a very smooth, creamy vodka with an exceptionally long, lingering finish. Rodriguez noted the spirit would be "brilliant in a Martini or Negroni". In addition to its master it also received a Gold medal in the Microdistillery flight while Pur Sang Select, Pur Sang Standard, and Pur Vodka all won Silver awards.
Croc Vodka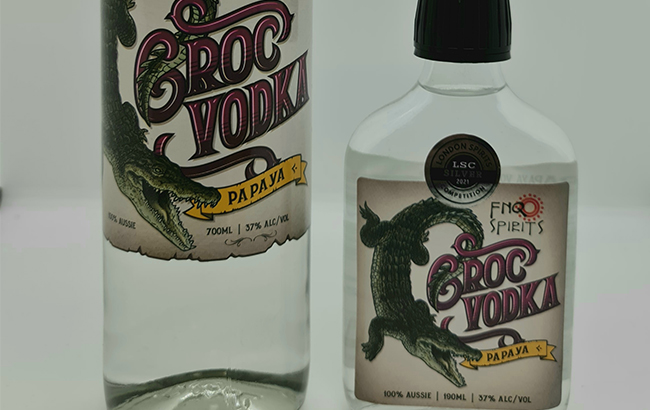 An Australian Brand, manufactured by FNQ spirits was one of the two brands to bag a Master medal in the Global Spirits Masters competition of this year. The product showcases a combination of local products, further combining with creating high-quality products from North Queensland. It delighted the judges with its "interesting, Aussie gin‐like nose" and "clean and crisp" flavor. It has been priced at AU$22.00 (US$16.50).
 Vodka Heritage 176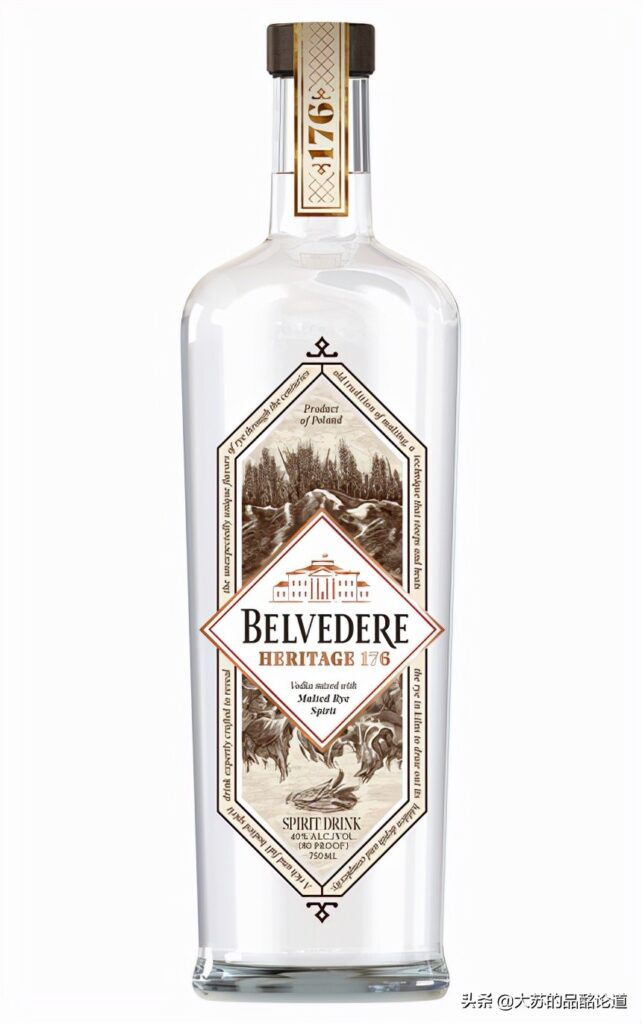 It is one of two single estate vodkas produced by Belvedere. Belvedere is a Polish distiller that crafts its vodkas exclusively from Polish rye grain. Heritage 176 was created by using the traditional method of malting the rye grain and then subjecting it to fire-kilned drying. The resulting product is a rich, complex, full-bodied vodka that offers up notes of sweet honey, walnut, and allspice. It received one of Seven medals of Belvedere, a Master award to be more prominent. Heritage 176 is 40% ABV in 750 ml and is priced at £34.95 (US$48.24).
Vodka Single Estate Rye Smogóry Forest
The other vodkas produced by Belvedere that contested in the 2021 Global Spirits Masters contest. It is crafted from the rare Dankowskie Diamond rye grain, from a single estate in Smogóry, a tiny village in rural western Poland. It is considered to be very flavorful, robust, and savory vodka, which is a true expression of the region's particular terroir. Rye flight stated that it delivered a "nice texture and mouthfeel", the liquid was also praised for its "character and interesting finish" in the Vodka. The Belvedere Smogóry Forest is around 40% ABV in 750 ml and is priced at US$39.99.
Royal Mash Vintage Vodka 2020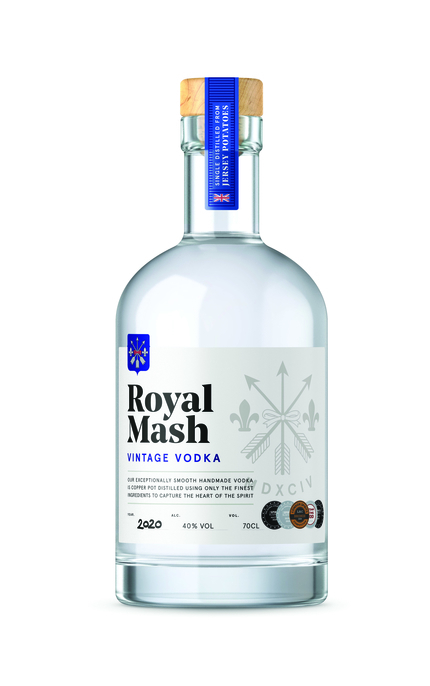 It is another Master winner in the mash category, here potato is the core ingredient. It uses mash bill based on Jersey Royal Fluke potatoes, a variety of potato discovered on the island of Jersey in 1878. The distillation is in tiny, very short-necked, alembic style, 200-liter pot stills. The vodka is very clean and fresh, and shows some pepper and a bit of wet stone minerality, along with a very slight hint of anise, but is not available in the US, but sometimes crops up on a special import basis. The judges were excited by its complex profile and extraordinary taste, the bottling received a new label design earlier this year, designed by Kirsty Holton at Manchester-based Sip Studio. Royal Mash Vintage Vodka 2020 is 40% ABV in 700 ml and is sold at RRP £36.50 (US$50.38).