Indian whisky brands are making a mark on the international market showcasing the rise of premium quality whiskies. Brands like Amrut, Paul John, and Rampur are crossing the Indian borders and being exported to over 60 countries. These brands also have produced the rarest and most expensive whisky on the Indian and international markets. The single malt whiskies derive their flavors from the soil, temperature, and ambiance of the country. Amrut, Paul John, and many other Indian single malt whiskies are creating a strong portfolio driven by the zest to break conventions of Indian whiskies.
Both, Amrut Distilleries and Paul John have been awarded honors by Jim Murray's Whisky Bible along with grants from the San Francisco World Spirits Competition and the World Whiskies Award. Paul John's Mithuna has been declared the 3rd Finest Whisky in the World by Murray's Whisky Bible. It scored 97 out of 100 and has also been awarded Asian Whisky of the Year 2021.
The three most expensive Indian single malt whisky are listed below-
Amrut Greedy Angels 12 YO – Chairman's Reserve
The first expensive Indian single malt whisky on the list is Amrut Greedy Angels 12 YO- Chairman's Reserve. The word 'Amrut' in Hindi means 'Nectar'. In ancient times, Amrut was associated with the divine liquid which gives immortality powers. Just like the meaning, Amrut Distillery in India brings the flavors of divine immortality in their whiskies. Based in Bangalore, the Amrut brand was established in 1948 and released the first Amrut single malt in 2004 in Scotland. Indian single malt whiskies are enriched with flavors and due to the sub-continental temperature, the malt is matured much quicker and the angel's share (amount of whisky lost to evaporation each year) is around 16% as compared to 2% in Scotland. A 4-year-old Amrut single malt whisky has more flavors compared to 20-year-old Scotch whisky. Amrut is now a highly regarded single malt, owing in no small part to several catalytic reviews and awards from Jim Murray over the years.
Amrut Greedy Angels 12 YO- Chairman's Reserve was released in late 2016. The release celebrated Amrut distillery's 12 years whisky journey of the successful release of single malts. The Greedy Angels 12 YO is the few whiskies from Amrut to carry an age statement. The single malt whisky is a peated whisky that is matured in ex-Bourbon casks. Only 100 bottles were released to commemorate Amrut's 12 years of presence in the international market. This beautiful decanter comes alongside two branded glasses and a pin badge. The Greedy Angels 12 YO is the third in Amrut's Greedy Angels series. The previous two Greedy Angels, released in 2012 and 2015, were eight and 10 years old, respectively.
The premium whisky is matured inland, yet distinctly coastal in its light saltiness. On the nose, there are notes of delicate blood orange notes followed by Jaffa cake middle. The spicy hints fade into notes of vanilla, taking turns with thin ulmo honey. On the palate, there are soft delivery notes of barley and vanilla, and then the oak takes control moving towards a lightly spiced cocoa. Elsewhere a thin layer of ulmo honey secures the required sweetness. The finish is smooth with tangy orange, spice, and barley oil.
The limited-edition whisky is bottled at 60% ABV and the 700ml bottle is priced at around Rs 70,000 in India. The bottling is also available for 1000$ in international markets.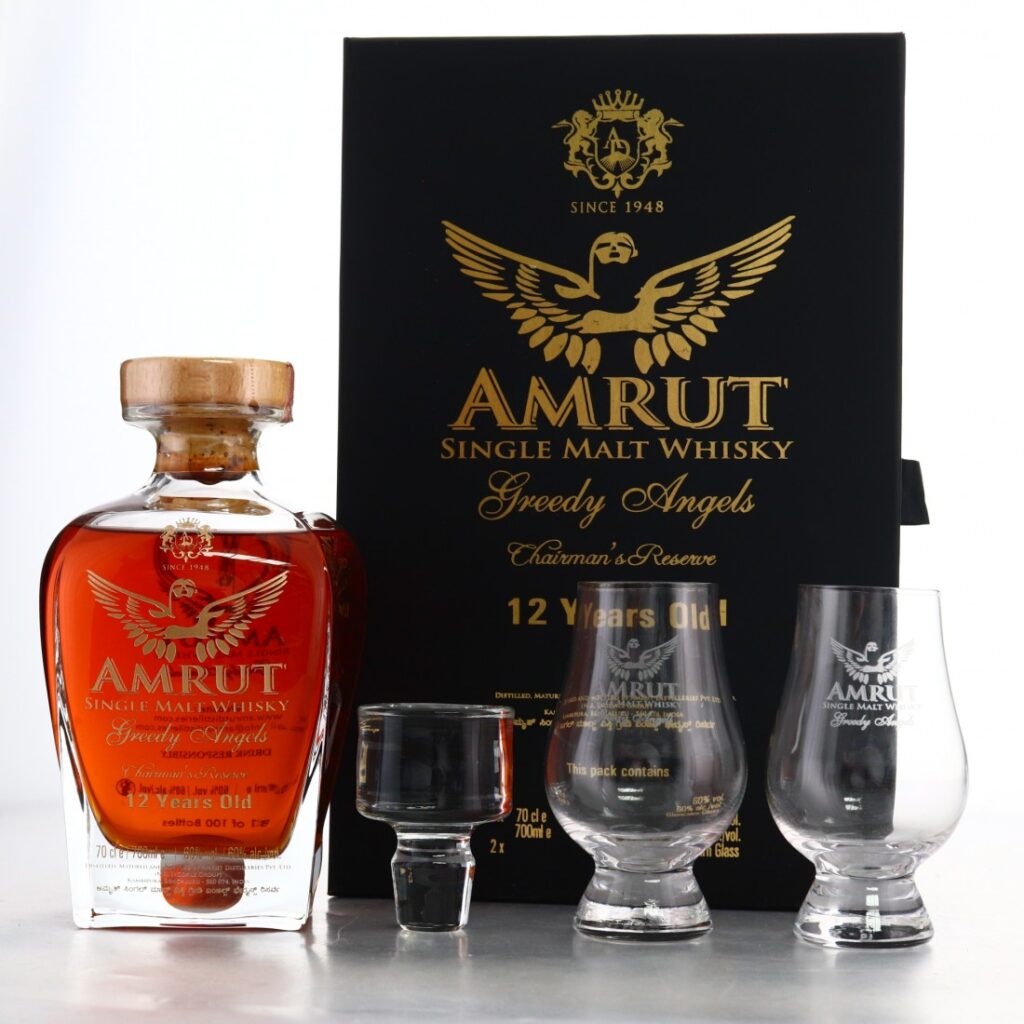 Why is it so popular?
"This is something very rare to find. I have been told that the total angels' share over those 12 years for this whisky was around 82 %! I assume the same technique used on previous Greedy Angels was used, where you start with several casks. Then after about four years, they're only half full, so you combine the liquid into half the amount of casks. Then after a further four years or so you repeat the process, ending up with one half-empty cask after 12 years. No wonder it is expensive! Oooh, this is one of those rare whiskies that caresses your nose, gives it an ever so gentle little kiss. It is so, so well integrated and balanced. You'd never guess an ABV of 60 % by this nose. It is very rich, but at the same time, it appears light on its feet. …. I should not be surprised, really. But – wow! This is the nectar of the gods indeed!"

According to Whisky saga
Paul John Mars Orbiter
The second most expensive Indian single malt in the list belongs to Paul John Mars Orbiter. Paul John Mars Orbiter is a limited edition single malt whisky that salutes the success of the Mars Orbiter Mission (MOM) for India. The interplanetary mission started with knowledge, pride, and discovery. The quest ended up making history for India, completing a marathon of 670 million kilometers in 300 days. India became the first Asian country to successfully reach the Martian orbit at the very first attempt, making her mark on the space frontier with this ambitious project. History was made that day, an immortal moment for every Indian – the day we went to Mars. Paul John dedicated this celebration with limited edition single malt: Mars Orbiter. The premium whisky is part of the 2013 Vintage Series Collection, the same month when the Indian space probe was launched- 5Th November 2013. Such an achievement deserves to be marked with something equally remarkable. The product was launched in July 2018. This rare edition is a tribute to the brilliance and efforts that made this tremendous mission successful.
Mars Orbiter offers aromas of honeyed orange blossom with a dash of Muscovado sugar tinged with smoked bacon and delicious peat. On the palate, the whisky is smooth and malty with flavors of dark cocoa, salted almonds, and sweet oak. The finish is long and delightfully spicy with toasted sugar laced with gorgeous tannic smokiness. The single malt will take your taste buds on an amazing gliding experience into the deep and profound orbital taste.
Bottled at 57.8 %ABV, the Paul John Mars Orbiter is priced at Rs 38,000 in Goa and for 450$ on the international market. The John Distillery produced only 350 bottles of the Paul John Mars Orbiter Whisky in celebration.
Why is it so popular?
"What a special bottling. A fitting release for a special achievement.  From the luxurious red box with the gold lettering to the stylish bottle, it is obvious that attention to detail went into every step.  Even the bottle top; feels like it is solid gold, it is heavy and grand. The whisky and the drinking experience is unique  and a celebration. If you are looking for a release with a special story, this is a collector's item worth having.  From what I have heard, the few bottles that did make it to SA got snatched up rather quickly.  As I am writing this, only 2 bottles remain in retail. If you are lucky enough to travel via Bangalore, you might also spot a bottle or 2."

According to JEANNETTE WENTZEL in Whisky of the Week website
Paul John Mithuna
Paul John Mithuna single malt whisky by John Distillery and is part of the second edition of the Paul John Zodiac series. Mithuna is inspired by and named after the 3rd Zodiac sign Gemini ("Mithuna" in Hindi). Ruled by Mercury, Gemini is known for its sophisticated and intellectual nature. Being curious with a mix of flexibility is a mesmerizing blend, this zodiac sign people possess. The whisky is made with unpeated barley, water, and yeast. After pot still distillation, the wash was matured in American virgin oak casks and finished in ex-bourbon casks.
The result is an old oak color liquid having sophisticated aromas of licorice, gentle beeswax leading to ulmo honey on crisp toast notes, and tender vanilla. Coffee mocha, orange peel, delicate spice on active tannins with gentle oils, and dark cocoa notes are combined on the palate. The finish is gratifyingly long and complex with multi-toned sugars and delicate honey. The 58% ABV whisky gives a blend of mesmerizing layers of austere, dry tannins which are challenged in equal measure by resplendent sugars and mocha on delicate oils. This delicate mix in Mithuna whisky represents the contradictive strengths in Gemini enveloped by Goan flavors. The bottling was released in November 2020.
In Goa, the premium edition Paul John Mithuna 750 ml bottling is priced at Rs 20,000. In Mumbai, the price is hiked to Rs 22,000. The whisky is priced at RRP of 300$ for the international market.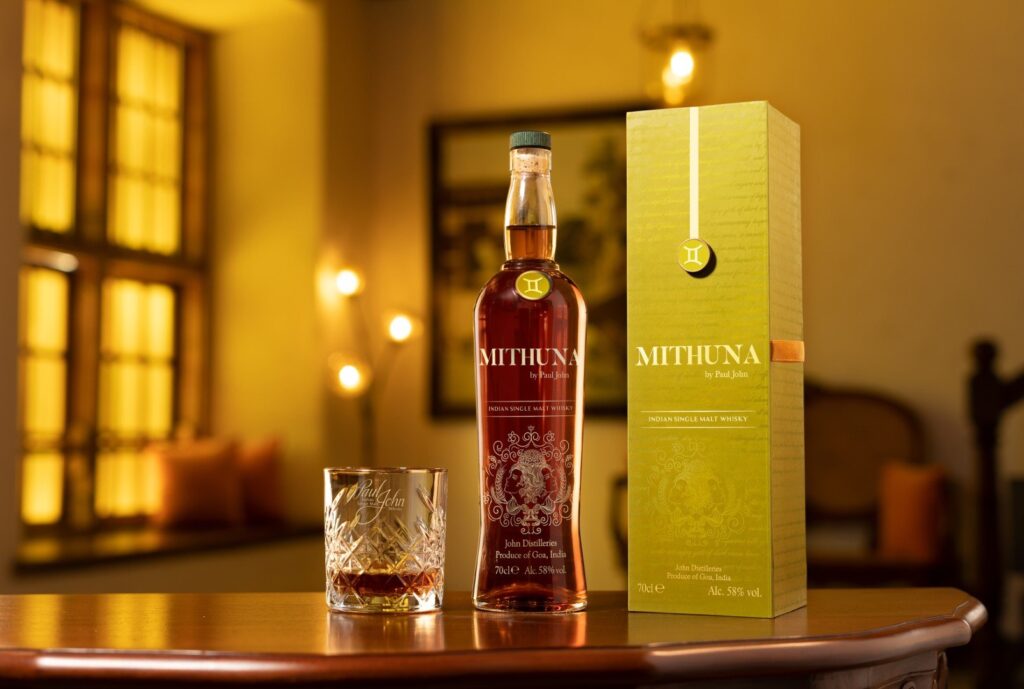 Why is it so famous?
"If Mithuna means Ultimate, then it is the perfect name. Or maybe Mithuna means Perfect, then it is pretty close. It is that very rarest of things. And, if nothing else, announces Paul John Distillery on the world stage of truly great distilleries."

Describing Mithuna by Paul John as "a whisky to devour", Murray of the UK writes
"Just like a Gemini! Exciting, strong, not afraid to put her strengths but also cover those with soft touches. Paul John Mithuna does a very well job of taking you on a journey of big flavors and then soothing you with gentle aromas. Aging the whisky primarily in American virgin oak brings out that crazy and strong character and the gentle ex-bourbon finish shows the boundaries to create a great balance. I can easily say that this bottle offers a multifaceted whisky reminding you of a white grape distillate then show you a very well-made rye whiskey with spicy notes that are perfectly blended into vanilla. It does this without losing any signature Paul John character that I have learned over the years. Complex, big, bold, elegant, and delicious."

According to the Whisky Monster website
The other whisky released in The Zodiac Series is Paul John Kanya, representing the earthy, sensuous and intrinsic character of the Virgo sign.