'Nectar of gods' also known as mead has been consumed throughout the globe since ancient times. Possibly one of the oldest alcoholic beverages – mead consists of honey, water and yeast or bacterial culture. Mead is made by fermenting honey and therefore it's more popularly known as 'honey wine'. Setting the primary ingredients side, mead is at times flavoured with spices, fruits, flowers etc. This incredibly diverse product has its own distinct category rather than being included in the wine section. Can you guess what is the most important factor that affects the flavor of mead? You're on the right track if you thought of – Honey! Mead's flavour varies greatly depending on the type of honey used, whether it's mild or has a strong aftertaste etc. Nowadays, this golden elixir is grabbing the top charts when it comes to the craft industry. One such craft distillery has introduced an amazing range of mead 'Honey mead' being the star of the trio. Let's meet the mead right away!
Fruzzanté x Arkä – Origin of the golden honey mead.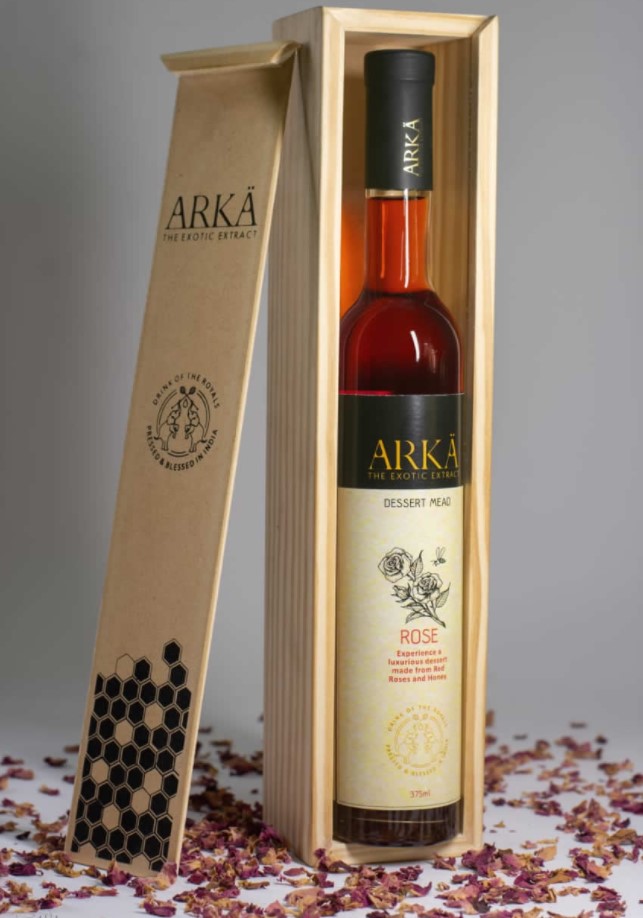 Fruzzanté is the parent company from which Arkä branches out. Fruzzanté is based on the Italian word – 'Frizzanté' which means to sparkle. What a fitting name, isn't it? Just like the brand's name their range of products consists of sparkling alcoholic beverages with an ABV of 6% and 100% fruit. One thing that can be stated as the highlight of their products would be the dedication to the concept of farm-to-bottle. It is seemingly similar to the modern-day concept – farm-to-fork with the difference lying in all the goodness packed inside a bottle instead of being served on a plate. But this isn't the end of why Fruzzanté is the ideal alcoholic brand for all of us. Their aim is to produce drinks that are inclusive to everyone and the special care they invest in the whole process ensures all drinks are gluten-free, vegan, and made with no added colour/flavour.
Speaking about Arkä – The brand's name is derived from Sanskrit and translates to 'Extract'. Their whole range is dedicated to 'drink of the royals'. A depth connection with nature passed on in a beautiful way commercially is truly a heaven for the consumers. The journey begins when 'bees extract nectar from flowers and turn it into the magical potion of Honey. This honey is then fermented and presented as Mead.' The Arkä range has wildflower honey, Jamun berries and rose integrated into the 'ancient concoction'. 
"We are super excited to bring the Arkä range to our customers. This is a premium mead that has been made from honey sourced from the best of produce. The word 'Arkä' means 'extract' in Sanskrit and takes a natural journey before it is presented in the commercial bottles.

– Priyanka Save, Founder / Director, Hill Zill WinesPvt. Ltd.
The luscious range of Arkä :
Arkä honey – This luscious dessert mead is curated from locally foraged ingredients. The inspiration behind it lies within the wildflower honey found across the forests along the Sahyadri range. One can experience playful notes of honey, citrus notes and hints of floral notes. It also has a lingering aroma of white florals, wild roses and apricots. This mead makes a perfect dessert for a special occasion or simply makes an occasion special! This medium gold liquid comes packed in an elongated cylindrical bottle. It also has a center label which displays the brand name, logo and a short description about the mead. With an estimated ABV of 10% it is priced for ₹1,050 for 375ml.
Arkä rose – The ultimate expression of luxury and romance, as soon as you open the bottle your sense of smell will welcome the beautiful aroma of Red Tea Roses. This mead has a gorgeous reddish-pink appearance. Your palate will experience playful notes of honey, citrus notes resembling orange blossom and floral notes of course! The packaging is similar to the Arkä honey with just some common differences like the name of the product. With an ABV of 10% it is priced for ₹1,095 for 375ml.
Arkä Jamun – 'Java Plum, or Jamun, is cultivated across the world but finds its home amongst the estates of India. This tannic fruit forms a prominent part of farm life, yet remains an untapped treasure amongst the world of stone fruits. It plays an integral role in Arkä and develops its character. Fermented in barrels, it imparts a velvety texture and smooth finish to the Indian origin with truly international quality in Arkä Jamun Dessert Mead.' ! The packaging is similar to the Arkä honey with just some common differences like the name of the product. With an ABV of 10% it is priced for ₹1,095 for 375ml.
"Our promise has always been quality products without harming the environment. We also work in consonance with the locals to use their products sustainably. We have used specialized corking which is carbon negative with micro-oxygenation which helps age the mead,"

– Shrikant Save, Founder / Director, Hill Zill WinesPvt. Ltd.
The cork closure used for Arkä uses PlantCorc™ technology based on renewable plant-based polymers derived from sugarcane. These closures are more sustainable with 7 g CO2 equivalent per closure carbon footprint and deliver an enhanced overall look and feel. Arkä bottles are packed in eco-certified composite MDF that has less than 0.11 parts per million concentration of formaldehyde.
The amazing range of Fruzzanté:
Fruzzanté Chikoo
Fruzzanté Mango
Fruzzanté Pineapple
Fruzzanté Strawberry
Fruzzanté Orange
Fruzzanté Starfruit
For more information about Fruzzanté, visit https://hillzillwines.com/products/fruzzante/ or follow them on Instagram - @getfruzzante For more information about Arkä, visit https://hillzillwines.com/products/arka/ or follow them on Instagram - @arkadessert