Gin, a popular beverage of the western countries, was first designed as a medicinal liquor in the 11th century. Evolving day by day, gaining popularity and fame, this uniquely crafted spirit became the life of the English people.
Denis Thatcher, a famous English businessman always said:
"I don't know what reception I'm at, but for God's sake give me a gin and tonic."
Gin is an inventive and innovative spirit!
 Having seen the rapidly increasing 'gin craze', Japan, the nation of creations, thought of infusing the flavour of its nature into this spirit and formed an amazingly beautiful range of flavoured gins at Suntory House. Exciting, isn't it? Come on, let's travel back in time and experience how this all started. 
A Bridge of Dreams – House of Suntory
Way back in 1899, when Shinjiro Torii, the founder of Suntory was in his 20's, saw a dream of creating the best-distilled beverages that could suit the palates of his countrymen. He opened the Torii Shoten store, which later on grew and changed into the legendary House of Suntory.
He wished to "create original Japanese Spirits the whole world could enjoy, uniquely made from Japan's nature and for her people."
Dealing with a lot of hardships and leaving all of them behind, Shinjiro with his traditional Japanese methods, succeeded in creating a range of alcoholic and non-alcoholic beverages and launched his first Gin – Hermes, in 1936. 

Six Japanese Botanicals X Hundred years of Expertise: Roku Gin
The term "Roku" is the Japanese term for the number six, which denotes the number of botanicals used in the making of this iconic drink. It is believed that Shinjiro Torii's distillers and other team members had a dream of creating a perfect original Japanese Gin with the country's self-grown botanicals, and thus they created Roku, which has a history of 100 years of expertise.
The legendary Roku's production is done by a multi-distillation process at Suntory's special craft distillery "Liquor Atelier" wherein all the botanicals to be used in the spirit are distilled separately using copper pot stills to extract their delicate flavours. They are then carefully infused and blended in the spirit to craft the harmonious Roku gin. 
This premium Japanese craft gin is proofed to 43% ABV and was first launched to the selected European and Asian markets on 31st of July, 2017. Roku gin is available on Suntory's official website in two packages, a 700ml, and a 750ml bottle. One 750ml bottle of this gin can cost you around $33.
The Tasting Notes:
Nose: subtle, sweet yet floral aroma of cherry blossoms and green tea. 
Palate: velvety smooth texture with complex and versatile flavours. Traditional gin taste in the base with a hint of blended Japanese botanicals. 
Aftertaste: Finishes off with a touch of spice in the mouth that comes from the Japanese sansho pepper.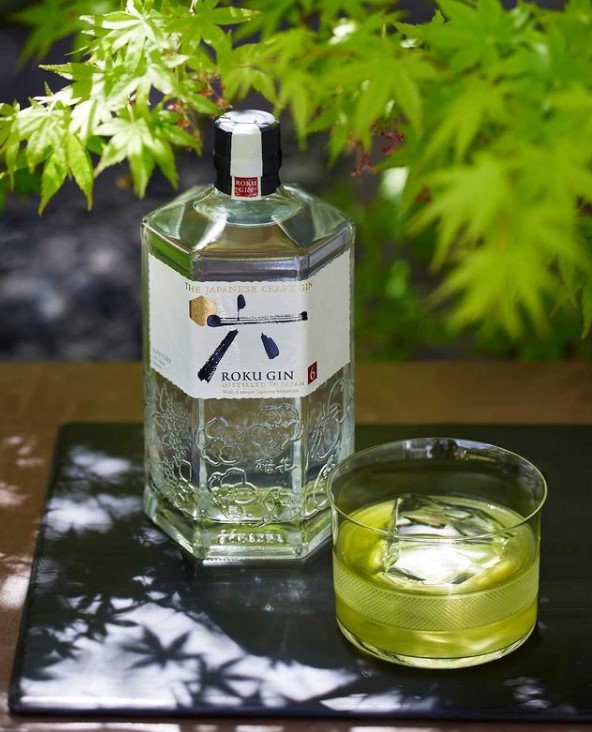 Featured Cocktails :
Having a subtle and light texture, Roku is the perfect spirit to be enjoyed as a cocktail. Here's a list of the perfect cocktails you can enjoy this summer:
Gin and Tonic – The perfect couple. 
Negroni – A citrusy magic
Gin Martini – The royal drink
Gimlet – The mood uplifter. 
---
Suntory's Iconic Products :
Yamazaki – the pioneer of Japanese whiskey
Haku Vodka – the best Japanese crafted vodka produced with white rice
Hakushu – the verdant Japanese whiskey
Hibiki – the paragon of Japanese whiskey