Launched on 2nd July 2018, this small batch hand-crafted London style dry gin is named after the unique red doors at Benromach Distillery. Red Door Gin exhibits the professional skills of their distillers as well as the usage of finest botanicals to deliver the ultimate premium gin. The inspiration for this gin is taken from Scotland's beauty which consists of the gorgeous mountains, forests and coastal fringes.
'Red Door Gin delivers signature notes of juniper and a defining citrus note of bitter orange, with aromatic sea buckthorn, floral pearls of heather and chocolatey rowanberries.'

Tasting Notes by Red Door Gin
This gin is handmade in a 'Peggy' which is a copper pot-still. The method used in production of this gin is vapour-infused distilling methods which steam the neutral base spirit through the distillation of 8 botanicals. The ABV is 45% and it is priced at £30 for 700ml.
'For us here at Red Door Gin, the key to a great flavour is all about how our selection of botanicals interact together.'

Red Door Gin
The botanicals that make this premium gin :
Red door gin classifies their 8 signature botanicals into two categories :
Locally inspired botanicals
This unique category includes three locally inspired botanicals which mainly play the role of a flavor agent in the foundation of this gin. These botanicals are :
Pearls of heather – The floral notes in red door gin are imparted by pearls of heather. It is known for being subtly perfumed and is iconic throughout Scotland.
Rowan berries – A great combination of bitter and chocolatey overtones. Red door gin's signature bittersweet flavor profile has something to do with these rowan berries. 
Sea Buckthorn – Flavor and tones like tangy, crisp and citrus describe this botanical. Sea buckthorn's aromatic flavour adds fresh, fruity top notes to Red Door Gin.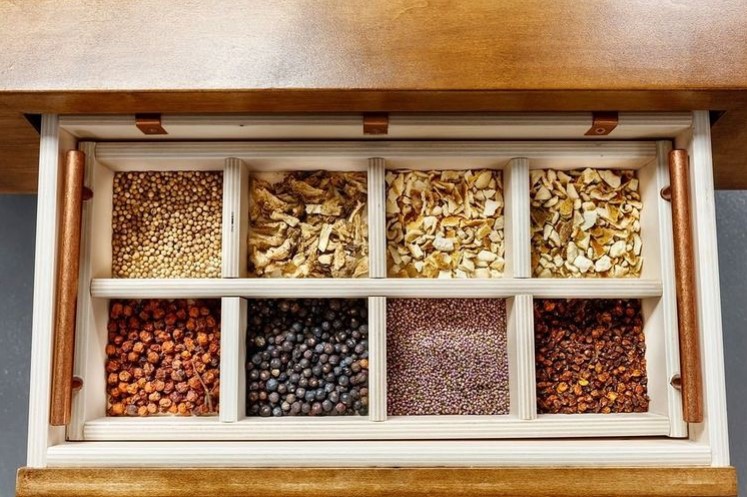 Classic gin botanicals
This category includes five core botanicals responsible for the foundation of this gin. These classic gin botanicals create a complex palate & luscious finish. 
Juniper berries – A given in the world of gin. According to Red door gin , 'Red Door Gin is classified as a London Dry Gin, meaning its signature note on both the nose and the palate must be juniper.'
Bitter orange peel – The delicious citrus notes in this gin are imparted by bitter orange peel. As the name includes 'bitter', this gin is a bit tangier than the average gin. 
Lemon peel – In combination with bitter orange peel, lemon peel known for crisp and clean flavor notes, this botanical provides a zesty balance to the overall profile of the gin. 
Angelica root – Known for its unique binding agent, this botanical blends all the botanicals into a harmony. 'Angelica root has a warm, earthy flavour with slightly bitter, herbaceous notes. It provides an essential bite and a lingering aftertaste, giving Red Door Gin that lusciously long finish.'
Coriander seeds – These seeds have a lot of uses when it comes to culinary, especially in Indian cuisine. The citrus, nutty and slightly spicy flavor tones of this botanical adds an amazing depth to the red door gin. 
'Sharp citrus cuts through bright juniper and floral heather. A bitter herbal note lingers underneath with touches of honey and chocolate.'

Master of Malt
Red Door's Classic serves :
For the recipe of these cocktails, visit official website
Red door Gin & Tonic
Red door Martini
Red door Negroni
Red door apple & elderflower collins
Red door last word
Red door aviation