A series of flavourful, Jodhpur with character and top-quality gins is going to be released in the U.S market. Spanish Beveland Distillers has partnered with distributor Signature Selections to launch Jodhpur Gins in the USA. The Jodhpur Gin range includes the Jodhpur London Dry Gin, Jodhpur Spicy Gin, and Jodhpur Mandore Gin.
About Beveland's Jodhpuri Gins
Inspired by Indian Jodhpuri tradition, combined with Spanish roots in the distillery, infused into flavoured gins is the Beveland's Jodhpur Gins.
"Your true passion lies in enjoying the experiences of the journey but, discovering something new transforms the adventure into something extraordinary. Jodhpur Gin finds its inspiration in Jodhpur, known as the Blue City and situated in the state of Rajasthan in north-western India, located on the renowned Spice route. Many merchants and caravans of camels passed through this city, and the city gets its name because of the color of the houses."

According to the Beveland Distillery
The product range includes- Jodhpur London Dry Gin, Jodhpur Spicy Gin, Jodhpur Mandore Gin, and Jodhpur Reserve. Here, we are focusing on Jodhpur London Dry Gin, Jodhpur Spicy Gin, and Jodhpur Mandore Gin as they will be launching.
Jodhpur London Dry Gin was produced in the oldest distillery in England, Edward 1761. The London Dry Gin is made from select grain alcohols and an assortment of 13 botanical plants- juniper berries, coriander, cumin, angelica, bitter almond, liquorice root, orris root, ajowan seeds, black cardamom, ginger, orange peel, grapefruit peel, and lemon peel. This gives the gin a blend of bitter yet also fresh and sweet notes, a scent of spices, and a delicious citrus fragrance. The gin goes through four distillations to provide a high-quality final gin.
The Jodhpur Spicy Gin uses the Jodhpur London Dry Gin gin as a base, and includes red and green chilli, white pepper, cumin, and black pepper botanicals to give a "spicy and warm finish on the palate". The first spicy gin in the flavoured gin market.
Jodhpur Mandore Gin is inspired by the mandore gardens in Jodhpur. The distillation process begins with a base of Jodhpur London Dry Gin, blended with macerations of native Indian citrus fruits such as bitter orange, calamansi, or Buddha's hand. The gin was released in March 2021.
"A fine, aromatic gin, Jodhpur Gin is great for mixing in any cocktail or with any mixer and is sure to result in an elegant and smooth combination. The variety of botanicals used in this gin makes it ideal for pairing with spiced food, such as Indian cuisine. It also pairs beautifully with smoked salmon. It also serves as an excellent aperitif."

According to Drinks & Co.
Tasting Notes of Jodhpur Imported Gins
Tasting Notes of Jodhpur London Dry Gin
Aroma– Elegant and fine on the nose, aromatic with delicate and all-enveloping notes of wild berries, such as juniper, with a subtle background of citrus & aromatic herbs.
Palate– Very aromatic finish with considerable and very long, balsamic notes, and a long aftertaste.
Flavour– Very smooth and unctuous, with reminiscences of juniper berries rounded off with flavors of other aromatic herbs. A slight touch of citric resins and alcoholic flavor, very fine due to its excellent distillation.
Tasting Notes of Jodhpur Spicy Gin
Aroma– Hints of green and jalapeño peppers, with spices reminiscent of white pepper and chilli and nuances of cumin and ginger.
Palate– Highly aromatic with generous balsamic touches, with spicy & warm sensation.
Flavour– Very intense and tangy, with a warm sensation in the mouth that is instantly perceived and prolonged over time.
Tasting Notes of Jodhpur Mandore Gin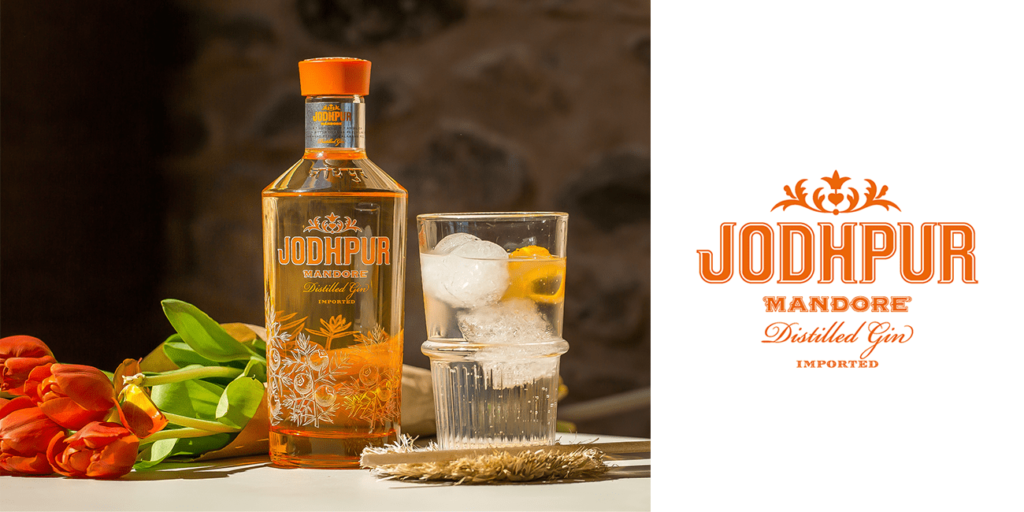 Aroma– A dry and elegant distillate with a fine nose, aromatic, intense, and fresh. With delicate, immersive notes of wild berries such as juniper, and the citrus, fruity aroma of lime and orange. Tangy but highly balsamic.
Palate– Highly aromatic with generous balsamic and citrus touches and a long finish.
Flavour– Very smooth, fresh, and unctuous mouthfeel. Medium intensity, flavourful, delicate, and aromatic, reminiscent of citrus zest, such as lime, orange, and Buddha's hand. With hints of juniper berries rounded off by botanical notes of ginger and coriander. Slightly sweet.
Bottled at 43% ABV, the Jodhpur gins were created in honor of the Mandore Botanical Gardens, located on the outskirts of Jodhpur in India.
Recipes with Jodhpur Gins
Jodhpur London Dry Gin recipe– Elderflower Passionfruit
50ml Jodhpur London Dry Gin
25ml BVland Elderflower liqueur
50ml Passionfruit juice
20ml Lemon juice
1 Dash of sugar syrup
Pour all ingredients into a shaker filled with ice cubes and shake vigorously. Strain into a glass filled with ice. Garnish with fresh mint.
Jodhpur Spicy Gin recipe– Jodhpur Spicy with Orange & Chili
50ml Jodhpur Spicy Gin
Tonic water or Ginger ale
1 Orange peel
1 Fresh chili
Pour Jodhpur Spicy in a glass full of ice cubes, add your favourite tonic water or ginger ale (for a smoother taste) and garnish with orange peel and chilli.
Jodhpur Mandore Gin recipe– Mandore & Orange – Lime
50ml Jodhpur Mandore
Tonic water
Orange peel
Lime peel
Pour Jodhpur Mandore in a glass full of ice cubes, add your favourite tonic water and garnish with orange and lime peel.
You can find a variety of recipes infusing Jodhpur Gins on the official website – https://jodhpurgin.com/en/home/
---
About Beveland Distillers
Beveland Distillers was founded in 1994 by Ramón Masoliver. The company is a part of the Maoliver group. The distillery is located at Beveland Distillers, Sant Joan Les Fonts, Girona, Catalonia, Spain. The production plant is accompanied by 3 bottling lines, producing approx. 70,000 bottles a day. In the underground cellar, 300,000 litres of spirits are aged in casks. Originally focused on the manufacture and distribution of drinks within Spain, it has grown rapidly and today is an international company covering over 60 countries. One of the business's activities is production for private brands. The distillery believes in purity and excellence and is renowned for flexibility and dynamism. The distillery has award-winning spirits-rum, vodka, gin, whisky, agave, brandy, etc. Earlier this month, Beveland Distillers launched its Marama Origins rum in the States through Stoller Imports. Bring home one of these award-winning, flavourful gin, or, as a collector's trophy, buy all the three gins. Dive into the unique experience of Jodhpur with character, premium gins.