Ready-to-drink or RTDs are beverages that are packaged in cans and prepared in a form that makes them ready for consumption. Unlike those coffee products, powders, beverage mixes, or tea that you need to prepare yourself, RTD is made to be consumed immediately after purchase. RTDs are currently making waves in the global drinks industry.
How Is RTDs Affecting The Global Drinks Industry?
There are comprehensive reports on how RTD beverages are affecting the drinks industry in various countries across the globe. Consumers are more aware of these products than ever before. With the on-trade shut down in many major markets and the movement of people severely restricted, e-commerce sales have grown exponentially in the past few weeks.
As the effects of COVID-19 beverages that support immunity, sleep and stress reduction will likely remain strong throughout the year. The low alcohol content, low sugar and natural ingredients attract health-conscious consumers and also the price of RTD cocktails is half the cost of on-trade servings.
However, their revival has seen them by turns positioned as better-for-you, craft, super premium, and offering a sophisticated array of flavour profiles. Consumers are seeking convenience. Imbibers continue to seek complex serves – and ever healthier serves – even from convenient options.
"Ready-to-drink (RTD) products in 2019 were the fastest growing beverage alcohol category, up +19.6% in volume and +18.8% in value."

According to IWSR
Which Region Is Experiencing the Fastest Growth in RTDs?
The fastest-growing region for RTDs is North America with the United States as its largest market. Going through the timeline of the global drinks industry in recent times, there has been a shift in the preference of consumers. This shift is more evident among high-income consumers.
Due to the busy lifestyle and rise in health awareness, it is projected that the North American market will increase. As a result of the awareness of the effects of carbonated drinks, North American consumers are now moving towards healthy RTDs. In addition, certain RTD have functional benefits which led to an increase in their consumption.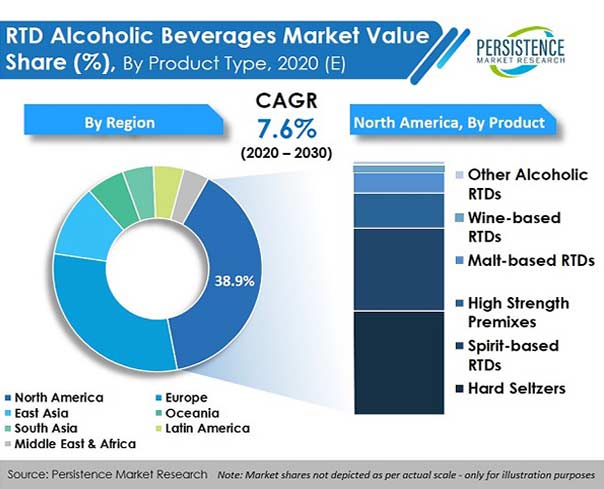 What Trends Should Drinks Industry Expect After Covid-19?
From market reviews of the global drinks industry, changes are expected post-covid. Business has not been normal for many industries as well as the global drinks industry since the onset of coronavirus.
Some of the trends expected of drinks post-covid include delivery of drinks to the door (most especially RTDs), a quest for quality over quantity among many other things. It is expected that people will want a thirst for something different, and with all the restrictions, RTDs is their best bet of getting one at their convenience.
"The consumption volume of beer in the U.S. has reduced 3% to 4% in the last two years, and the seltzer category has witnessed a growth of around 200% in 2019-2021."

According to the Mark Anthony Group of Companies
How RTDs Became the Second Beverage Category in the US
There has been a growth in canned cocktails trend in the US, with spirit-based doing well in the market. Consumer's demand of premium craft cocktails at their convenience shot RTDs to the second-best in its category.
RTDs are more affordable when compared to the more traditional beverages made in the bar, making them more appealing to modern consumers.
Top RTDs Products
Many ready-do-drink products have a hand in the growth of the beverage industry in the US. Some of the top products include:
Cutwater Spirits
Reportedly the most awarded canned cocktail brand in the US, Cutwater Spirits has nearly 24 cannedclassics in its portfolio. Established in 2017 as a separate entity from Ballast Point Brewing, this product has earned over 1,000 awards and is been distributed in 45 states.
Bacardi's Real Rum Canned Cocktails
Don Facundo Bacardí Massó founded this light-bodied rum in 1862. The BACARDÍ rum has more than 900 awards for innovation, taste, and quality. It is reported to be the world's most awarded spirit.
Truly Punch
This drink is another RTD with great reviews in the industry. The review after its test launch in 2020 was positively overwhelming. Truly Hard Seltzer has a variety in its brand line, with its Truly Lemonade Freeze Pops available in 26 states.
Narragansett Beer
This is another RTD that has been brewed since 1890. Currently, it is reported to be the fastest-growing beer in the Northeastern US and the 32nd largest craft brewer in America.
Zevia
Zevia was founded in 2007 and it is one of the first to make use of Stevia, a plant from the sunflower family in its beverage. It offers an array of mixers, organic tea, energy drinks, soda, with kid-size options.