Vodka is always in the talks for its versatility and neutral yet flavor inhibiting character. Grain is the term that is attached to the base of any vodka but now, vodka lovers can also add in topics like terroir, time of the harvest, varietals etc. Infusion of grape flavor and making the spirit with the grape itself are two different things. Vodka in combination with grape & grain is a lot to think about. Like what kind of grape & which type of grain would produce the ultimate result. There are many more things to be thought upon and Manly Spirits Co. did all that for you by launching their new release Pure of Spirit, Distilled by the Sea – 'Grape & Grain Vodka'. 
"The Ethos behind each of our carefully crafted premium Australian spirits supports a well-known phrase that best describes Manly: 'Seven miles from Sydney, A thousand miles from Care.' There is no better place to house our urban distillery. This is the place where we capture nature in a bottle."

– Manly Spirits Co.
Manly Spirit's Origin & Vision :
Founded by David Whittaker & Vanessa Wilton in April 2017. Manly Spirits Co. is situated in Australia, capturing the carefree beach life & urban sophistication. In late 2015 whilst driving through the hills of Tasmania, David & Vanessa stumbled upon the idea of having their own distillery. This thought was followed by extensive research exploring distilleries in the USA, Europe, UK and Scotland. Both of them finalized their plan and committed their dedication towards pursuing hands-on training from a leading distillery in Tasmania. 
'Our range of Australian premium spirits are created using artisanal methods in our distillery based in Sydney's Northern Beaches. We may make it look easy but spirit creation is a complex undertaking that requires an in-depth understanding of the intricate distilling processes, native and traditional gin botanicals, chemistry, equipment and timing that our team pulls together to create the products you enjoy.'

– Manly Spirits Co.
The Manly Spirits Co. team is strictly dedicated with the passion to craft a distinctly Australian premium spirit. Experimenting with new techniques, flavours and equipment whilst venturing into new areas to explore potential factors of growth. Like collaborating with renowned forager and chef, Elijah Holland, to sustainably source local marine botanicals for distillation in our white spirits is one example of this.
The new 'Grape & Grain Vodka'
This new craft vodka by Manly Spirits Co. is made from grapes and three grains. Grape, Wheat, Barley, Rye & Sea Minerals. Inhibiting a subtle grain complexity with the renowned smoothness of a classic vodka. This spirit is 15 times distilled to remove any impurities, filtered over sandstone and is hand bottled. The vodka production process uses both their whisky pot stills and gin column stills. The ABV is 40% and it is priced at $60 for 700 ml. According to Manly Spirits Co., their Grape & Grain vodka has a balance of viscosity, body and vibrancy. It is versatile & delicious, enjoy chilled neat or in your favourite cocktail.
Tasting notes by Manly Spirits Co.
Appearance: Pure, clear spirit.
Nose: Fresh, bright and faint mineral with green spice and fresh cut fennel.
Palate: A touch of fresh grapefruit with a wonderful emerging warmth of balanced grain textures, leading to a lovely long, warm and lightly spicy
"The great thing about being a distillery that crafts different styles of spirits is that we have access to a variety of equipment, making use of our fermenters, pot stills and columns still. This gave us the opportunity to create a layered vodka that showcases the cellulose and sugars from grape, wheat, rye and barley which we ferment and distil to produce a distinctive but classic vodka."

Manly Spirits co-founder David Whittaker
Their range of products :
Australian Dry Gin
Coastal Citrus Gin
Lilly Pilly Pink Gin
Barrel Aged Gin (No. 4)
Amber Spiced Gin
Grape & Grain Vodka
Marine Botanical Vodka
Terra Firma Botanical Vodka
Coastal Stone Whisky
Zesty Limoncello
Cold Brew Coffee Liqueur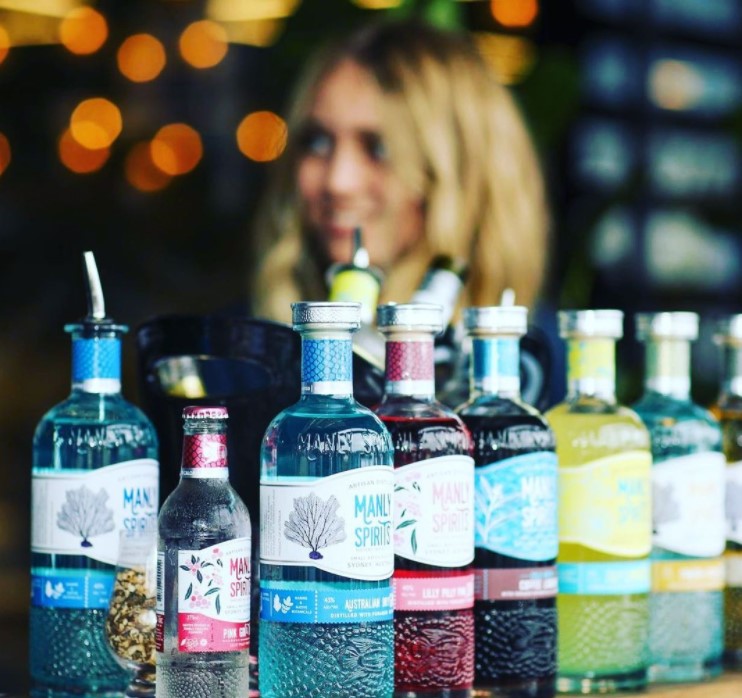 For more information about their products, visit - https://manlyspirits.com.au/ Or contact - A/9-13 Winbourne Rd, Brookvale, Sydney NSW 2100 | Tel: 02 8018 5144