Rum and whiskey are known as the dominators when it comes to the alcohol industry. But vodka has always been a party favorite while also being famous in the 'classics category'. Vodkas range from classics to flavored ones and even some shine in the 'rare' category. When a company that produces and is known for its amazing range of beers, steps into the vodka industry – well it is definitely something to look forward to. The budget beer brand 'Natural Light' has launched an amazing trio of lemonade-flavored vodkas. Consumers are excited and already trying out this unique range of aesthetically pleasing vodkas, so shall we look into it as well?
"Natural Light is constantly looking to innovate to meet the evolving flavor preferences of our fans.  Nothing is off the table,"

said Daniel Blake, Group VP, Budweiser & Value at Anheuser-Busch
A bit of 'Natural History'
1977: Natural Light was introduced as Anheuser-Busch's first reduced calorie-light beer. The start of a glowing future.
1983: The establishment of the internet helped the brand's image to evolve thereby enabling the start of worldwide recognition.
1995: Anheuser-Busch introduces a Natural Ice beer featuring a higher ABV that in no time became the top-selling ice beer in the U.S. 
2008: Natural Light is bestowed with a bronze medal in the category of 'American Style Light Lager' – World Beer Cup.
2011: 'First Beer in Space' –  Natural light went into orbit. Two inventive Facebook fans of the brand launched a can of natty light in the atmosphere. 'One small step for can, one giant leap for beer kind'.
2012 : A convenience store clerk in Florida hurls cans of natty ice to foil a would-be robber. This incident went viral during those days thereby shining light on 'the natty light'.
2019 : The brand introduces 'Natural Light Naturdays' which quickly becomes No.1 Beer innovation of the year. 
The colorful & flavorful trio :
Natural Light's new launch took place on 30th August 2021– Natty Vodka comes in three amazing flavors- Lemonade flavored Vodka, Strawberry lemonade flavored vodka & Black cherry flavored lemonade vodka.
"Flavored vodka is one of the fastest-growing segments in spirits, and we knew Natty was the brand to show up to the party with a great tasting offering to set us apart,"

said Daniel Blake, Group VP, Budweiser & Value at Anheuser-Busch
This new range of lemonade flavored vodkas is 4x distilled and has been carved to perfection for almost 44 years. The ABV of the trio range is 30% and they come in both 50ml samples and 750ml classics. You have options to either get samples and get the party grooving or order the classic and get the party boozing! But, why not order both?
The brand is so confident over this release that they call it 'shockingly delicious. If you try it and aren't pleased by the flavor of Natty Vodka, simply submit your receipt by September 13th for a refund. This offer comes as a Taste Satisfaction Guarantee, you wonder why? Because the flavor is tempting and delicious. 
The prices for this vodka range from region to region, but it's got an affordable price batch. So keep an eye for this trio, as it isn't in the test-run phase, it is available in all the stores/places where Natty Light vodkas are sold.
"Amongst the Natural Light core drinker, vodka is their favorite spirit, and specifically flavored vodka is growing in popularity with Natty fans. We saw this as an opportunity to further expand the Natural Light offering and address those changing tastes by innovating with flavor that is shockingly delicious and has our fun and creative brand personality,"

said Daniel Blake, Group VP, Budweiser & Value at Anheuser-Busch.
Slip & Slide for America:  Natural Light holds the Guinness World Record for the Longest Slip & Slide. On July 1st, 2021, Natural light made history with the help of 100 fans and a 2,021 feet slide located in Canaan Valley Ski resort. 
Da-Vinci of Debt :
Da Vinci of Debt celebrates the return of the Natural Light College Debt Relief program in 2021. Natty is now entering year four of the 10-year, $10 million commitment in support of students and graduates who are weighed down by the burden of debt. Natural Light unveiled the most expensive piece of art in the world in an effort to call attention to the rising cost of a college diploma and the impact of college debt. The artwork, entitled Da Vinci of Debt, made its debut at historic Vanderbilt Hall, in New York's Grand Central Terminal on January 14, 2021, and was available for public viewing through January 16, 2021. The installation was created using 2,600 authentic, physical diplomas provided by real college graduates across the country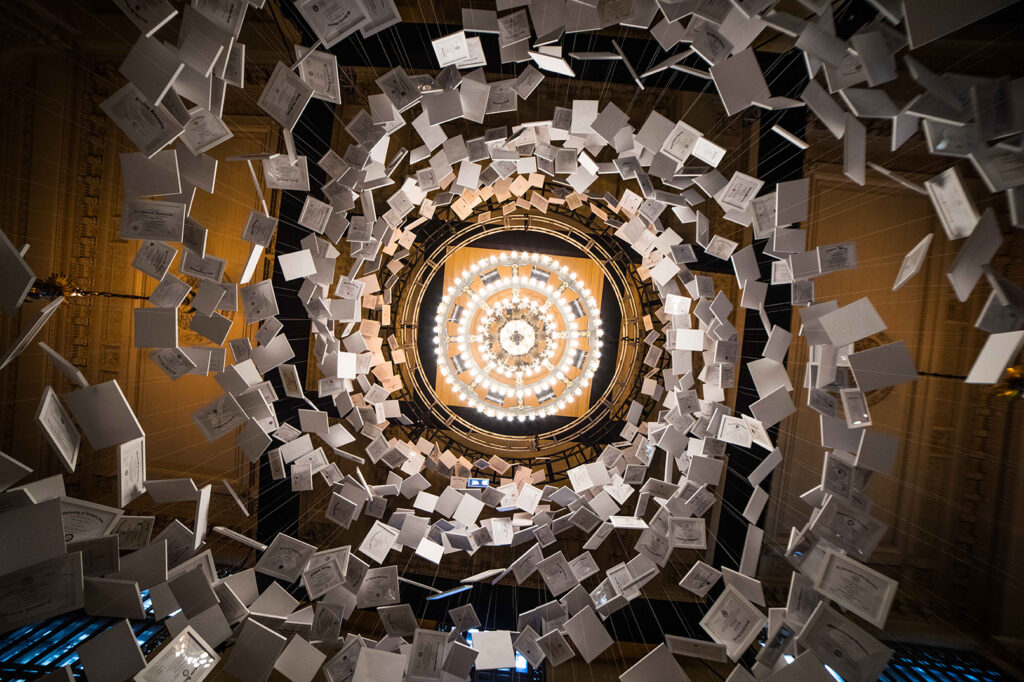 Natty Light's luscious range :
Natural Light
Naturdays
Natural Light Seltzers
Natty Daddy
Natty Ice
Natty Dad Lemonade
Natty Vodka.
To get more information or to buy any of these, visit https://www.naturallight.com/