Gin is the most beloved beverage of all time and people have been loving it for a long time now. There is no doubt why gin has been loved by all, it's versatile nature has driven the world crazy. A medicinal liquor which has become the happiest drink today, strange isn't it?
Yes, our beloved gin has travelled a long way to reach the bottom of our hearts and we just want to have it for life. To give the gin drinkers a reason to love drinking more, Hyatt Andaz's Juniper Bar has recently launched a set of fantastic gins which are infused with some of the most interesting spices!
Let's see the beauty of this exquisite expression!
A word about the extraordinary Juniper Bar :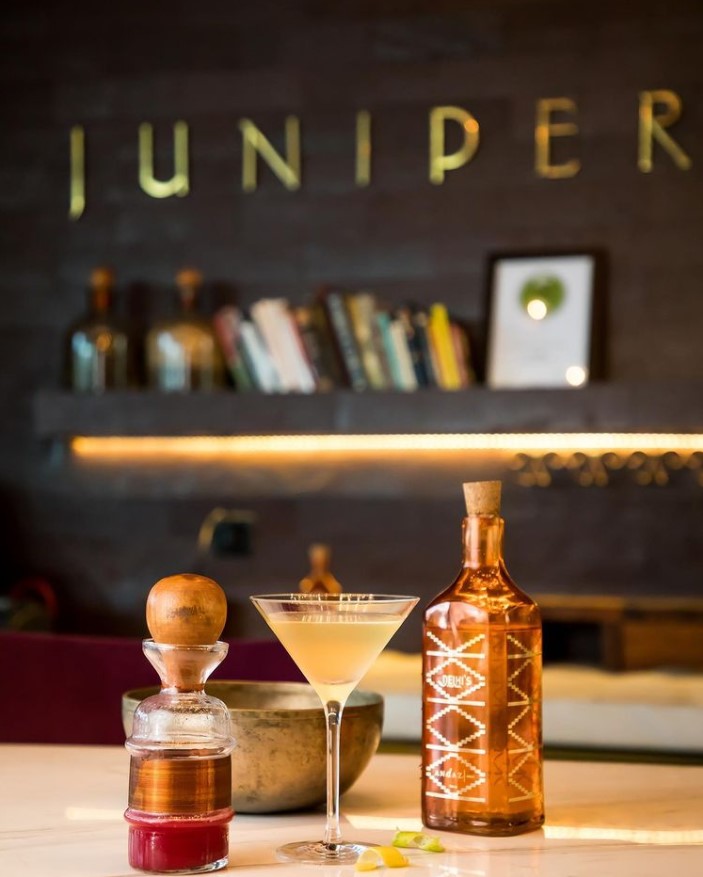 India's first gin bar – Juniper is the perfect place to socialize and entertain friends and colleagues. The highlight is the diverse selection of 35 stylized gin and tonic infusions, all revolving around the botanical and medicinal history of juniper.
Delhi's Juniper Bar is all about gins and gin lovers! They are the master of cocktails and they absolutely love infusing their gins and tonics. Being named as the first gin bar of the country is a matter of pride and responsibility and the makers at Juniper are fully loyal to it.
With the onset of winters and the holiday season, this flaming bar is here again to break all records by serving people with 4 new absolutely new infused gins. 
The Wintastic collection :
"For gin, in cruel sober truth, supplies the fuels for flaming youth "

– Noel Coward
Winter is officially the season of drinking and people at Juniper are into the game. The gin bar has recently launched a flaming collection of infused gins which has the goodness of the "winter spices".
Winter spices? Now, what's that?
A set of whole spices that actually provide warmth to your throat and body and should be consumed during winters is popularly being called the winter spices. This includes star anise, cardamom, allspice, cinnamon, ginger and many more.
The mixologists and gin experts at the Juniper Bar have tried to make unique combinations like vanilla and cardamom to make something that people would never forget.  Among some classy combos, there are some unusual choices like coffee and honey, oak smoke and salt, curry leaf salt and chilli which has savoury notes. The Gin Toddy is a special spice mix that adds soft warmth to winter days.
These amazing gins are prepared in a way that they could be served as it is, on the rocks, can be mixed into a cocktail or even with tonics.
Juniper Bar's new cocktail menu:
Tea Negroni 
Kerala Lady 
Blushing Spritz
Imli Fizz
Juneberry
Happy Drinking!