A story that started in the year 2019 to create something different and unique. A family business dedicated towards making an inspiring gin. Hemmings Gin is a premium gin, hand crafted in the Staffordshire Moorlands. A beautiful example of how a gin can be simple with a crisp and fresh approach to the palate. People who have a sip of this magnificent London Dry Gin describe it as flavorful and perfect!
What's in this gin?
Hemmings Gin has a beautiful traditional combination of botanicals that include juniper, lemon peel, mint, cardamom, coriander and chamomile. This carefully designed combination of botanicals gives a smooth finish with a lovely crisp clean flavour. This whole process is backed up by column still method.
These are the top 3 reasons why this gin is shining like a star in the gin industry :
Flavor
Botanical combination
Environment friendly
This gin is best served with Indian tonic and chunk of lemon as a garnish. There are hints of lemon zest and juniper with gentle whiff of floral notes that come from chamomile. The finish portrays notes of cardamom and pepper.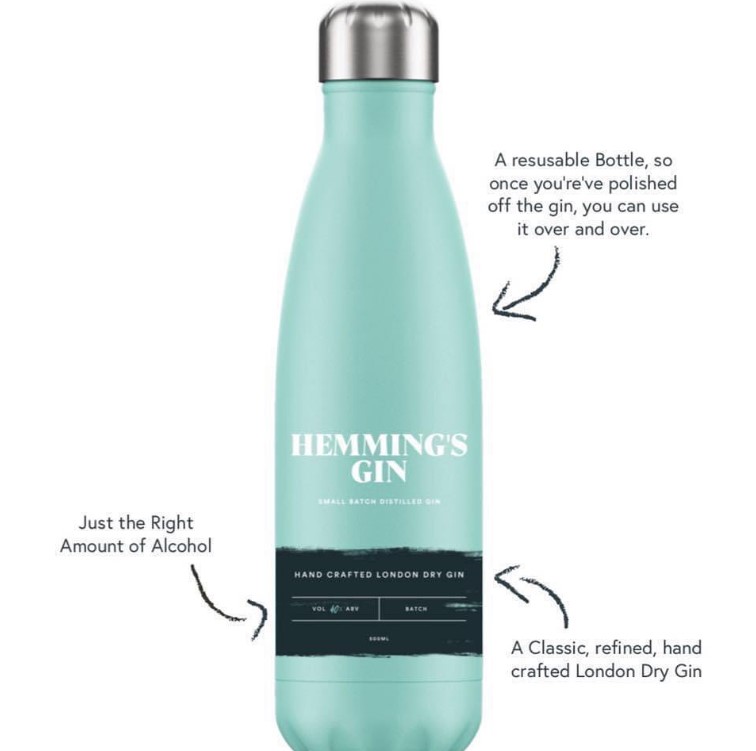 The reusable bottle : Hemmings Gin didn't just make a name for itself in the flavor field but also bagged a sixer in the packaging section. Starting with the bottle, the mixture of ocean blue, white and black color is aesthetically pleasing. The name of the brand is written in white, whereas a black label is used for stating the ABV, batch and volume. 
The creators of this gin, call it as an 'everyday gin'. To match this concept, they wanted a bottle that could be used over and over again. Additionally, the overall concept should be environmental friendly was their main concern. Their double walled insulated bottle matched their vision. The Hemmings Gin bottle acts as thermos which can keep contents hot or cold for hours. So it depends on you, whether you want to fill it up with coffee or refill it with the chilled gin?
The Hemmings Gin Store :
Hemmings Gin
Hemmings Gin – Refill Pouch
The Mini
Ultimate Hemming's Hamper
Hemming's Gin & Cheese Hamper
The Mini Delight
The Sweet Treat