Scottish spirits are delicious and speak supremacy. Everyone associates the term 'Scottish' with Scotch Whisky but there's more to Scotland's treasure of spirits. Some of the finest gins and vodkas that inhibit a beautiful flavor come from Caledonia (an old name of Scotland). Owing to the density of botanicals, meticulous production process imparting aesthetic values overall – 'Dunnet Bay Distillers' brings exotic and carefully combined flavors in the form of Rock Rose Gin & Holygrass Vodka. Read along to find out about their award-winning spirits.
Dunnet Bay Distillers 
Situated in the village of Dunnet, Caithness in the north of Scotland. This perfectly beautiful distillery which produces award-winning spirits is handled by Martin and Claire Murray along with an impeccable group of distillers. Their passion is reflected in their ways of production. Dunnet Bay Distillers pride themselves on the usage of locally hand-foraged botanicals and the technique of hand-bottling their spirits. The use of locally foraged botanicals in their spirits reflects the vibe and resemblance of Scottish lands.
'Our distillery is located in the beautiful village of Dunnet on the iconic North Coast 500 route around the north of Scotland and the John O' Groats to Lands' End tourist route. Claire was born and brought up in Dunnet and we always planned to return to the area after studying and working away. We love living and working in Dunnet and we want you to love it too!'

– Dunnet Bay Distillers.
Dunnet Bay Distillers impart their expertise with the help of two copper stills named Elizabeth & Margaret. Elizabeth is their first still operating from 2014 named after Queen Elizabeth. The Queen loved Caithness and would visit this place to take a break from royal life. Their second copper still 'Margaret' joined the family a few years later and it is named after the distillery's Production Supervisor – the mother of Claire Murray. To honour her hard work, trust, dedication, and support in making this distillery touch the skies of success, the second still was named after her.  
The Process :
The locally harvested botanicals are stored instils that contain the magic of the world's oldest still maker – John Dore & Co. Local cliffs and forests have contributed to the usage of unique botanicals like Rhodiola Rose (rock in a rose) and Holygrass. The spirits produced by Dunnet Bay Distillers contain an extraordinary combination of botanicals placed in such harmony that the end result is just luscious and unforgettable. 
'Our precious botanicals are carefully harvested and stored before our bespoke copper pot stills, 'Elizabeth' and 'Margaret', made by John Dore & Co. Ltd, the oldest still maker in the world, work their magic. Our two 'girls' have been uniquely designed just to create our spirits using a traditional handmade copper head along with botanical vapour basket, ours is a small batch process of 500 litres.'

– Dunnet Bay Distillers.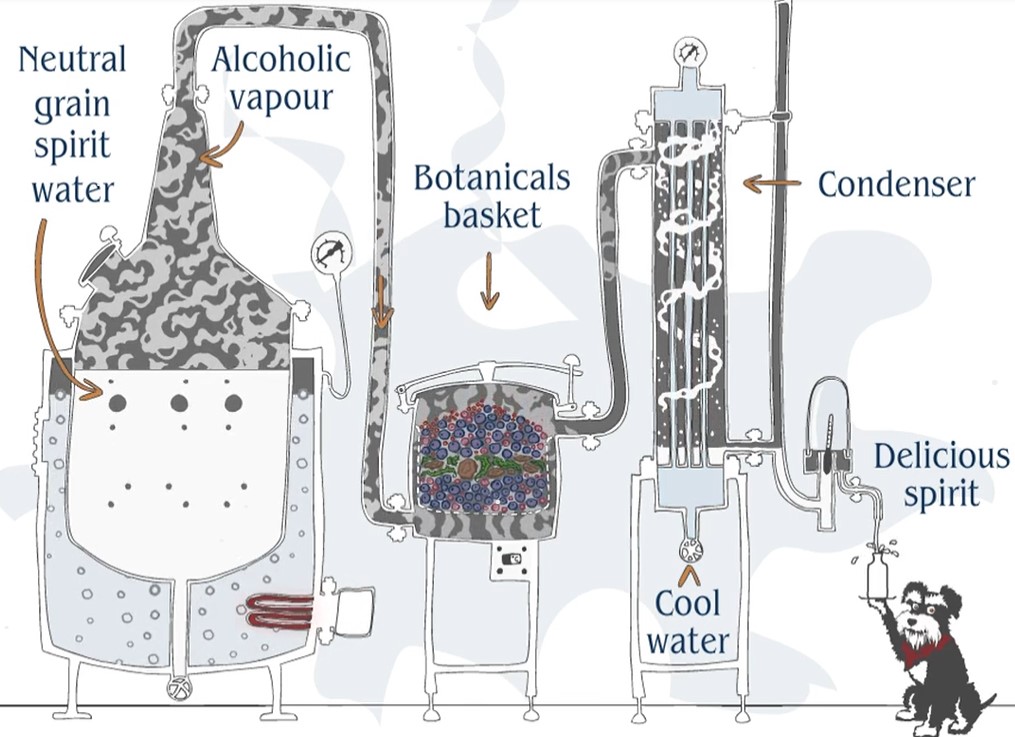 Rock Rose Gin :
Rock Rose Gin is a branch of Dunnet Bay known for being the multi-award-winning gin. The botanicals used in this gin are just as flavorful as their exotic names. The fact that makes this gin worth it all is – The gin's recipe was finalized after 55 experiments done by Martin & Claire. The expertise and knowledge of 55 tries have been absorbed in the gin making it a great success. The first batch of Rock Rose Premium Scottish Gin was distilled on 17th August 2014. The ABV is 41.5% and it is priced at £34.00 for 700 ml.
The unique botanicals used in this gin are Sea Buckthorn, Rhodiola Rose & Juniper Berries.
'Over a thousand years ago, the Vikings would harvest wild exposed cliffs to gather Rhodiola rosea. This was thought to give them the extra strength to continue on their long arduous journeys.' – Dunnet Bay Distillers
Tasting notes by the distillery –
Nose – A delicate bouquet of rose, mixed with deeper cardamom and a touch of citrus.
Palate – Fruity berries merge with a floral nose to give a full-bodied, rounded gin. Bright notes ping as the juniper comes forward.
Finish – The sharpness of the sea buckthorn emerges, but once again is rounded off by berries and a juniper heart. Smooth sherbet lemon notes create a lingering finish.
Rock Rose Gin's luscious range :
Rock Rose Winter Spiced Negroni
Rock Rose Pink Grapefruit Old Tom Gin
Rock Rose Gin Citrus Coastal Edition
Navy Strength Rock Rose Gin
Rock Rose Gin Sloe Gin
Rock Rose Seasonal Editions – Autumn, Spring, Summer & Winter.
Rock Rose Gin Miniature Edition.
Holy Grass Vodka :
You might be wondering what a unique name, right? Well, this range is named after the special botanical used in the process. Holy Grass vodka is a celebration of the locally foraged botanicals and the infusion of the spirit with the meticulously crafted vapor of Highland Apple Juice. The beautiful combination of Cinnamon, Holy Grass, and Highland Apples results in a spirit with an ABV of 41.5% and it is priced at £34.00 for 700ml.
'The hero botanical Anthoxanthum nitens is a delicate, sweet-scented grass known by several common names such as Holy Grass, Bison Grass or Sweet Grass.'

– Dunnet Bay Distillers
Tasting notes by the Distillery –
Nose – Sweet creamy vanilla notes appear on the nose.
Palate – A delicious apple sweetness with hints of honeyed chamomile
Finish – Light spice rounded off with lasting creamy vanilla notes.
Holy Grass Vodka's delicious range :
Cold Brew Coffee Holy Grass Vodka
Gingerbread Espresso Martini Scottish Vodka Cocktail
But if you thought that is all then you're wrong. Dunnet Bay Distillers provide an astonishing range of spirits, limited-edition ranges, refill pouches, glass sets and so much more. To be a part of this wonderful family you can also sign up for various subscriptions provided by them.
To gather more information on Rock Rose Gin, visit – https://www.dunnetbaydistillers.co.uk/shop/rock-rose-gin/
To gather more information on Holy Grass Vodka, visit – https://www.dunnetbaydistillers.co.uk/shop/holy-grass-vodka/