It is quite obvious that the Covid-19 pandemic caused mayhem for many businesses. It even resulted in a lot of beers been wasted. As bars were shut, the supply chain for kegged beer was also blocked since breweries couldn't deliver them to consumers. As of February 2021, nearly 90 million pints of beer were flushed away in the UK alone.
The disposal of such a quantity of beer was a loss. However, breweries would not have taken such a hard hit if they had recycled their beer. And yes, beer can be recycled into whiskey. Whiskey is a beverage that is liked by the average adult. Rather than disposing of expired beer, they can be turned into whiskey. It is science, it is technology, and the recycling process can be done in just a matter of days.
Modern technology and science are being used by Bespoken Spirits of Menlo Park, California. It is a new company that uses the recycling process in reducing the time it takes to make whiskey from years to just days. Although both whiskey and beer are produced using a similar process up to a certain point, this is a whole new level in the beverage industry.
How Bespoken Spirits Produce Their Whiskey
Bespoken Spirits of Menlo Park, California was founded in 2018. It was founded on the assumption that the colour, aroma, and most importantly, the taste of a spirit could be engineered, designed, and accurately controlled with data, technology, and modern science. This could even be sustainably done. Instead of pouring spirits in barrel, and waiting for nature to take its course, Bespoken uses a whole different process to instil.
To gradually impart the ageing barrel process to spirits, Bespoken uses "ACTivation" as a proprietary technology. The process is actively controlled so that Spirits is delivered in days rather than years. It is a process that seems to work. One sample of whiskey produced through this process is Bespoken Rye Whiskey.
Stu Aaron the co-founder said that the idea was born out of the frustration of having to wait long to produce whiskey. Another is the thought of having manufacturers wait several years to find out how good the product is. It seems incredible to him. He also points out that 20% of the product evaporates over the ageing process. This is the wasteful reality and scientific fact of the "angle share."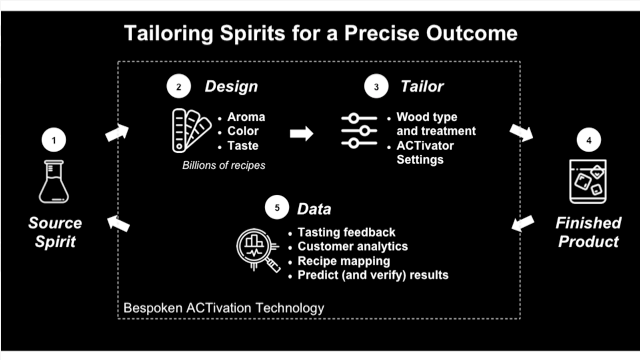 Bespoken Rye Whiskey
Nose: Fairly Decent
Notes: Butterscotch, Caramel, Spearmint
Flavor: Not Harsh But Smooth
Hints: Pepper, Cherry

Recycling Beer Into Whiskey
The whiskey Bespoken produce is not made from expired beer. However, their technology can also work in beer recycling. It is a part of their business model to help in recycling old beer into Spirits. For Bespoken, this business model of theirs is another way of operating more sustainably.