Cocktails have been an irreplaceable part of the spirits' world. Celebrations are incomplete without a cocktail party. On the occasion of World Cocktail Day, new researches have been done to know the most popular cocktail recipes loved by people all over the world. Take a look at the top 10 of these.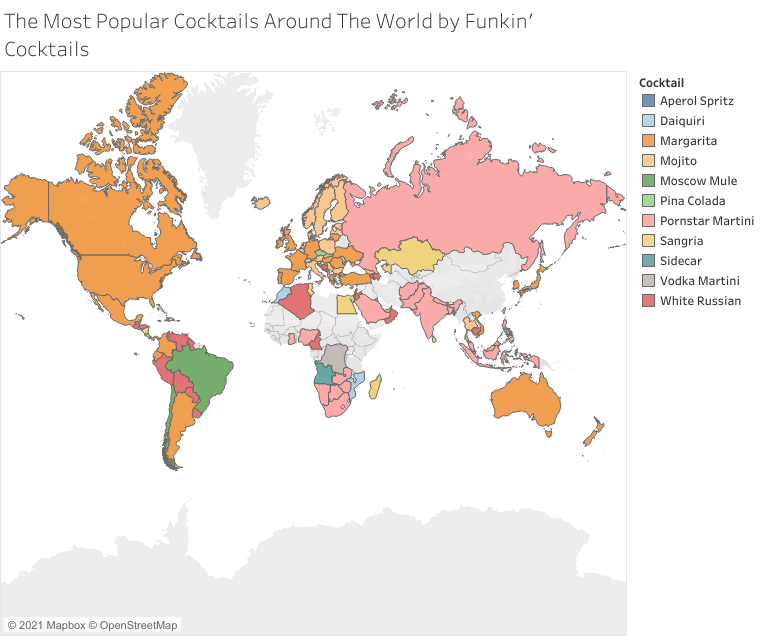 1. MARGARITA
Tequila, triple sec or cointreau and lime juice poured over crushed ice in a stem glass with rind of lemon or lime and salt rimmed on the glass…..what's not to go a bundle on? This sweet, sour and salty drink is most loved by people all over the world. The popularity of this cocktail is unmatchable with any other cocktails.
The history of invention of Margarita is uncertain but there are many theories. Some say that Margarita is related to a Mexican drink named Daisy but tequila is used instead of brandy. Do you know that Daisy is called Margarita in Spanish?
You can create your own version of Margarita. There are uncountable ways you can customize your margarita. Adding mezcal instead of tequila, lemon instead of lime and adding a few spices are great variations to do in your Margarita.
2. MOJITO
If you are a rum lover and also love drinking refreshing drinks in hot summer, then Mojito is the perfect combination for you. With Havana as its birthplace, this cocktail is widely consumed in Netherlands, UAE and Sweden.
White rum, lime juice, sugar, soda water and mint are the key ingredients of this invigorating drink. Cojito made with coconut flavored rum, South Side made with gin instead of rum and South Side Fizz made with seltzer water is some amazing variations for this drink.
3. WHITE RUSSIAN
Made with vodka, coffee liqueur and cream served with ice in an old fashioned glass, this cocktail does not complement its name. This drink does not have a Russian origin still it is named Russian White because of vodka being the main ingredient.
This drink is relatively considered as a modern drink as there is no documented evidence of it until into the 1960s.
4. PORNSTAR MARTINI
Travelling to bars across the world now, the porn star martini is a cold, passion-fruit-flavored cocktail made with vanilla-flavored vodka, passion fruit puree, and lime juice. It has become one of the most famous cocktails in United Kingdom.
Many people don't know but it is not a true martini, but is one of many drinks that incorporate the term into their names.
5. SANGRIA
Commonly served in bars, restaurants and chiringuitos, Sangria is most popular drink in Spanish cuisine. The red wine base and seasonal fruit flavor make it appropriate for cooler days.
Sangria as an iced drink was reintroduced to the U.S. by the late 1940s through Hispanic Americans and Spanish restaurants,[7] and enjoyed greater popularity with the 1964 World's Fair in New York.
6. PINA COLADA
Piña Colada literally means strained pineapple which is one of the key ingredients of this cocktail. Other ingredients are coconut cream and rum well shaken with ice.
Chi chi, Amaretto, Kiwi colada, soda colada is some variants of this drink.
7. DAIQUIRI
Daiquiri is simple and sublime in its purest form. It is a delicate blend of sweetness of rum and raw freshness of sugar and lime. This famous cocktail has pleased millions of people.
There are numerous variations of this drink such as Strawberry daiquiri, Avocado daiquiri and Banana daiquiri. There is a special Hemingway daiquiri because it was one of the favorite drinks of American writer, Ernest Hemingway.
8. MOSCOW MULE
This vodka based drink with lime and ginger beer, is considered as one of the most popular ladies drink. It is served in a copper mug with a wedge of lime on the rim of the mug.
Several variations can be made in this drink such as Irish mule by adding Irish whiskey, Mexican Mule by adding tequila, Jamaican Mule by adding spiced rum, etc.
9. VODKA MARTINI
From gaining more popularity in 2017 to being the most popular drink in the Democratic republic of Congo, this cocktail is beginner-friendly as it is easy to make.
Manhattan, Cosmopolitan and espresso martini are some of the forms of this cocktail. Just remember to shake, not stir!
10. SIDECAR
This is a classic cocktail normally made with cognac. It was likely invented around World War 1. Sometimes, the rim of the glass is sugar-coated. Sidecars are considered a challenge for bartenders because the proportion of ingredients is more difficult to balance for liqueurs of variable sweetness.
Just serve it straight up without ice!
---
Sources:-