Irish Distillers has unveiled the fourth release in the Redbreast Dream Cask series – a 29-year-old single pot still whiskey.
For this Fourth Release in The Redbreast Dream Cask collection, our vision was to create a whiskey that both compares and contrasts to the previous year's edition, a distillation truly unique and a rare expression of one of the World's Greatest Whiskeys.
Redbreast Dream Cask Oloroso Sherry Edition is a 29-year-old single pot still Irish whiskey that celebrates the signature Redbreast style and represents the fulfilment of a dream held by Master Blender Billy Leighton to share an annual release like no other.
When selecting their whiskey of choice for this fourth release, Leighton and Blender Dave McCabe combined innovation, tradition and time-honoured craftsmanship by vatting together four special whiskeys, aged for a minimum of 29 years in ex-bourbon, sherry and ruby port seasoned casks. The whiskeys were married in a single outstanding Oloroso sherry butt from Jerez de la Frontera in Spain's Andalusia region, and left to mature for a further 15 months to bring an evolution of its characteristic flavours to the Redbreast experience.
The extended finishing time of this magnificent Dream Cask enables the individual wood contributions to come together and take on a wide spectrum of mellow fruit flavours and pot still spices. The result is a luxuriously rich Irish whiskey with notes of dried fruits, herbs and toasted oak and a complex aroma of liquorice, leather and nutmeg reminiscent of Andalusian bodegas.
Redbreast Dream Cask Oloroso Sherry Edition is limited to 924 bottles at a RRP of €520 and ABV 51.2%.
Launching to mark World Whisky Day (Saturday 15 May), only 924 bottles of Redbreast Dream Cask Oloroso Sherry Edition will be available exclusively through an online ballot hosted on the brand's private members' club, The Birdhouse.
Tasting Notes (as per Redbreast Whiskey)
Nose
A rich and complex array of aromas with liquorice, dried fruits and a freshly crushed garden mint character to the fore while dark berries and delicate touches of orange marmalade build over time, working in tandem with the pronounced aromas of worn leather, tobacco leaf and nutmeg. Cinnamon spice and sweet vanilla highlight the intricate nature of the oak, complimenting and enhancing the pot still spices.
Taste
Luscious and full, with succulent berry fruits, soft anise spice and mild tannins. The taste evolves effortlessly with notes of dark brown sugar, vanilla, and raisins adding a sweet element, creating balance with the pot still spices while hints of cinnamon and nutmeg remain constant in the background.
Finish
Lingering finish with the spices slowly fading allowing the oak and fruit to have the final say.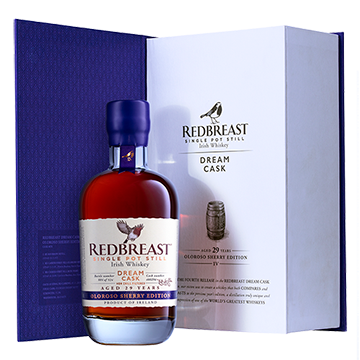 Redbreast Dream Cask Oloroso Sherry Edition will be available through The Birdhouse through a ballot system, sign up today to be in with a chance to purchase. The ballot will be open from 17 to 25 May.
Last year's Dream Cask bottling was Redbreast Dream Cask Ruby Port Edition. In 2019, all 924 bottles of Irish Distillers' Redbreast Dream Cask Pedro Ximénez Edition single pot still whiskey sold out in just 14 minutes.