Wolf of the Willows, a popular beverage brand thought of giving their customers something very unique this Xmas and guess what have they prepared for us? A perfectly spiced Nitro pastry Amber ale!
Watch the Wolf
Established in 2014, Wolf of the Willows is a proudly independent brewing company located in the Bayside suburb of Mordialloc VIC, Australia. It is an independent, family-owned craft brewery and taproom in the Melbourne Bayside suburb of Mordialloc. The owners are passionate about making and serving the best ales to everyone who visits them.
"We have a passion for producing hand crafted, modern ales that are distinct in quality and flavour, from easy drinking pales to barrel aged beauties."

By the Owners of Wolf of the Willows.
Merry S'mores-Mas Xmas Spiced Nitro Pastry Amber Ale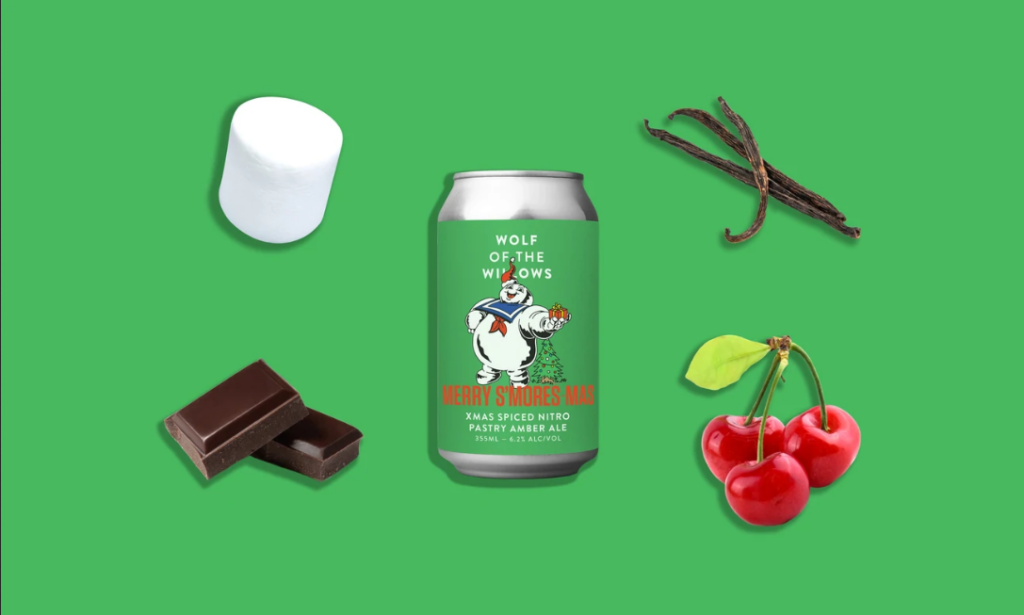 Inspired by the heavenly s'mores which is a holiday favourite, Wolf of the Willows have created an innovative yet elegant bottle of Amber ale.
The malts used in the production of this amber coloured drink are Ale, Munich, Crystal, Amber, Biscuit, Rolled Oats, Carafa, Lactose.
To impart the right flavour in the beer and bring a unique mouthfeel, the warrior has been used. 
Other ingredients used are Mork limited edition cocoa, Saint Felix limited edition Brandy, cherry puree, marshmallows, gram crackers, vanilla.
"We've used the S'mores signature toasted marshmallows, cacao nibs, and natural vanilla, and added Mork's Christmas Spice Blend chocolate, cherries, and then spiked it with Saint Felix Cherry & Cacao Husk Brandy, all delivered on nitro. Merry S'mores-Mas!"

By the brewers of this unique Amber
This beer is proven to be 6.2% ABV and will be sold in the packaging of 4×355 ml cans. One can of the amber ale is priced at $25.
Featured Collection :
Lark Barrel Aged Whisky Sour Ii – $59
Wolf Of The Willows X Lark Wolf Release Iv Boilermaker Pack – $99
Merry S'mores-Mas Xmas Spiced Nitro Pastry Amber Ale – $ 25
Disco Of The Dead Ii – Orange Sangrita Sour – $32
Inner Vision Ii – Ddh Hazy Ipa -$32
Golden Hour In La Hoppy Lo-Cal Lager,- $19.50