People who love beer range from – 'this is my favourite beer and will remain forever' to 'I'll drink up every kind of beer this world has to offer. Doesn't matter which one you're in as long as you love beer – the world will become a better place for you. Beer has so much potential and we as consumers have to grab every diverse and creative notion that the distillers present to us. We know that every unique beer is stated so due to the use of special ingredients or a unique step in the production process. I bet you might've heard about beers especially launched for a particular occasion but this new launch by SLO Brew takes the trophy. The festive spirit of Christmas is lingering in the air and Holidaze IPA is the best beer to feel close to the feast of the winter solstice.
SLO Brew
Situated in California, SLO Brew is one of the longest standing brew pubs which opened its door in the year 1988. Established by Mike Hoffman & Kathy Ireland, this fantastic brewpub is also known as 'a pivotal component of the Central Coast.' Distribution of their core craft beers started in 1995 and 5 years down the lane was the commencement of winning awards.
"SLO Brew takes home the Brewpub of the Year award at the Great American Beer Festival in Denver, Colorado. That same year we also were awarded two silver and one gold medal for our oatmeal stout, pale ale, and IPA."

– SLO Brew
Hamish Marshall (the current owner) had a big contribution in revitalizing the SLO Brew name and taking the brand to new heights. Can-demonium – New 12oz cans were launched in Dec.2016 and distributed across the Central Coast of California. Down the timeline, this brand had some very successful launches like their Blood Orange Cali-Squeeze, canned Craft Beer Micheladas made with SLO Brew craft beer. SLO Still's ventured into the distribution of whiskey in 750ml bottles and it's safe to say that they did a great job!
Holidaze IPA
This limited-edition IPA will definitely take you through a frizz with a tinge of the Christmas spirit. Are you wondering what's the connection between this IPA & Christmas? Well apart from the impeccable launch timing, this beer has parts of Christmas trees in it! You heard that right a healthy dose of spruce tips is what makes this beer so special. West Coast IPA brewed with fresh spruce tips, Citra hops and orange peels. It sounds refreshing, bright and feels like hiking through a pine forest.
"We wanted to invoke the sensation of a fresh-cut Christmas tree in beer form. One sip of Holidaze and you will be greeted with bold piney hop flavors that will sure to get you in a festive spirit".

Steve Courier, brew master.
This citrus juicy beer has a bold piney hop flavor and certainly shines out like a star in the crowd. If you're looking to immerse yourself in the upcoming Christmas season. There's no better way to do it than sipping through a can of Holidaze IPA.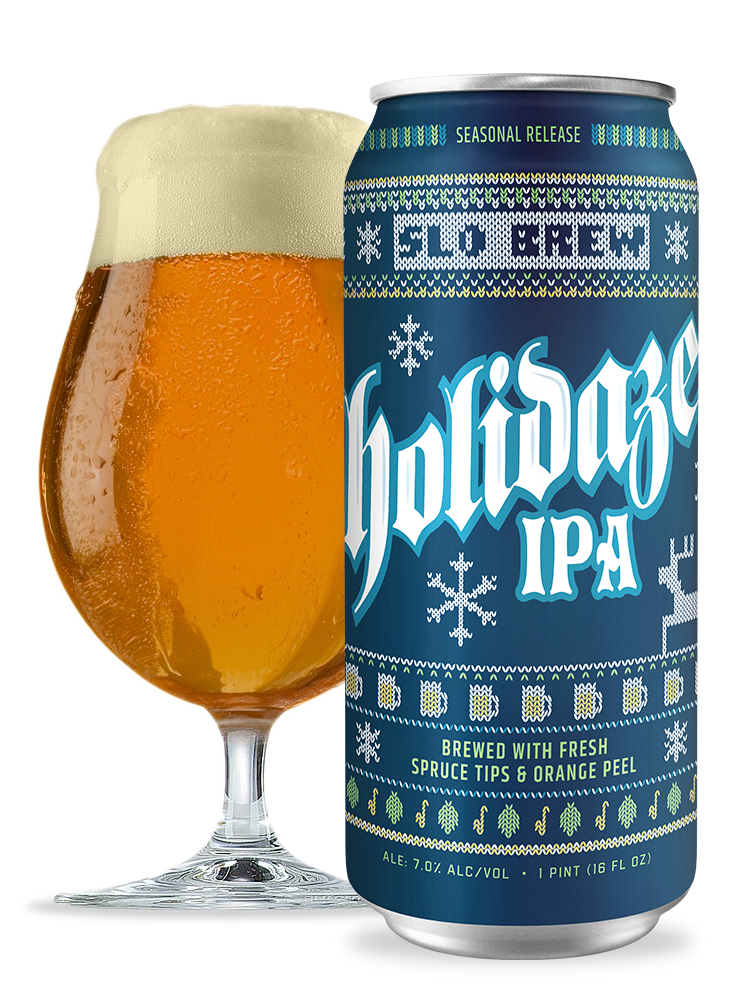 The ABV of this IPA is 7% and it is priced at $10.99 for 4 packs of 16-ounce cans. Available throughout California and at the San Luis Obispo tasting room. Get your hands on it before you see it's sold out.
If you want to get something more with this Holidaze IPA don't worry SLO Brew's got your back with their diverse range of beers :
A-SLO-HA
Pink Lemonade Lager
Mustang IPA
Blueberry Blonde Ale
Churro Stout
Reggae Red
Still Frothy
Hazards Haze
Hazy Honey Blonde
Good fruit
SLO Death
Star Colonizer
Sultana 500
Original
Margarita Agave Seltzer's range
"Dust off those ugly sweaters… Tis' the season for a piney, West Coast IPA brewed with a healthy dose of fresh spruce tree tips. Citra hops and a touch of orange peel bring a bright, juicy balance sure to get you in the holiday spirit. Naughty or nice, we wish you Hoppy Holidaze."

– SLO Brew
To know about their range of beers in detail, visit – https://slobrew.com/beer/