Ghaziabad is formerly called the gateway to the Indian state of Uttar Pradesh. But to the worshippers of Rum, it is a gateway to the land of this dark elixir which dances like a Ballerina on the tongues of the drinker, opening up his sixth sense and making him enjoy its divine enchantment. For this city is the very realm of Old monk Rum, a very old and respectable brand of rum not only in India but in the whole world. This famous rum itself isn't as sweet as its aroma which possesses notes of caramel, chocolate, ripe peach, and vanilla. Although the alcohol content is 42.8%, it has a soft taste. The dominant flavor is that of roasted coffee beans and vanilla but it doesn't enter your throat without showing a glimpse of its spiciness on your tongue. The rum is best served as chilled cocktails but it is good enough in hot cocktails as well. It can even be used to prepare rum compote by adding it to pastries and ice creams.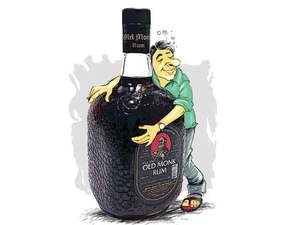 According to Wikipedia, this rum is sold in 6 variants: 90ml, 180ml, 375ml, 500ml, 750ml and 1l bottles and has the following varieties:
Old Monk Supreme Rum
Old Monk Gold Reserve Rum
Old Monk XXX Rum
Old Monk Deluxe XXX Rum
Old Monk White Rum
Old Monk Legend – Limited Edition
Old monk rum started when the Scotsman, Sir Edward Dyer founded a brewery at Kasauli, Himachal Pradesh in 1855 to sell beer to the Britishers. The owners of the distillery were changed and it was given a name, still famous today: Mohan Meakin Ltd. Old Monk was a creation of Ved Rattan Mohan, former managing director of Mohan Meakin Ltd. According to the official site of old monk, there is an interesting legend behind the interesting name of this delicious rum which tells about a peaceful British Monk sneaking around Mohan Meakin Ltd. He did his part in improving the taste of the manufactured rums by tasting them and giving suggestions to the master craftsmen.
A very royal fact about the Old Monk is that it's production process has not changed since it was first initiated in 1935, maintaining it's old richness even to this day. This neatly explains why Old Monk is the Ferrari of the world of rums which got it's way to the masses without a single advertisement. The manufacturing of old monk rum begins with alcoholic fermentation of cane molasses. Then it is distilled to give primitive rum. The aromatic alcohol is obtained after weeks of fermentation cycles. Then, the rum matures in oak barrels from a few months up to 30 years. According to the official site, the maturation period is at least 7 years. Blending is done after the rum has matured successfully. There can be 20 different rum blends in 1 blend. The character of rum depends on barrel properties, degree of maturation and blending . Before filling, caramel of sugarcane is added to achieve the desired alcohol content. Each bottle is beautifully crafted by hand in the shape of a monk. Each one of them carries a unique significance.
Old monk rum initially competed with the then famous rum called Hercules(still sold today) but ended up defeating all known brands of rum by selling 8 million bottles annually. Though today, the sales of old monk have been quartered of that value, it continues to dominate the rum market and has six production units across India. It had the biggest IMFL(Indian Made Foreign Liquor) brand for many years. This rare dark elixir now continues, and will hopefully continue to please the hearts of the people of not just India but other countries such as Russia, USA, UK, Germany, Japan, UAE, Estonia, Finland, New Zealand, Canada, Australia, Kenya, Uganda, Zantia, Singapore and  Bahrain.