These brand new gins are all set out to be launched in the month of March 2022. The interesting fact about this launch is that, one gin is inspired by Australian flavors and distilled in India whereas the other one is inspired by Indian flavors and distilled in Australia. It is exciting to witness such an exquisite collaboration and what result it yields. Read along to find out which distillery and gin brand have come together to deliver not one but two magnificent gins for your palate!
When & How It started ?
2020 was the year of shining success for Stranger & Sons. This gin brand was established in 2018 by Rahul Mehra, Sakshi Saigal and Vidur Gupta. The gin production takes place at the Third Eye Distillery located in Goa. An astonishing fact is Stranger & Sons Gin is the first-Indian gin to win a gold-outstanding medal at the IWSC – International Wine & Spirit Competition in 2020 in London. But that is not all, it is also titled as one of the 8 gins in the world to receive this award out of 800 brands that participated in the 2020 competition.
Four Pillars : An Australian based distillery leading in the production of award winning craft gins. The vision of this distillery was established in they year 2013, the team consisted of three mates and one extraordinary copper still. In 2019, Four Pillars Gin was named the world's leading gin producer by the IWSC in London. Then they won again in 2020, making Australia's favourite gin officially the world's best.
You might have guessed the connection by now, right? The Indian side of this deal is represented by Stranger & Sons while the Australian side is represented by Four Pillars.
The planning that was put into the creation of these wonderful blends included multiple distilling sessions over Zoom, logistical nightmares and the patience of delivering absolute finesse for two years. The deal was executed and carried out smoothly with exchange of ingredients, blends being sent back and forth before coming onto the final decision. Spice Trade gin was distilled at Four Pillars in Australia and Trading Tides was distilled in Goa.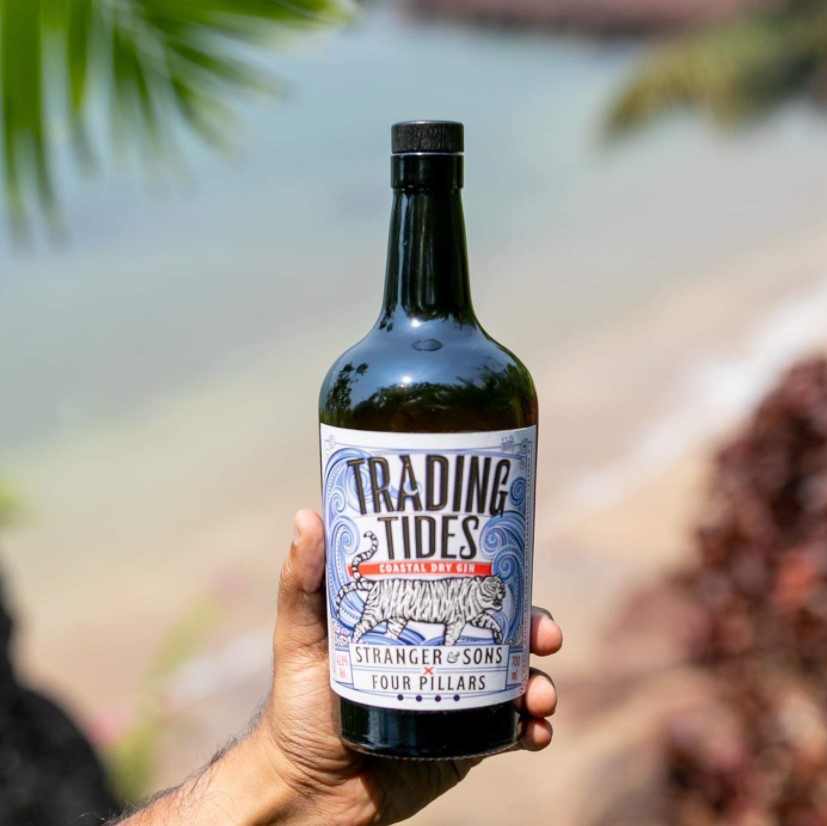 The Indian flavors inspired – Spice Trade Gin is a bold, colourful and aromatic gin that consists of an amazing botanical combination, we are talking about cashew, coriander, green cardamon seeds, red chilli etc. While, the Australian flavors inspired Trading Tides Gin is an exquisite expression curated with botanicals such as lemon myrtle, river mint and some beautiful citrus notes.
Both of these amazing expression will be available in Mumbai, Delhi, Karnataka and Goa this March.
What's hidden in the aroma?
Trading Tides the Australian botanical based gin is a citrus-forwards but to one's surprise – it lays out a dynamic surprise with notes of unique Indian ingredients such as mangosteen, kokum and tamarind. On the other hand, Spice Trade Gin is all about being spice forward, the combination is explained as tart & savoury.
"Our gin scene is just about starting. Gin has moved away from being a niche drink to something more mainstream. Customers are well acquainted with it and even know how to make cocktails and experiment with the spirit. We are mulling new spirits and experiments, but for now, we're focused on our latest (two-year-old) baby!"

By Sakshi Saigal
For more information, visit : https://www.fourpillarsgin.com/ | https://strangerandsons.com/