There are many distilleries with a speciality unique to their name. Each distillery is different from the other and yet all of them have the same agenda – to create something that reflects their passion for this industry, gives their consumers a unique – out of world experience and last but not least to be recognized in this competitive alcoholic beverage industry. This article is all about one such beautiful micro-distillery whose range of craft spirits is as exceptional as its name – Silver Circle Distillery. Be ready to know a whole lot about this distillery, its magnificent range of spirits and amazing opportunities for the consumers.
What is 'Silver Circle' Distillery?
Established in the year 2019 by the founders Nina & Joe Howden. This distillery is situated in the Monmouthshire village of Catbrook, deep in the Wye Valley Area. The main highlight of the process is the usage of local ingredients to produce spirits that possess a unique resemblance to the Wye Valley. Before coming up with this idea, the pair was getting into foraging and after meeting up with some foragers in Berlin they were inspired to produce a locally flavoured gin. Both of them took a Fundamentals of Distilling Certificate in London to acquire the technical aspects.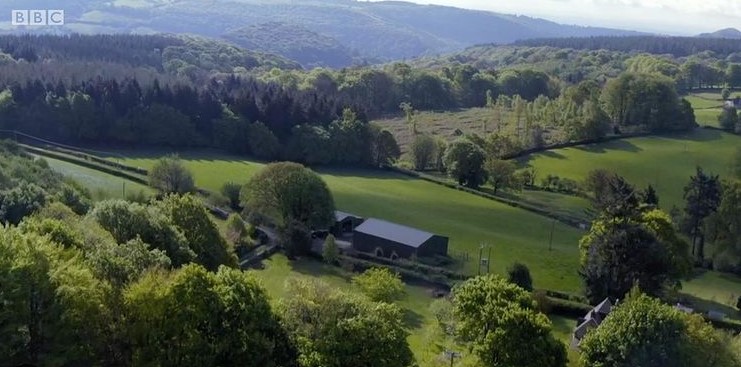 "We were always having friends over and experimenting on them, with concoctions such as bacon-infused vodka and charcoal rum drinks."

By Nina & Joe Howden (Founder)
According to Joe, the meaning of Silver Circle translates to the moon and cycles in nature. They have detailed and fine-tuned recipes also among the types of equipment there's a remarkable 250-litre stainless steel still all the way from Poland.
"Our whole idea is to highlight local flavours and products, and to have a big focus on sustainability."

Nina Howden
Their luscious range of craft spirits
Wye Valley Gin
Their signature product – A premium Welsh Gin inspired by the mesmerizing views and stunning woodland walks of the Wye Valley. A handcrafted gin made from a combination of botanicals native to the area.  Locally foraged botanicals like Sweet Woodruff, Elderflower, Blackberry leaf, Mugwort, Scots Pine and Linden flowers combined with Juniper, Grapefruit, Coriander and crystal-clear local spring water. The ingredients sure sound delicious and intriguing but the end result of the combination takes the crown – an exceptionally fresh, crisp gin, full of leafy forest flavours, tangy citrus and delicate floral notes. ABV is 42% priced at £40.00 for 70 cl (700 ml). Due to customs regulations, this product can only be shipped inside the UK.
Apart from the flavour of the gin, the design of the bottle is quite aesthetic with a light bluish hue overall. A honeycomb net-like structure engulfs the exterior of the bottle which in reality is the map of Wye Valley Gin. In the centre lies the bold title – Wye Valley gin and surrounding it are the other details about the product.
Martin's Mountain Gin
A limited-edition spirit was created to support Martin Hibbert's program called Martin's Mountain. Martin Hibbert got paralyzed in the Manchester bomb explosion in 2007 and since then has been rebuilding his life with the help of SIA (spinal injuries association). His new initiative is hiking to the top of Africa's highest peak, Mount Kilimanjaro to raise funds for SIA as well as to send a message of optimism and inclusivity for life after injury.
Martin's Mountain Gin has been developed by Martin & his climb team while the distilling & bottling process is done by Silver circle distillery. This gin consists of botanicals native to the Kilimanjaro region of Tanzania like mango, pink pepper and grapefruit. Bottled at 42% ABV and priced at £47.00 for 50 cl(500 ml). For each bottle sold, £10 will be donated to SIA. Since it is a limited-edition product the first batch contains only 200 bottles which are available for pre-order on their official website.
Damson Negroni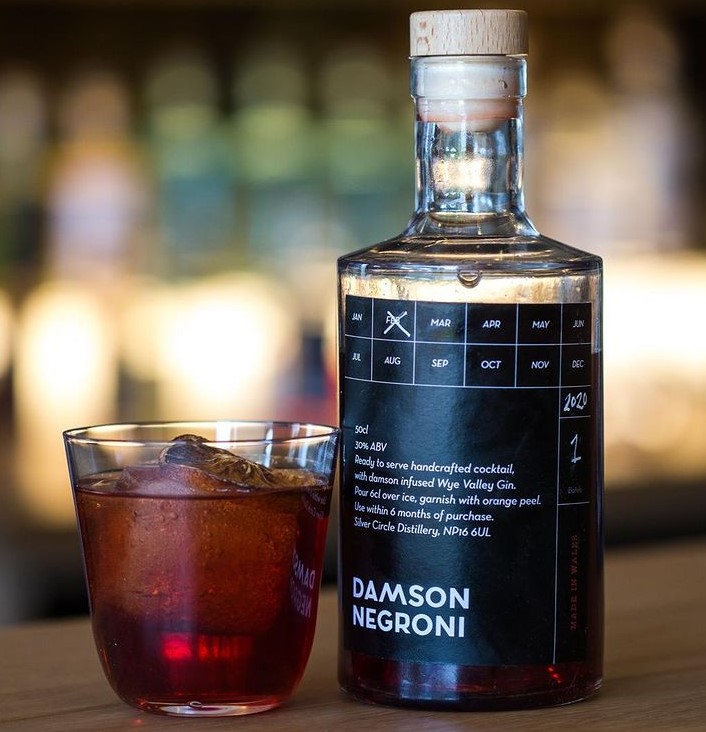 A luscious fruity twist on the classic gin Negroni made with a flavorful blend of vermouths result in this ready to serve cocktail. In addition to this, it also contains their signature product Wye Valley Gin infused with Campari and ripe damsons native to Wye Valley. ABV is 30% and priced at £28.00 for 50cl (500ml).
Silver Circle's recommendation:
A perfect cocktail with the balance of bitter & sweet – Stir down over ice and strain into an ice-filled rocks glass with orange. Garnish with an orange wedge, all this orange adds another dimension to this already delicious cocktail.
Catbrook Honey Gin
This handcrafted gin is incredibly smooth, rich in a natural honey flavour without being over the top sweet.
The honey used in this gin is obtained from the beehives in the Silver Circle distillery. These beehives are tended by Wye Valley Meadery and then the honey obtained is blended and distilled along with black pepper and cardamom resulting in a rich warm honey flavour with spicy notes and a luxurious texture.
ABV is 40% and priced at £32.00 for 50cl (500 ml).
Libertine Gunga Gin
A small-batch craft gin dedicated to the 'Libertines' and their new hotel and bar The Albion Rooms / The Waste Land in Margate. The name Libertine Gunga Gin is inspired by Libertine's song – Gunga Din which is based on the poem 'Gunga Din' written by Rudyard Kipling. This gin is distilled, blended, bottled and labelled by hand in small batches at Silver Circle Distillery in Monmouth shire.
Gunga gin has a spiciness to it with hints of black pepper and cardamom. ABV is 43% and priced at £42.00 for 70cl (700ml). The design of this special gin bottle reflects simplicity with a label placed in the centre which showcases the names 'libertine' & 'Gunga Gin'.
No Aviation
This small-batch series bottled cocktail created to commemorate the global lockdown of 2020 is Silver Circle's twist on the classic aviation cocktail. A combination of Wye Valley Gin with a specially made sweet woodruff, bay and nettle liqueur.
The Maraschino of the original Aviation is replaced by the almond flavour of the sweet woodruff. The floral notes of Creme De Violette are switched for the spice of bay and the bite of nettle. Add lemon juice and ice and serve in a chilled glass. ABV is 35% but this product is currently sold out.
Blackberry Liqueur
Another addition in Silver Circle's small batch series is the Blackberry liqueur. The blackberry used for this liqueur was obtained from a co-operative started by the distillery wherein they asked their fellow residents to bring their blackberries for the process.
After 2 months voila! Rich, sweet and fruity with a luxurious velvety texture. Developed specifically to pair with Wye Valley Gin to make a delicious Bramble cocktail. Silver Circle's recommendation – It can also be enjoyed straight over ice as a digestif, in a glass of prosecco or drizzled over fruity and chocolatey desserts. ABV is 15% but this product is currently sold out.
Poached Pear Vodka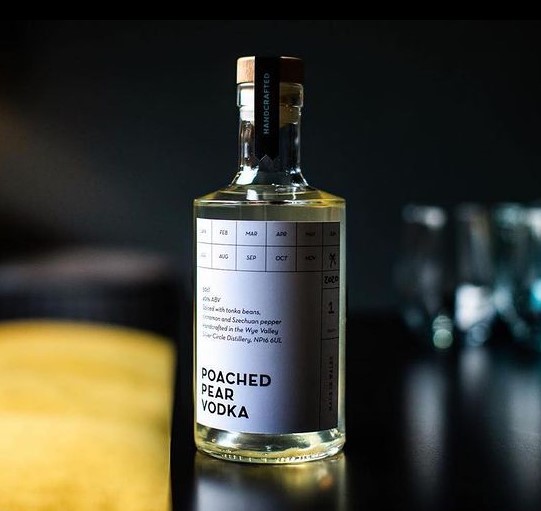 Vodka made with donated pears from around Monmouth shire and delicately spiced with tonka beans, cinnamon and Szechuan pepper.
Silver Circle's recommendation:
Serve with soda water, as a martini or in a 'Monmouth Mule' cocktail (simply switch the vodka in a Moscow Mule cocktail with this). Poached Pear Vodka is full of ripe pear flavour and accented with spices.
Other Products by the Distillery
The Ultimate Bloody Mary Kit
Bloody Mary is a world-famous cocktail available almost in every bar. There are a lot of ways to make Bloody Mary but this kit is Silver Circle's way and well it is amazing. What's in the kit?
Black Garlic Vodka: Distilled in small batches with black garlic, smoky lapsang souchong and toast. Black garlic is slowly roasted for weeks which removes the heat and leaves it with a sweet yet umami flavour with hints of balsamic vinegar. ABV is 40% – 50 cl (500ml)
11 am Bloody Mary Hot Sauce (150 ml): Created by award-winning artisan producers Parva Spices with ingredients including chillies fermented in cider vinegar, celery salt and vegan-friendly Worcestershire sauce.
And finally some recipe cards.
Become a Founder
It comes in two variants: Founder package (£100.00) & Super-founder package (£150.00). There are a lot of benefits one can avail of through these packages (Go to their official website for a detailed preview). Perks include tote bags, tea towels, spirit measures, limited screenprints, store discounts and even private tastings at the distillery. The Founder and Super Founder packages are intended for people who want a closer connection to the distillery now and in the future.