With every new day, the world is moving towards rising pollution, global warming, and difficult environmental situations. However, some environmentalists are doing their best to make this world a better place for all.
Sapling Spirits, a London-based spirit-producing company are on a strict mission to include sustainable changes in the drinks industry. The producers are on a green mission to plant a tree every time they sell a bottle of spirit. Sapling Spirits have planted around 31,512 trees in and around the territories of the UK to make the surrounding green and positive.
Not only planting trees, but Sapling spirits are also adopting sustainable practices in the making of their spirits and are using extremely local ingredients for their produce. They have hired experts to track environmental impacts accurately and reduce transport emissions.
With an amazingly green concept, the producers from Sapling Spirits have added a brand-new product in their range, that is none other than a fresh London Dry Gin. Sapling Spirits hinted that their new launch would be a twist to the original London dry gin with a unique concept of sustainability as always.
Here's the full story!
Sapling Spirits – Cheers to Nature!
Sapling Spirit was started with the idea of making some positive changes towards the environment but via the drinks industry. The founders Ed Faulkner and Ivo Devereu founded this venture in the year 2018 and since then this has been London's favorite place to enjoy a drink to save the earth!
"We started Sapling Spirits in 2018 to inspire sustainable change in the drinks industry. It seemed at that time most elements of the hospitality sector were making a positive change towards sustainability, but drinks seemed to be behind the trend. This seemed crazy to us, as we knew distilling spirits was not without its cost to the planet. So, as a way to lead this change, we decided to not only make delicious vodka but to make it climate positive."

"Since launching, we have seen many more brands focus on sustainability and it's exciting to feel a part of the movement. We are also launching a distillery in London later this year with some innovative changes to the process of distilling, so watch this space." -6+

By the co-founders Ed Faulkner and Ivo Devereux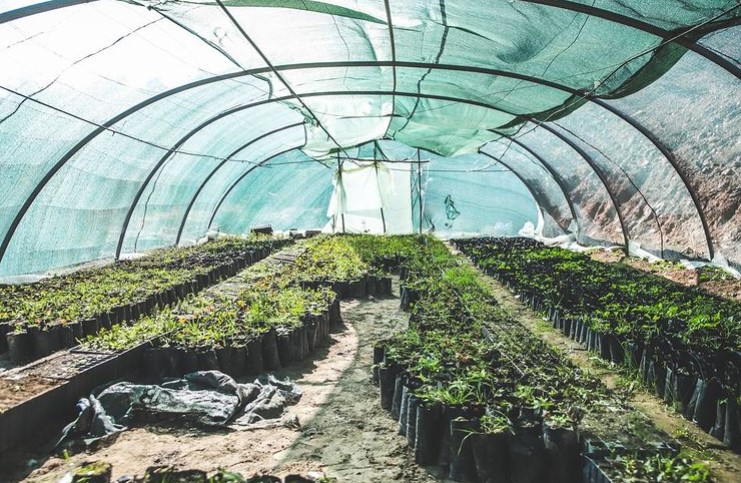 The founder of Sapling Spirits believes that no matter how much you do for nature, it's never enough. They are well committed to their social and environmental responsibilities and are working day and night to do all they can. The company is currently working on urban planting projects in and around the UK. Furthermore, they are fond of working with local initiatives rather than large-scale suppliers so that the poor can be helped. 
Track your Tree with Sapling Spirits
Sapling spirits plant a tree for each bottle of spirit sold and offer a unique code on the bottle that dictates the stories of their treevolutions. There is a "tree Tracker" system available on the official page of the company wherein the clients can put their code and look for their tree.
Sapling spirits have been estimated to plant around 1 million trees by the year 2027 and it is an absolutely delicious and climate positive mission!
Local Ingredients X Green Practices: London Dry Sapling Gin
After the success of eco-friendly delicious vodka that was even served in the royal wedding, Sapling Spirits have recently announced the launch of a unique "London Dry Sapling Gin". This British Gin was launched at the Royal Academy's Summer exhibition by the Sapling Greenhouse bar.
Sapling's London dry gin is a twist to the original British Gin!
London Dry Sapling Gin is made with bold juniper with hints of rosemary and zest. Keeping up with the green legacy of Sapling Spirits, the gin is distilled with wildflower's nutritious stone-milled wheat that is grown through regenerative farming methods.
London Dry Sapling Gin will be available on the official website from November and will start with on-trade from January 2022. The iconic London Dry Sapling Gin will be proved to be 40% ABV and will be sold at £34.00
London Dry Sapling Gin Drinking Styles
As mentioned by the founders and makers, this London dry gin will taste amazing as a Gin and Tonic. However, the neutral and subtle taste of this gin can perfectly blend to shine as a cocktail.
Here's a must-try cocktail recipe:
 Negroni- A refreshing cocktail
Ingredients:
1 part London Dry Sapling Gin
1 part sweet vermouth
1 part Campari Liqueur
Orange twist
How to mix:
Fill ice in a mixing glass and add all the ingredients
Stir the mixture around 25 times
Pour the drink into an ice-filled rocks glass.
Garnish with an orange twist.
Cheers!
Other Products by Sapling Spirits
Sapling Vodka 70cl- £30
Whatley Manor Citrus Vodka, Limited Edition- £38