Gold has the feeling of precious richness and beauty attached to it. When I think of 'gold', I am taken to the story of King Midas and his golden touch. The famous Greek mythology is a reminiscence of Midas's way of celebrating life with gold. Gold Emotion Australia also believes in a life of gold. A concept of enjoying every moment of life as a celebration with gold. Why? Because Gold is beautiful!!!
The Founding of Gold Emotion Australia
"Gold is unalterable, non-oxidizing, it is the perfect metal. Its only limit is our imagination."

–Jean-Christophe said.
Gold Emotion Australia was founded and owned by Ema Cregeen in September 2019. The concept of 24k gold products was launched in Australia through the brand. The founding of the brand began after Ema partnered with Gold Emotion in France.
Gold Emotion is an innovative and unique concept based on gold, launched in 2005. The founder of Gold Emotion, Jean Christophe Rousseau, has been creating unique, selective, and exclusive designs with gold leaf. He invented the famous Luxor and produced exclusive bottles for many celebrities. He has developed unique techniques for gilding models, pools, private jets, and a Formula 1 car, and also realized the first car in the world covered entirely in gold leaf. Their clients include Palais Royal Paris, Château de Fontainebleau, Burj al Arab Dubai, Emirates Palace Abu Dhabi, Salle Empire Hôtel de Paris Monaco, etc.
Ema took inspiration from Jean Christophe and launched the first Australian-made product in November 2020. Pure Gold Gin was the first product launched in Australia, marking the beginning of the exciting 24K gold spirit range. Ema said- "Even the smallest moments in life should be celebrated to the full, lived a little extra". Ema's love for events, food, and beverages, paired with her passion for creative business, has paved the way for Gold Emotion Australia.
Gold Emotion Australia: The brand
Gold Emotion Australia believes in Quality & Integrity, Creativity, and Uniqueness. The brand takes pride in being the market leader in creating and producing exclusive 24K gold products. Gold Emotion's know-how of engraving and gilding is unique in the world. Their products have the highest quality ingredients and are made with integrity.
"Gold Emotion's spirit is to respect human beings, the planet, and to share". The company supports White Feather Foundation and the United Nation programs. They are committed to working with a responsible and transparent production chain for the sourcing of the metal. Thereby, minimizing the environmental impact and contributing to the economic growth of the operating areas.
The company's gold supplier and partner are Aurum Monaco. Aurum Monaco has established its own corporate responsibility charter, which is compliant with the procedures established by the OECD (Organization for Economic Cooperation and Development). This ensures the supply chains are ethically sourced and are exempt from any links to conflict, trafficking, environmental, and human rights abuses.

Benefits of Gold
Gold metal has an aesthetic beauty that is used in making jewelry and ornaments. Since the 19th century, gold leaf is used in the finest dishes and sweets as a decoration, around the world. Gold has medicinal properties also. It has been used to improve mental capacities, regenerate malfunctioning organs, for improving blood circulations, etc. Cosmetic brands also use gold in their formulas nowadays for its antioxidant properties, for healing the skin, increasing skin's elasticity, etc.
The Gold Emotion products and services
The 24K Gold spirit range includes- Pure Gold Gin, 24K Sparkling Wine Brut, 24K Sparkling Wine Rosé, 24K Non-Alcoholic Sparkling Juice, Comte De Mazeray – 24K Champagne Brut, Comte De Mazeray – 24K Champagne Rosé, and Comte De Mazeray – 24K XO.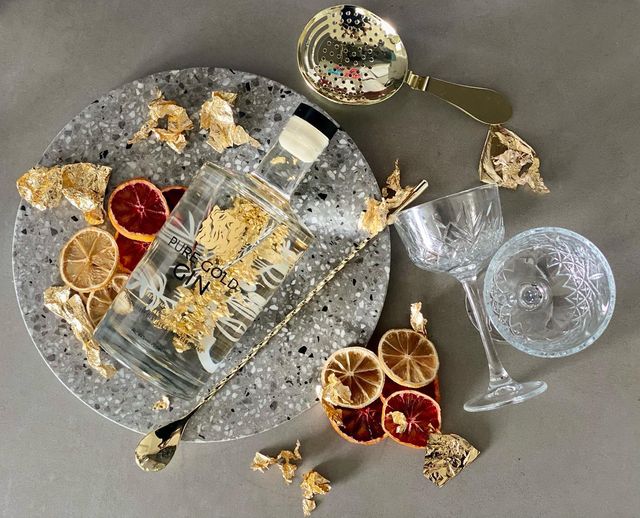 The brand also provides revolutionary decorative gold leaf products- 24K Set of 2 Electric Mills, 24k Gold Maxi Mill, 24K Gold Cigar, and 24K Gold Emotion Perfume for Women.
All the product range contains pure 24K gold flakes inside them. The products can be ordered online on the official website or from Dan Murphy's.
The Gold Emotion LUX service range focuses on creating unique experiences for corporate clients with a bespoke range of luxury gifts and services. From customizing products, interior, and exterior gilding, they also provide exclusive gilding animations or services for events. The brand's know-how of engraving and gilding is unique in the world. The crating can be customized with all types of the metal leaf- gold, silver, copper, platinum, etc. 
They also provide Gold Private Packages. The Gold Emotion team can add a unique gold experience to your birthdays, anniversaries, or parties. The packages include the unique 24k gold products, optional catering, and even a multi-sensory cocktail experience with Monsieur Cocktail at your request.